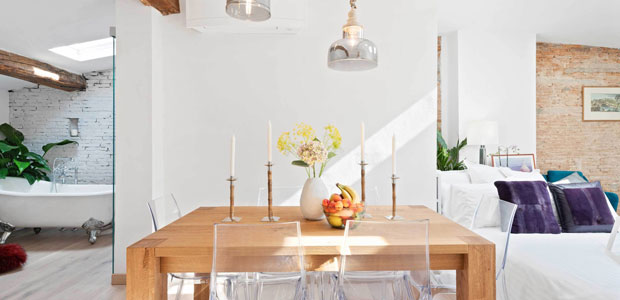 Phototech startup closes $7m Series A round led by United Ventures
Phototech startup, BOOM has announced it has closed a $7m A round led by United Ventures to support the firm's next stage of growth as they chase 5% market share of the £80bn global digital photography market and build a presence in every country in the world.
Founded in 2018 by Federico Mattia Dolci, Giacamo Grattirola, and Jacopo Benedetti, BOOM is on a mission to develop the world's most efficient digital content logistics and fulfillment system, delivering global online businesses visual assets on-demand.
BOOM recognised a major digital supply-and-demand gap - countless internet-based giants were changing the way people shopped online, and uploading billions of pictures on their websites and platforms every day, but these same brands had no access to a content provider that could keep up with a scaled-up, global, fast-paced environment.
CEO, Dolci and his co-founders understood that in a digital era, visual content is paramount. In fact, photography is the key driver for successful online commerce after online payments. BOOM's tech-first Order System enables them to offer high quality, affordable content on a global scale, created and shared in a simple, streamlined, standardised work-flow.
BOOM is one of the leaders in an £80bn per annum market which is growing at a rate of 5% YOY. The tech firm is experiencing 20% growth month-on-month - 400% year-on-year and has already processed over 3 million images for global clients, averaging 1 shoot a minute, across real estate, travel, F&B, and e-commerce.
Dolci has navigated BOOM's team of seventy, spanning 18 languages, through the pandemic as they continue to grow at speed with a presence in more than 80 countries - 22 new countries during lockdown alone, targeting 140 countries by the end of 2021.
BOOM is already on the ground in major markets including the UK & USA, but as a 'remote working' business from day one, BOOM will open physical offices in London and New York to support its growing employee and photographer - 35,000 at last count - network.
The 26-year-old CEO's focus remains on sustainable growth based firmly around supply and demand, allowing the team to make a play for profitability as early as 2022. The business will have a team of 100 by the end of this year, spanning 100 countries, and targeting £100m revenue by 2024.
BOOM now has in excess of 250 major corporate clients including the likes of Deliveroo, Uber Eats, Quandoo, Lavanda, GetYourGuide, Westwing, Uala, and hundreds of SMEs across verticals. BOOM is building a multi-product company, focused on rewriting the future of commercial photography, and expanding into new regions and industries. 
BOOM has experienced strong growth during the pandemic, culminating in A round funding from leading investors. As online businesses became an essential lifeline during the lockdown, BOOM's focus was to deliver its clients their digital content within 24 hours and the team onboarded a host of new clients across Q2 & Q3 2020, including restaurants - looking to offer takeaway & delivery services - real estate providers, and bricks and mortar fashion retailers looking for a new way to market products online.
BOOM's Order System doesn't just manage photoshoots. Clients can also book videographers, drone pilots, designers, and other creative assets using the innovative platform.
Federico Mattia Dolci, Co-Founder and CEO of BOOM said: "As Victor Hugo said - 'there is nothing as powerful as an idea whose time has come'. Today, businesses have to digitalise overnight and they need high-quality visuals to stand out from a crowded marketplace. Visual content is everything, and BOOM ensures creativity remains at the forefront without forfeiting brand consistency.
"Whether it's one photoshoot or a thousand, or whether it is in Chicago, London, or Sydney, we guarantee speed, efficiency, consistency, and quality. This is the power of our Order System. By the end of the year, we will cover 100 countries and will expand into more verticals. It's the beginning of a complete innovation of the creative and photographic industry."
BOOM's technology focuses on its proprietary platform 'the Order System' which automates the end-to-end photo production cycle for global brands, enabling clients to order as many photoshoots as they require in a few clicks, and have them delivered in just 24-hours.
The two-sided, highly intuitive tech is designed to reduce effort across the digital ecosystem from booking to delivery, in a flexible, scalable way.
The Order System platform is built into sub-systems that focus on a specifics series of tasks: 
Entry System allows clients to order through API / CRM connection 

Management System: automatically manages all the aspects of the brief, i.e. photographer assignment through algorithms and scoring, and process thousands of photos with automatic post-production 

Delivery System: Clients Receive their visuals 24h later through the platform's connection to their database
BOOM leverages AI in post-production, editing thousands of pictures like a professional editor in seconds, ensuring consistency across all images, and in doing so, tackling the hardest problems of Computer Vision: Instance Segmentation, Object Recognition, and Image-to-Image translation.
Dolci added: "We dreamed about building a company that's sustainable over a long term horizon. For this reason, we are on a mission to develop the world's most efficient system by turning the traditional photographic industry model on its head.
"We are enabling companies with global ambitions to improve their customer's experience and increase their online sales based on the principles of beauty, effectiveness, and technology. The size of the opportunity is exciting, but it's not about winning. It's about designing something lasting, where there was nothing before. Our mantra is taking care of the people, the product, and the profits - in that order."