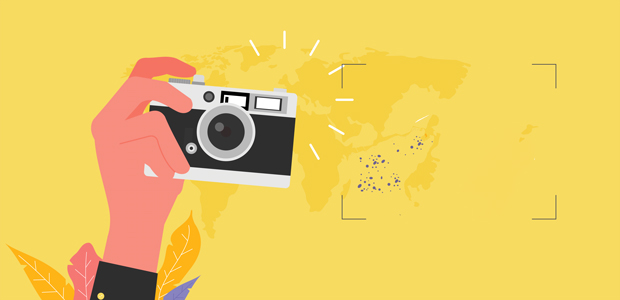 The photo-sharing platform for those who care about photography
YouPic is a free-to-use social platform from Sweden transforming photography-sharing by enabling a global community of over 3.7 million users to build an audience, gain insights about their portfolio, and share their passion for photography.
YouPic is the third-largest social photography platform in the world (after Instagram and Flickr) with over 20 million images (by professionals, semi-pros, and amateurs) uploaded since launch in 2012. The platform's growth as a niche social network has been powered by connecting those with an interest in photography - whether professional photographers or fans, art directors or models, photography brands or content creators - with others who wish to learn about, discuss, and share the best of the artistic medium.
An antidote to a 'fast photography' internet culture which sees over a hundred million images uploaded globally each day to photo-sharing platforms (and quickly forgotten), and a beneficiary of the move during lockdown towards self-education and exploration of new careers (users increasing by 100% during March to June 2020), YouPic provides a collaborative space for users of all abilities. YouPic offers access to exclusive courses by experts, and unique insight on their own work - along with providing technical information on factors such as composition, creativity, content, and technique. As the leading niche social network of its type, YouPic enables photographers to reach and create relationships with new followers and clients, and provides a website builder tool to allow users to create dedicated websites to showcase (and help sell) their images. User success stories include a Syria-based photographer capturing poignant macro images of a city left in ruin, whilst another uses YouPic to document the historic protests unfolding in Belarus. These are just two examples of how YouPic is democratising photography by encouraging users to share their stories and explore the world through a lens.
International photographers using, and offering advice and courses, on YouPic include:
Steve McCurry (US) - Perhaps best-known for his 'Afghan Girl' photo for National Geographic. Recipient of Magazine Photographer of the Year prize voted for by National Press Photographers Association, as well as two first-place prizes in the World Press Photo contest.
David Yarrow (UK) - Fine-art photographer, conservationist and author renowned for projects involving his travelling to isolated locations to capture images of wildlife, indigenous communities, and landscapes. In 2018, Yarrow's breath-taking image of a Polar Bear titled '78 Degrees North' sold at Sotheby's London for just under $109,000 (£81,250), 277% more than its initial estimate, establishing him as one of the world's most collectible photographers.
Julia Fullerton Batten (Germany) - Rose to prominence in 2007 through the publication of her very first fine-art project, 'Teenage Stories'. The National Portrait Gallery commissioned her to shoot portraits of leading people in the UK National Health Service, which are held in the permanent collection. Other images are also in permanent collection at the Musee de l'Elysee, Lausanne, Switzerland.
Adam Hinton (UK) - Winner of over 50 international photography awards, Adam Hinton has photographed in some of the most dangerous places in the world. His work spans riots in Gaza and the Ukraine, to El Salvador, where the brutal MS-13 gang let him photograph their community and also their leadership held in prison.
Current partners include the Hamdan Bin Mohammed Bin Rashid Al Maktoum International Photography Awards (HIPA) and the Sony World Photography Organisation. Advisors include Tom Hind (Head of Photography, BBC); Nick Evans Lombe (former COO of Getty Images); Mengmeng Du (former Director Global Marketing Operations at Spotify).
Gothenburg-based co-founder and CEO, Navid Razazi, began developing YouPic in 2012 after discovering that he was giving out the rights to his photos when uploading them on the internet so, as a solution to this problem, created a platform for photographers which allowed them to keep all of their rights and profits.
Navid Razazi, Co-Founder and CEO of YouPic commented: "Our world is becoming increasingly fragmented and individuals are searching for their identity, purpose, and profit in the global and borderless world. Apart from YouPic being a place to find breathtaking imagery, the platform has also become a space for creators to share the impact of their photography with the world and build an audience. For many photographers, it is a vital part of development to compare themselves with others and to build their brand in front of followers who understand them, all while earning a reputable social status in a competitive market."
How YouPic works
YouPic's platform is an easy-to-use social network, similar in its niche offering, to angling social media app, Fishbrain, and video-sharing platform, Vimeo. More than just an outlet for sharing imagery, YouPic brings together a community of like-minded people who enjoy, partake in, and admire photography.
In addition to the free version, which allows users to browse millions of photos, follow photographers, and upload their work, YouPic offers three paid-for plans, to suit the requirements of its users which range from amateur to professional photographers, including:
YouPic Enthusiast

- priced from $4.99 (£3.99) a month,  the 'Enthusiast' plan includes all of the features available on a free account, but also grants access to a vast selection of online photography courses tailored to a range of photographic abilities, the ability to publish unlimited stories, and access to an advanced search (refining type of photo, camera model, ISO, region, and more).

YouPic Premium

- priced from $9.99 (£7.99) a month, 'Premium' plans include access to all 'Enthusiast' perks with additional features including: unlimited high quality uploads, increased reach and boosted exposure on photos, priority to customers and new clients in the YouPic directory, verified member status, ability to create albums and upload an unlimited amount of videos, and the ability to host workshops for which users can charge attendees.

YouPic Pro

- priced from $29.99 (£24.99) a month, 'Pro' gives users access to several advanced features which includes the use of the website builder (allowing user-friendly customisation to create a user's own website, with a custom domain name), enables right-click protection on owned images, and grants the user with optimum speeds on their account (with their websites hosted on YouPic's own servers powered by Amazon Web Services). The 'Pro' account also allows for the user to organise content, both privately and publicly, enabling users to build advanced photo collections for public browsing. YouPic Pro customers can also share password-protected content with clients or family (with a secure and easy link and allows them to see who has viewed their profile), also giving them total control of their own pricing keeping 100% of the markup, commission free.
In addition, YouPic is currently developing a free tool called 'YouPic Blockchain' which will allow creators, photographers, and artists to upload images to the blockchain where a price is set in a cryptocurrency, together with the terms for using images. This technology will make it much safer for photographers, journalists, and citizen journalists in dictatorships and less democratic governments, allowing them to receive compensation for their work independently, securely, and with no middle men. To do this, the company has taken the heavily centralised network-based market of today and converted it to a decentralised autonomous licensing database, giving the ownership and profit back to the artists. By creating an image ownership ledger, saved using a blockchain structure, YouPic will create the global standard of claiming ownership and copyright.

The YouPic team is made of seven employees who have been working remotely since the company's foundation in 2012. Four members of the team, who are currently based in Gothenburg, manage the platform which now hosts over 20 million photos and a user-base of nearly four million. The company's biggest markets include the United Kingdom, United States, and Germany. The company has raised over $1.5m to date, with investment from Chalmers Innovation Seed Fund, Inreach Ventures, Nick Evans Lombe, and other renowned angel investors.
To mark the 10th anniversary of Instagram in October, YouPic - the world's third-largest social photography platform with 3.8 million professional, semi-pro, and amateur photographer members - has conducted the first research into how the photography community views the culture of selfies and fast-photography that Instagram is credited with creating.
2,500 members of YouPic's global community responded to questions about the impact of Instagram, selfies, and 'fast-photography' on photography (as an industry and an art form).
What the photography community thinks
36% of photographers say Instagram has damaged the professional photography sector. 42% say Instagram has benefitted the photography sector

34% of photographers believe Instagram to have damaged photography as an art form. 40% say Instagram has enhanced photography as an art form

43% of photographers consider selfies to have damaged photography as an art form. Only 11% feel selfies have had a positive impact

Whilst the majority of professionals admit to regularly engaging with Instagram to feed their love of photographs, 27% of photographers claim to have never used Instagram as a platform for displaying and viewing photography, and 14% of professional photographers have quit Instagram entirely (having previously used the platform)

YouPic has an existing policy of forbidding the uploading of selfies onto its platform for sharing and discussing images, and its decision was validated by 76% of respondents believing that selfies should be banned on photo-sharing platforms.
Navid Razazi, Co-Founder and CEO of YouPic, commented: "Instagram has had an enormous cultural impact over the last decade. But we wanted to discover how the photography community views a platform that is, fundamentally, a platform for photos. Clearly, people who are serious about photography as an art form and an industry are wary of elements of Instagram. With over a hundred million fast-photos and selfies uploaded to Instagram every day - the majority being immediately forgotten - perhaps it is time to focus once again on photography as a craft that should be approached with care, consideration, and respect."