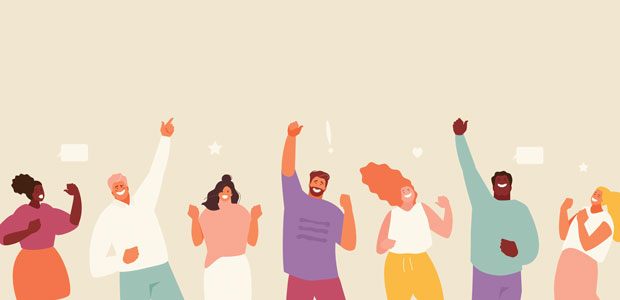 The Perks of Saying Yes
One of the most common pieces of advice you get when you start a business is to find a niche. The narrower the better. And while that works for some, it's not the only way forward. Over the course of my career, both as an independent designer and the co-founder of a design studio, I've learned that my expertise has nothing to do with sticking to a narrow kind of work. That's how I've ended up designing for clients ranging from Pfizer to the Bronx Museum of the Arts to Tribeca-based rooftop bar Happy Be.
So, what's the secret to winning business without hemming yourself in? It's simple. It's one word: 'yes'.
That may come as a surprise in a culture where setting business boundaries and saying 'no' has become a buzzy idea. Here's the thing about saying 'yes' – when used thoughtfully and intentionally, it's an exceptional tool for learning and building the kind of future you want for yourself and your business.
See under qualification as an opportunity
People tend to shy away from saying 'yes' as a consequence of feeling underqualified. But if you can reframe under qualification as a chance to learn, saying yes immediately becomes less daunting and more exciting. 
The 'try it and see' mentality has always been a core aspect of my working ethos, and it's gotten me to where I am today – I never could have started a business without taking the risk to say yes and learn.
After all, to become qualified, you have to be inspired and you have to throw yourself into the work. The key is saying yes and doing the work out of curiosity, humility, and a willingness to learn. Saying yes to things outside your comfort zone is a crucial step to gaining experience and opening future doors.
Don't stay in your lane
We sometimes get advised to say no when the project is unlike anything we've designed before. But at our design studio, we thrive on working across varying sectors and finding unique ways of bringing our diverse knowledge into new contexts and for new work. 
Our studio was founded on bringing diverse knowledge together – while I come from a design and strategy background, my business partner Amy Globus is an artist. The combination of our skills and passions has opened up all kinds of unexpected opportunities, and new creative ways of working, whether that's for clients in the cultural or the corporate sectors.
Saying yes to unexpected collaborations isn't just crucial when it comes to finding your business partner or building your client roster. We know that combining disparate ideas works and is an eye-catching strategy that cuts through the saturation of incredible creative works in the industry. Novel but successful brand collaborations all required someone to say yes to a left-field idea, and it paid off.
Saying yes also allows us to open unexpected doors and gain unexpected experience. It allows us to think across party lines in ways that are commercially and creatively satisfying. Coming out of the pandemic in 2021, our team worked to deliver the rebranding of Pfizer while simultaneously designing Brooklyn's first craft-cocktail space Wandering Barman, a digital archive for an overlooked Jazz musician Jeanne Lee, and the design for Promise, Witness, Remembrance at the Speed Museum.
Saying yes to unexpected work allows us to make meaningful connections on a human level. Working with a broader range of clients means not all our clients are in competition with each other, in turn we can connect them in valuable ways with opportunities for creative partnerships.
By not staying in our lane, we can unlock the potential to cross-pollinate ideas, trends, and new ways of working across a range of industries. 
Do stay humble
Ultimately a 'yes' mindset is about possibility. You can't create, engage, inspire or profit with a 'no' mindset. We create this possibility and encourage potential by listening and prioritising humility over 'being the experts' in the room.
We are able to say yes because we love learning. From designing for biotechs to art museums to thought leaders like Adam Grant, saying yes has pushed us beyond our comfort zone where we've had to become smart in a new area fast.
Of course you can't say yes to everything, but by making 'yes' your default professional state of mind instead of "no", we create a more optimistic, creative, and profitable filter to guide our business and creative choices.