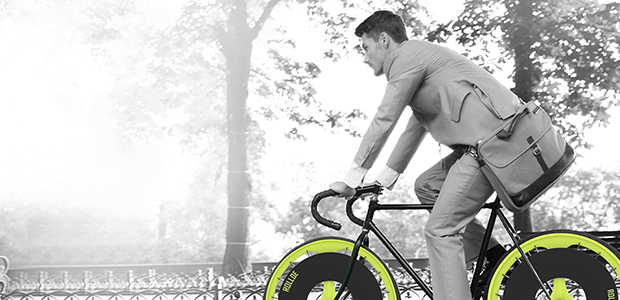 Peddle power fights back against city pollution
GoRolloe is a bicycle wheel that filters outdoor air pollution solely by using the rider's energy. We caught up with inventor and founder Kristen Tapping to find out more.
While studying her final year in product design at London's South Bank University, Kristen entered the annual student competition, Design Innovation in Plastics, where she was tasked with creating a sustainable plastic product suitable for an urban environment.
With a plethora of ideas (some good, some not so good) on the cutting room floor, Kristen finally settled on a solution for inner city cyclists. She commented: "I cycle a lot in London. And, when you cycle in a city, you really smell what pollution is. When you're in and around cars and trucks, you see the black smoke belching out into the atmosphere, so there is an obvious problem that I was experiencing regularly."
Kristen's concept centred on the idea of fitting an air pollution filter to a bike wheel, operating in much the same way as an air purifier or a vacuum cleaner, using something called centrifugal force. As the bicycle wheel rotates, air is pulled in, passed through a set a filters, and expelled out cleaner into the environment. As she began working on her idea during the height of the COVID-19 pandemic, Kristen didn't have access to vital equipment such as 3D printers. Therefore, and in true Blue Peter fashion, she took scalpel in hand and began prototyping with cardboard and glue, to see if her idea would work, and if it could be optimised.
Kristen won the Design Innovation in Plastics competition and from there the story went viral all over the world. "I got a lot of media attention and commercial interest," she continued. "This was tricky because I was still in the prototyping phase and I didn't yet have a business plan. On the one hand I was optimising design for further prototyping and testing, and on the other, I was trying to see whether I had a viable business."
The technology
While a normal fan passes air from one side to another, GoRolloe's centrifugal fan or radial fan, powered by the bike rider, passes air from the inside, (using something called a taurus), to the outside.
She continued: "While we adapted this basic concept to a bike wheel, there are many other constraints to consider in this application such as crosswinds, structural issues, and environmental factors, so unfortunately it's more complicated than just fixing one of these fans to a bike wheel.
"The fan is ideally suited to the front wheel of the bike, but we're hoping in time to have it available for both. My ultimate goal is for the front wheel to not only filter air pollution for the environment, but also to take clean air to the rider."
The filters can trap noxious gases and particulate matter and are reusable. Kristen has so far conducted testing within a secure environment, and calculations based on the speed, amount of kilometres cycled by a basic Santander bike (the rental bikes available in London), and then the volume of the filters, the latest prototype was able to filter two metres cubed of air per kilometre cycled.
Kristen added: "Thinking about that on a large scale, if all the Santander bikes in London (11,500) were to use our filters, with the average amount of kilometres cycled, it would result in approximately 30 football fields, at one metre depth, filtered every day." In addition, Kristen will soon be commencing CFD (computational fluid dynamics) analysis which helps to measure airflow more accurately.
Development and funding
Kristen has also just been accepted onto Better Futures, part of the Sustainable Accelerator, a government and EU funded programme that, instead of money, offers founders access to engineers and faculty members from London Southbank University. This has enabled Kristen to onboard a materials specialist, as what goes into the final product is going to be crucial.
She continued: "It would be easy to just make our parts from polypropylene for example, but since this is a sustainably targeted product, a plastic element might not be perceived very well, even though it's made from recycled materials and is itself recyclable. There's still this notion that plastic is bad - which it is if it's just going to be thrown away - but if you're going to reuse it, it does have quite a lot of great features.
"Therefore, the final parts are probably going to be made from some kind of plastic biocomposite. I think an aluminium alloy would be too heavy and not mouldable enough. The ideal would be some kind of bio-composite that can be industrially composted at the end of its life. But those are hard to find at a level that's ready to go."
Kristen scooped a £1,000 prize for winning the Design Innovation in Plastics competition, has received another £500 through her university enterprise scheme, and is waiting on an application for an Innovate UK Smart Grant. She added however, that the fact she studied product design has enabled her to cover much of the costs of setting up a hardware startup herself. "The engineering, design, prototyping, testing and research would normally cost a lot. I do all that myself (as my university have kindly allowed me to use their 3D printer), and I'm free," she joked.
Aiming for rental
The primary target for GoRolloe is the rental bike market. Kristen explained that it would be difficult to launch in the consumer space due to the potential number of individual orders, and knowing how much inventory that would be needed to fit different types of bike wheel. Therefore, launching in the business-to-business sector initially will help GoRolloe during the initial startup phase.
The second reason is that the aim is for the filters to be washable. And instead of washing the filter at home, with the pollutants draining into the water system, the filter would be sent back to GoRolloe, or a third-party cleaner, and a fresh, clean filter would be fitted to the bike.
"This process is going to take some fine tuning," she continued. "I'm a bit wary of going into the consumer space too fast and ending up with filters all over the place. However, we have got consumer interest from individuals and from a major distributor and manufacturer, so I might ultimately be forced to fast-forward the consumer process. Regarding the cleaning, we're still testing various filters, but I would estimate that they would need to be cleaned once a month."
Kristen added that with relatively little marketing effort the company has so far had interest from London, Ireland (a motion for a pilot launch has been submitted in Belfast), the Netherlands, Canada and Spain, and is optimistic that more schemes in the UK can be onboarded quite easily.
It's a product that helps the environment and so fits within the green agenda. As such local authorities will want to be seen to be involved, while it also allows individuals from any economic background to participate in cleaning the air and bettering the environment.
Roadmap
A question Kristen is asked a lot, is whether the filter could be put on cars and trucks. "It would take a lot more R&D and funding to be able to test that, because the regulations for bicycles is a lot less stringent than the regulations for cars, buses or trucks, and there's a lot less weight and motion involved," she added.
"I would like to see if this technology could be scaled up to much larger vehicles, but before that the bike market is huge, and we need to make sure that it's adaptable to different types of bikes, wheel sizes, and markets. So, I first want to explore that, as well as other international markets."
Another side of the business that is open to further development is around a green rewards programme, where consumers would be rewarded per kilometre cycled or per metres cubed of air filtered. "That's a whole other revenue stream for me, and for the consumer - a whole different ballgame that could be explored," she added.
In the short term, Kristen's involvement in Better Futures will enable experts to aid the product development in material science, filter testing, and CFD testing, and so she is predicting that these stages will be ramped up quite considerably over the next two to three months.
Startup advice
Kristen admitted that, as an engineer, the business aspect of launching GoRolloe has been challenging. And as such, she has also joined the London Business School Launchpad programme which is assisting her to get her business plan ready. She added: "I almost wish that I could put the business element on hold, and that my product wasn't so public yet. That would give me the time to organically develop the business, but I guess pressure is always good."
"I see a lot of people who have an idea which is amazing in their head but in reality, is not so great. However, they tend to put in a lot of time, and a tonne of money, into developing this bad idea before testing it with the target market. They're so involved and invested that once they bring it to the target market, which then doesn't receive it very well, they have no choice but to stick to that same idea.
"They're tied in - they could have £50,000 invested so they can't pull away. My advice would be prototype super cheap. That way, if it's a bad idea, (and I've had tonnes that I had to just throw away), you can just move on to the next one. Also make sure you test your idea with your target market, and with an open mind. Be prepared that they might not like it - don't fall in love with your idea, it might not be that great."
Kristen added a few more top tips for budding entrepreneurs:
Get incorporated and open a business bank account so you can start paying yourself a salary asap. Even if this comes from your savings right now, you can repay yourself (like a personal loan) once you make profit.

See if you qualify for R&D tax credits - you can claim back up to 30% of your startup costs.

See if you qualify for Seed Enterprise Investment Scheme (SEIS) - it makes you far more attractive to investors as they can write off a large portion of their investment.

If creating a software platform, you can prototype for free using websites like Marvel. You can even send the link to your friends so they can test it. Hash out the major details BEFORE you ask a professional app builder as they will charge you by the hour.

For hardware products, you can download Fusion 360 for free and workout basic CAD models to get you started. For more advanced CAD modelling, apply to the SolidWorks Entrepreneurs & Startup Scheme where you get the software for free for a year (only apply when you are ready to start the year).

Create eye catching graphics - the media is always looking for good content and you will be more likely to get press coverage from this.

There is a lot of in-kind support available for startups. Apply to all that you can!