Paving the way to EV adoption
Having recently been named on the prestigious Forbes 30 under 30 list, Parveen Begum, Co-Founder of EV charging port provider Solisco, seemed a perfect candidate for the founder focus feature in our dedicated Women in Tech issue.
Parveen has taken a slightly unconventional route to her current position, having undertaken and dropped out of a law degree, and spent time working for luxury fashion brand Burberry. However, having a passion for the technology driving the EV industry, she took the decision to apply for a job with Tesla in 2014.
"I found myself really engaged and enthused by what Nikola Tesla had started and convinced by what Elon Musk wanted to achieve with his master plan," said Parveen. She explained that, at the time, passion and a dedication to learn was more important to Tesla than automotive experience or an engineering background.
"It was quite an exciting time and my first year at Tesla flew by very quickly. They were not in it to make money at that point, it was a case of getting the brand out there - to the Goodwood Festival, and Silverstone etc - and educate, educate, educate."
The seed of an idea
It was during her time as a marketing specialist at Tesla that Parveen met Mark Maurice, an early adopter of solar technology who had already designed, built and installed his own solar carport before he took ownership of an EV.
"One of the issues that I was always presented with is that an EV is only as green as the juice that goes into it, so if I'm using a charger that's installed in my home, then it's actually connected to the grid, and so the energy going into the car isn't really green."
It is a good point and Parveen acknowledged that there wasn't anything on the market that dealt with this problem, but added: "Once I'd spoken to Mark I realised that there is a solution - build a solar car port and generate energy on-site. This could be used for home/domestic applications, as well as for a workplace car park where you have tonnes of empty grey space that can be easily covered with solar panels."
During her time at Tesla Parveen recognised that there would be considerable customer interest from such an offering, and her time with Burberry meant that selling a car port as an EV accessory would be something that would come very naturally. And so, with support from Mark, Parveen began researching the pioneers in the field of electric vehicle charging points and solar carport manufacturers.
She began forging partnerships with these key players, predominantly based in Germany and Denmark, who were engaged with Parveen's vision and wanted to be a part of it. Parveen registered Solisco in August 2016, and by the October it became evident that she would have to leave her full-time role at Tesla.
Building Solisco
"There was no way I could do both so I took the decision to build up Solisco, and Mark and I co-founded the company together. He put in some capital, so we had an initial pot of money to start with, which paid for our first exhibition and the website, which launched in 2017, and signalled the point at which the brand really came to life."
In the early days the building of the company consisted of visiting partners and understanding whose products to build into the Solisco portfolio. Parveen explained that the company is set up as the 'John Lewis' of EV infrastructure.
"If you are interested in having a solar car port installed at your premises, but don't know where to start or what componentry you need, we can easily advise you on what we can offer to meet your budget and requirements. We work with partners in EV charging, battery storage, and we have different designs for solar car ports from leaders in the field – making the design and planning stages of infrastructure as easy as choosing from a catalogue.
"We also have the teams in place that would deliver and install the port. So, you might not know what you want or need from a solar car port, but once you come to us, we've got everything you need in one place."
Parveen added that, from her research, this was one of the biggest drawbacks for a lot of EV customers – who would buy a vehicle but would then be left to their own devices to find out where to acquire the necessary accessories - charging point, battery storage system etc. And with such a growing market, it now makes it very confusing for consumers to know the difference between the technology that is on offer and of course ever evolving. As a research-based company, we take care of this element and bring to the table the most innovative products.
Solisco is set up in a way where customers come to one company to receive the required consultancy, equipment, design and planning (sometimes even getting involved in the planning permission application), and then the entire installation process and also aftercare/maintenance options.
Parveen added: "People were amazed by the concept and appreciate that we are experts in solar canopies and in EV infrastructure. Whereas, a lot of companies offer what we do but tend to be part of a bigger renewable energy company, and offer the EV infrastructure as a sort of side product."
The wider picture
Last year Solisco applied for a competition with Innovate UK around solving the challenge of public charging in urban spaces. One of the biggest barriers around EV uptake is that 40% of homeowners don't have a parking space reserved for them on their driveway, and so wouldn't be able to charge an EV at home.
"We collaborated with the West Midlands Combined Authority and Keele University, who are actually involved in a bigger project to create their own smart grid system and become fully self-sustainable," added Parveen.
"Working with these guys really opened up ideas about how we can use our infrastructure in that scenario, and to show people that they can become self-sustainable without having to have the roof or land space – and instead make use of grey space. We won just over £100,000 to put together a feasibility study. It's been really a useful tool for us because now when we're speaking to a customer, this document answers almost 99% of the questions that they have."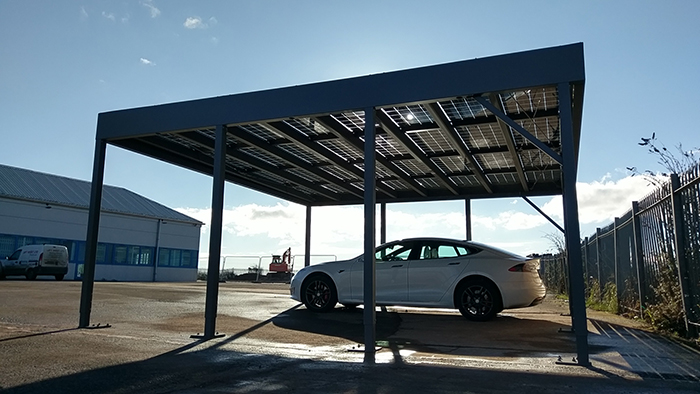 Parveen's vision for EV infrastructure in the future aims to make us more self-sufficient, and crucially, less reliant on the energy traders who charge extortionate prices. For example, as a consequence of its partnership with Keele University, it has allowed them to apply for an energy licence which, if granted, will enable the university to sell the energy that they generate on their campus out to nearby villages.
"We are of course up against the giants - the energy companies, oil and gas, automotive, and the banks - they all want us to be consumers. But we have the choice and we have the opportunity to be creative and think about how we can disconnect from this dinosaur concept that we've been sucked into all these years – to really develop ideas and put in a certain infrastructure to allow us to become more independent. Solisco has become more than a company that just sells infrastructure and is more of a development/consultancy firm, who creates ideas and sells them to the end user."
Parveen explained that while 70% of Solisco's customer base is from the commercial sector, the company is seeing an increase in take up from the domestic sector, as the market matures. She explained that for anyone who bought an EV three or four years ago, it represented a huge investment. And it is only now that they are ready to invest in the accessory (the car port) to power the EV and even their home. The commercial market remains key to Solisco however, such as the retail and hospitality sector, workplace headquarters and various councils up and down the country, as its customers.
COVID
Despite the challenges presented by COVID-19, the current pandemic has accelerated the urgency to drive new and sustainable energy solutions across the globe, and Solisco plans to play a pivotal role in ensuring the shift from petrol and diesel to electric vehicles remains as 'clean' as possible.
Parveen added: "The COVID-19 pandemic has truly highlighted the importance of driving and implementing global sustainable energy solutions, as confirmed by the World Health Organisations (WHO).
"Although EVs significantly reduce emissions, they still require power from the grid to work, which over time, will become stretched. Solisco has worked with leading manufacturers and suppliers to develop a sophisticated EV port solution to overcome this, harnessing the power of the sun and utilising battery storage and smart charging functionality so that everyone can enjoy the true freedom of driving an EV without any compromises."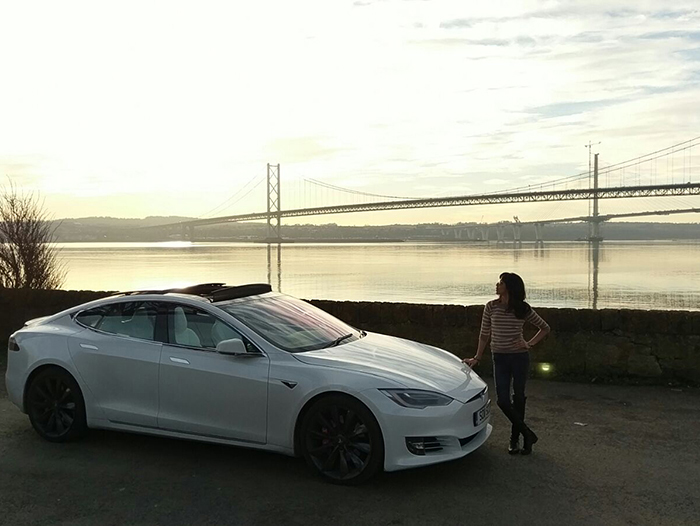 For a lot of businesses COVID-19 has obviously been extremely detrimental, to the point where some companies have been put out of business, however, for the EV industry, the pandemic has presented an opportunity for people to make a shift. "When I was working for Tesla, I envisaged that by 2020 EVs would take off, and actually looking at the figures, this year has been the year.
"The Tesla Model 3 has been launched and other brands like Mercedes, Audi and BMW are all bringing new models to the market. China has also launched many new products. I think 2021 up to 2025 will be that peak point of major infrastructure installations that will actually support the mass adoption of EVs."
Forbes 30 under 30
Parveen added that she is privileged and humbled to be on the Forbes 30 under 30 list, adding: "It's a well-recognised award and it really places me on the map for anyone that's interested in technology, and EV infrastructure, that might not necessarily know where to start. If they search for Solisco, and the news comes up about me, I feel like it will add credibility – as quite often being a female in engineering, people have their doubts.
"I have worked really hard and it hasn't always been easy; especially when a lot of people my age; friends and family were out socialising, and having a good time, whilst I put in the time and effort; often making a lot of sacrifices, to build up a business that I was convinced needed to be done. And I am so pleased I did, as I now see the enquiries coming in.
"Having this achievement and being recognised by Forbes has already proved to be very powerful. A lot of people have to sell themselves before they can sell their products, and so an award like this can helps create the recognition right from the onset. New enquiries have come in over the last couple of months , and with such a niche market,  it's nice to be able to captivate and gain the trust of the customer who needs to feel confident in you before taking the leap to invest in infrastructure. I like to think that the Forbes award really help to add that credibility to me and my business."