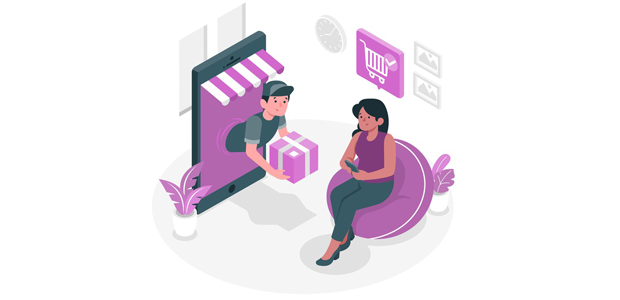 The Pandemic: Online Delivery Apps Demand and Golden Opportunities
As the Corona Pandemic continues to derange the global supply chain processes and economy across the globe, consumers' inclination towards online buying has been increasing, resulting in many businesses switching to online to stay afloat during this challenging time.
On the other hand, the usage of the smartphone has also surged in the last couple of decades. Regardless of the business nature and size, every enterprise today needs a mobile application to garner maximum growth and reach a broader audience level. As per the research, the mobile app industry is one of the profitable sectors that is rising at the rapid-pace. 
The mobile app industry is estimated to generate $189bn by 2021, according to the report published by Statista. Indeed, mobile apps have made people's lives easy, as it was hard to imagine earlier. Today, people spend more than 2.5 hours a day, navigating different mobile apps.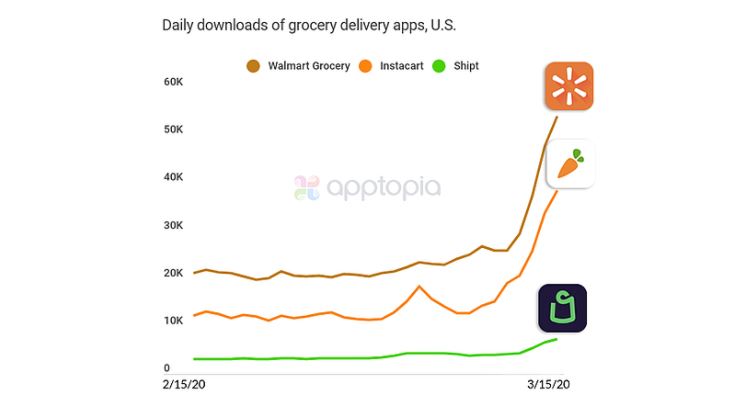 In the above line chart taken from Apptopia, we can see a constant surge in grocery and food delivery apps. As a result, retail store owners and restaurants are transforming their existing business models to fulfill consumers' demands. 
The Rising Demand for Delivery Apps  
Today, online delivery apps have made our lives so smooth and convenient as they help us accomplish daily chores with ease. Online delivery apps fill the gap between customers and brands; now, customers can access a variety of services and products on their palms.  
Earlier, people were used to roaming around the streets when they needed any services; today, we are heading towards a technology world where we can easily access everything in hand with a single click. This is probably why the on-demand economy is projected to reach $335 billion by 2025. 
Whether you are running a retail store or restaurant, the pandemic has pushed consumers to shop everything online as it prevents virus spread and offers them comfort. Online delivery apps are nothing but mobility solutions that offer instant access to avail products at their doorstep. 
It is not only about groceries and food, but on-demand apps also offer beauty, laundry, and rental services at your doorstep. 
Due to the lockdown, an unprecedented number of restaurants have closed across the world, as per the data derived from Womply revealed that revenue on March 31 was down 20.6% as people are confined inside their homes and had a fear of virus spread. 
This is why most businesses have taken a step forward to boost their revenue in this tough time; they have deployed a restaurant online ordering platform so that people can easily place an order, where restaurant owners can increase revenue and make a solid customer base for the future growth and success. 
Grocery and Food Delivery Business will Reach Heights 
In this technology era, having a mobile application for your conventional business is the only effective and efficient weapon you can ever have to expand your business reach. Whether you want groceries to be delivered to your doorstep, or medicine, or pizza, or flowers, you can find an app for that. Right front the medical to logistic business to music and entertainment- online delivery apps have the potential to reach to masses to penetrate. 
The increasing usage of smartphones and the wide scope of the Internet is the primary driving reason behind the massive growth of the online delivery business. According to the statement released by Global System for Mobile Communication, by 2025, 62% of the world population will be mobile internet users.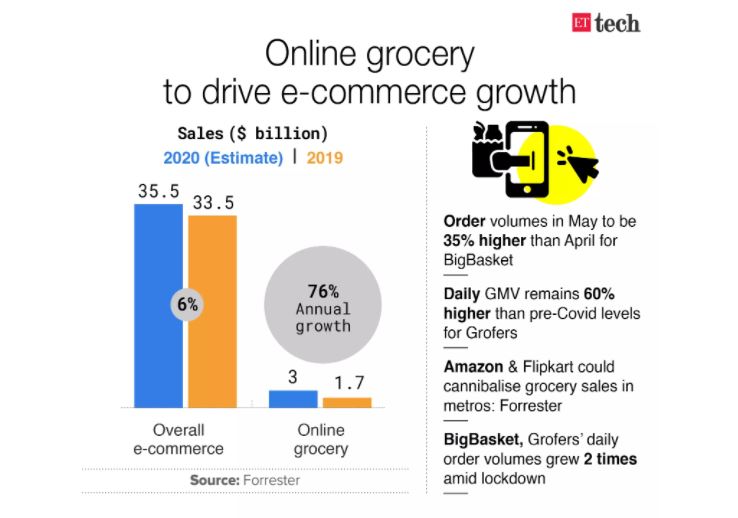 According to Forrester,  the grocery, eCommerce, and food delivery market surged; the main reason why the delivery business has gained momentum is its ability to offer convenience to the people. The enormous success of the delivery business has forced conventional business owners to transform their existing business models. 
Hence, they are now looking for skilled developers to get an online delivery app to attract more consumers to boost their sales. Well, you can see the popularity of apps such as Postmates, Instacart, Grofers, GrubHub. 
Golden Opportunities for Startups to Jump into the Delivery Bandwagon

 
Online delivery apps have been conducive to the startup owners as they now can expand their business rapidly without investing heft funds. On the other hand, due to the lockdown and social distancing guidelines imposed by various governments, people prefer to stay inside their homes. Resulting, 
"Online grocery stores have seen the highest revenues for 2020, with consumer spending up 85.4% year over year. "
Hence, we can say that in the days to come, the demand for online delivery apps will ascend. Therefore, retail store owners and restaurants are looking for an experienced app development company to help them set their feet in a highly competitive market. 
Additionally, you will also avail numerous benefits with online delivery apps such as: 
Offers excellent support to customers

Value addition through a loyalty program 

Better connections with the customer

Drive revenue and traffic
At a time when businesses have experienced a major downfall due to the pandemic, online delivery apps come up as a boon for entrepreneurs. These apps satisfy user's needs and also enable business owners to increase their revenue. We really don't know when things get normal and back to track, but we can take precautions and steps to combat the situation. 
These days, mobile apps are habit-forming, which keeps users stuck with the brand for a long time. Develop an app, post engaging content, push notifications, and establish connections with customers on social sites- all these can help businesses survive in this competitive and saturated business world. 
Final Note
Corona pandemic is not only a health crisis but leaving a significant impact on the global economy. Digitization and tech-innovations are the only keys that help businesses to survive during this tough time. Online delivery apps can turn out the best solution for many enterprises, which fulfill users' needs instantly and open additional revenue streams for your business. 
Overall, for conventional retailers and restaurants, online delivery apps are the future that brings customers and revenue altogether.