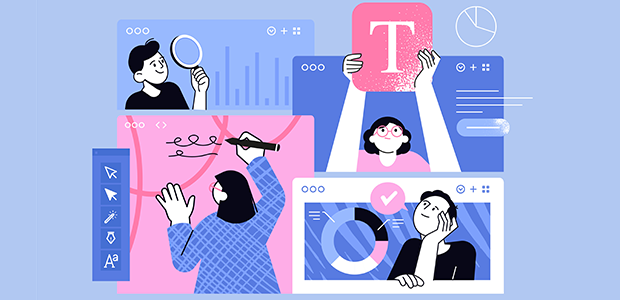 Paid Social strategies that will build your B2B audience
A successful B2B marketing strategy hinges on two things – building awareness and generating qualified leads that can be easily converted into paying customers.
Paid social does exactly this. By using sponsored posts and ads across relevant social media channels, it can be instrumental in getting your marketing message in front of a wider audience. This approach is so effective, that a 2022 report found nearly 77% of B2B marketers use paid social strategies as a core part of their marketing strategy.
While organic social media posting is great for maintaining your online presence and repurposing valuable content across your social channels, it goes hand-in-hand with paid social campaigns that will help boost brand awareness and grow your online following.
Below, we explore some of the most effective paid social strategies for B2B companies, and how you can get started.
Leveraging LinkedIn
LinkedIn is among one of the most effective channels for driving B2B lead generation, so much so, that 89% of B2B marketers use it for lead generation.
This is no coincidence, as LinkedIn's powerful targeting options with granular, industry-specific variables such as job title, skills, company size and more make it a highly adapted platform for serving precision-targeted ads to professional audiences primed for B2B marketing.
The highly targeted advertising options translate into real results. HubSpot found that LinkedIn offers some of the best conversion rates for paid ads, with one study citing a conversion rate of 6.1% on LinkedIn, compared with a mere 2.58% for Google Search ads.
So, while the cost per link may be higher for LinkedIn, the overall return on investment remains positive, especially when considering many B2B businesses must target a specific niche.
Promoting posts
Paid social strategies work best in tandem with a solid organic social media presence. One effective way to integrate the two is through promoting your existing organic posts. Particularly on platforms such as Facebook, promoting posts offers a nice boost to brand awareness, and can save a lot of resources in creating separate and unique content for both paid and organic channels.
With the average B2B buying cycle sitting at an average of 2.1 months, it's useful to capture leads at every stage of that cycle, and promoting informational organic posts is an effective way of distributing high-quality content to your ideal audience that recognises their pain points and positions your company as the solution.
Additionally, many social media platforms place more emphasis on promoting posts over text ads. LinkedIn have, for example, launched "thought leader ads", offering a nice way to promote posts from thought leaders within your company, and offer more organic content that integrates better within your audience's timelines.
Video content
With an estimated 3.37 billion Internet users consuming video content in 2022 alone, the popularity of video marketing is showing no signs of slowing, and B2B companies are increasingly using this to their advantage.
Those tasked with researching and buying B2B products and services no longer want to engage in lengthy sales calls to find out whether your company is the right fit for their needs, and are instead turning to alternative resources, such as video. Google reports that 7 out of 10 B2B buyers watch YouTube videos before purchasing, meaning B2B marketers must get to grips with effective video content.
YouTube offers a lot of scope for marketers through display and bumper ads, boosting visibility and providing a new way to offer informational content to prospects. The platform's highly granular targeting makes it easier to reach qualified audiences, as well as retarget those who have already consumed your previous content.
Measuring results
Marketing activities require a constant stream of input and tweaking to remain relevant and successful, and paid social campaigns are no exception. It's never a good idea to simply set up your ad campaigns without consistently checking in to see how they are performing, so identifying relevant metrics and using these to measure results is crucial.
With so much data at our fingertips, it's easy to become overwhelmed, so it's useful to hone in on the key metrics you will need to judge how your paid social strategies are doing, and whether they are providing a good return on investment.
Paid social can be difficult to track effectively, as tracking usually requires users to click on your ad, and social ads often have a low click-through rate, with users instead choosing to Google the brand name. Google Search Console allows you to track brand impressions (the number of times people search your brand). While this is generally used to track brand awareness campaigns, it can also be a good way to track the success of certain paid social campaigns, too. Additionally, it's useful to have a robust CRM setup that also tracks click-throughs, and whether they turn into leads.
Final thoughts
With an array of detailed targeting options, paid social media advertising is a powerful tool for successful B2B marketing. Not only does it build your audience and help you focus on the most relevant segments of it, but when used in tandem with your existing organic social media activity and wider marketing strategy, it can be an asset in maximising both lead generation and conversions.