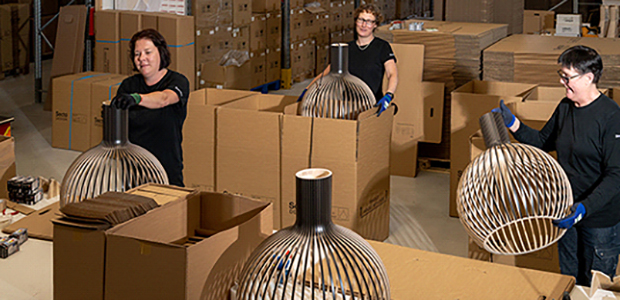 The packaging technology aiming for a plastic substitute
Secto Design has made a significant investment in startup company Paptic. "Until recently, Secto Design has purely invested in developing its own production. However, Paptic has such a meaningful goal and it fits perfectly to our own philosophy, that we had to jump along," said Tuula Jusélius, the Founder of Secto Design.
Paptic is a Finnish producer of a packaging material made of renewable wood fibres that combine high performance and sustainability. Paptic aims at substituting plastic in packaging. All Paptic materials are environmentally friendly and biodegradable. No new machinery is required in producing Paptic as it can be produced using existing paper converting lines.
Paptic was established as a result of long-term development process carried out by three Finnish paper technology experts. The main solutions have been patented around the world. The company claim that the outstanding asset compared to other new packaging materials aiming at replacing plastic is the fact that the material Paptic makes doesn't consume any edibles such as corn, dairy or sugar – but uses wood fibre instead.
The packaging produced by Paptic is noticeably more durable and water tolerant than currently existing paper packaging. There are already several high-end brands such as Hunter Luxury and Galerie Lafayette among Paptic's clients.
Jusélius added: "We have taken sustainability matters into consideration in addition to our products also in our packaging. But there are still a couple of points where we could do better. With the investment we made we want to support a fellow Finnish company that is addressing the environmental challenges and that we share the values with. Our dream is that in co-operation with Paptic we could eventually remove the remaining trace of plastic still left in our packaging."