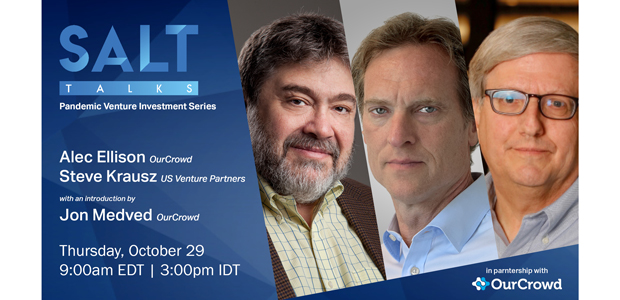 OurCrowd and SALT to present pandemic venture investment series
OurCrowd and SALT, a global thought leadership forum and networking platform encompassing finance, technology and geopolitics, will broadcast the SALT Talks: Pandemic Venture Investment Series online starting 29th October.
Each episode will feature top investment and business leaders discussing the challenges and opportunities arising from the COVID-19 crisis and how innovation can help us thrive in the new normal. The series will showcase breakthrough technologies, addressing issues from coronavirus prevention and cure, to social distancing and food supply.
In the first episode on Thursday, 29th October, Investing in the Pandemic and the New Normal, OurCrowd Founder and CEO Jon Medved will discuss business strategies in the shadow of COVID-19 with Alec Ellison, the Chairman of OurCrowd in the US and former Vice Chairman of Jefferies, and Steve Krausz, Managing Partner of US Venture Partners, one of the leading funds in Silicon Valley.
Future episodes will feature experts, entrepreneurs and investors discussing the innovations now being developed by startup technology companies to combat the challenges of the pandemic in the areas of health, cybersecurity, financial technology, home fitness, artificial intelligence, food technology and supply-chain solutions.
A preview to the OurCrowd-SALT partnership will be aired on 27th October with SALT Chairman Anthony Scaramucci in conversation with Jon Medved.
SALT Talks is a series of digital interviews that provides a window into the minds of noteworthy business leaders, policy experts, and innovators. SALT has featured a roster of some of the world's most notable speakers from the worlds of business, public policy and healthcare.
"SALT Talks has become the world's most exciting forum for the discussion of business ideas," said Jon Medved, OurCrowd Founder and CEO. "It is the perfect place to grapple with the business challenges created by this terrible pandemic that has shattered so many lives and map out what is required to fuel the innovation we need to move fast and fix things.
"The series will showcase a wide variety of startup technologies together with the entrepreneurs and investors behind them, giving the public a fascinating behind-the-scenes look at the startup world."