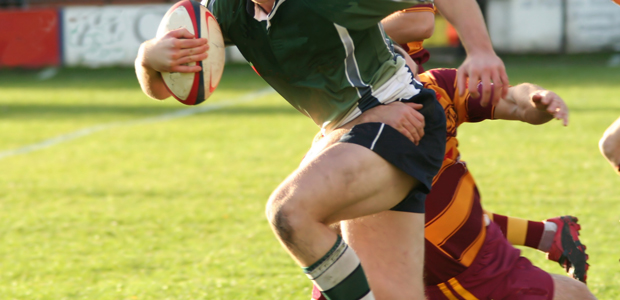 ORB - Tackling concussion
This smart mouth guard protects more than just your pearly whites, it unlocks real-time feedback to protect players on and off the rugby pitch.
What is ORB?
ORB is a smart mouth guard designed for Rugby, which makes tracking performance sports easy. There are two fundamental parts to the company and the product itself, one is performance analytics and the other research. The product was built to collect data on concussion, but in order to do this it needs to give the user an initial value. ORB uses the data to provide performance feedback in real-time, which is transmitted straight to a coach's tablet or laptop. At the same time the data is used for concussion research, to pick up on trends where head injuries are occurring and what's happening in the game. 
Where did the idea come from?
Back in his final year of sixth form Rob Paterson, CEO and co-founder of ORB Innovations, was playing rugby for his local club, when he suffered a concussion. He explained: "They took me straight to hospital to get checked out, and the doctors said I had concussion but was fine to go home and rest as nothing else could be done."
But after a few days Paterson's symptoms became a lot worse, and his parents became quite worried, so after going back to the hospital and having a head scan they found a subdural hematoma, which is a bleed between the brain and skull. Paterson stressed: "They were obviously worried about the injury, but another concern was that they didn't know whether this had just occurred or whether it was a delayed reaction. They monitored me overnight to make sure it didn't get any worse, and then it was just a case of giving me some painkillers, resting up and waiting for it to be reabsorbed back into the body.
"The way I normalised it to myself so I could go back to playing rugby, was by thinking of it as a bruise, just in a bad place." So after four months off rugby and resting, Paterson was able to go back under the proviso from his parents that he wore a scrum cap, which also put his mind at ease.
Paterson's injury did have a bit of a knock on effect to his education, but after completing a foundation year he went on to Loughborough University to study design engineering, in which he did a masters too.
"It was as I got to the end of that year I realised I had this set of skills, and this motivation and I wanted to use the skills to create this magical concussion tool. So as I started to do the research and looked into it during my last few months at university, I realised as a society we don't know enough about head injuries."
In fact, in order to fix the problem, Paterson decided that as a society we needed to learn more about head injuries in general, so he decided to create something that would gather information and data and tried to do it in a way that hadn't been done before.
Paterson explained: "Not enough studies have been done, and that's where the company came from - I wanted to mix my skills and passion together so straight after graduating in summer 2017 I started ORB."
How did you start your journey?
Loughborough University have a startup incubator, The Studio, which Paterson got accepted onto which gave him what he needed at the time. He got office space, some small financial support, but primarily, it gave him access to a mentor and resources from the university such as workshops which supplied him with the help he needed to get off the ground. He added: "I stayed in Loughborough for a further year, and worked for Deliveroo on the side to pay my bills, even through the Beast from East as well!"
Then in summer 2018 Paterson moved back home to Berkshire and recruited his co-founder Tom Quinn. Paterson explained: "I had put an advert out back in November 2017, to say I'd like an intern to help start developing the product, and then I received a grant for Santander to help pay for the internship."
Quinn started working with Paterson during his final year studying Electronic and Electrical Engineering at Loughborough University helping out while he wasn't writing his dissertation, or studying for exams, and fully joining the team around June 2018. Paterson explained: "To start with we were just working from our own homes, he lives in Hertfordshire but we just used Slack and FaceTime to get things going."
How have you found funding?
Shortly after this in September time ORB got accepted into the last Startupbootcamp IoT accelerator programme. Paterson said: "It was really intense but really good and worthwhile. Its only now that I look back on it and reflect and see how good it was. It really does accelerate you, without it we probably would have just drifted along – not in a bad way, but just not being pushed as hard."
It clearly worked for ORB as Paterson explained they have found funding from the programme. "One of our angels attended the demo day, and one of our mentors became and angel investor too. Even when the bootcamp finished, it opens up so many connections and doors for you."
It was at the demo day in January that ORB announced it was looking for funding, and it wasn't long before they found it. Paterson shared: "I think it was ten weeks from that demo day until we closed our round, and we were able to do this as we had such a close knit support group around us."
What's next?
"A good night's sleep! Now we have all the funding and information we need to work with, so putting a good plan of action together is next." Paterson continued by explaining Quinn's focus is on the product development, and by the end of May the pair plan to have a set of prototypes ready for field testing.
Paterson added: "From my perspective it's about building connections with clubs and teams, for the field testing, but also come autumn we want to be trialling products with clubs in matches, and for us to be working closely with them to provide them with data. Additionally, we want their feedback – essentially we want to create what the players want, not what we think the players want."
What challenges have you faced?
Size has certainly been a difficult and annoying issue for ORB to tackle. Paterson explained: "When you prototype normally you start out big and then scale down, but for it to be a mouth guard it needs to be able to fit in your mouth, even when making the first prototype it had to fit, it had to be similar to the finalised design. It just means it takes longer and costs more."
ORB develops everything in-house, nothing has been out sourced. Paterson added: "Even most of the assembly is done in-house too. But using all this technology and hardware, the primary function of the product is a mouth guard to protect the mouth, we can't forget that, providing data and insights is its second job."
Where did the name come from?
"I am dyslexic, and all my friends at university thought I couldn't spell my own name – even though I could, so they called me ORB."