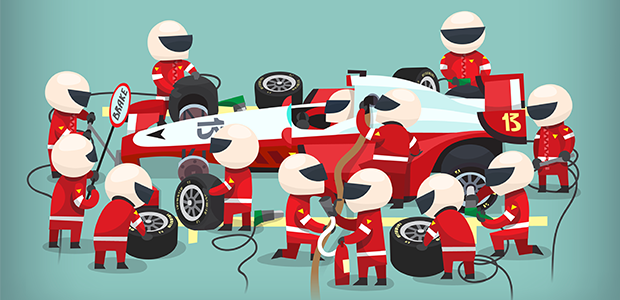 Oracle Red Bull Racing and Rokt Launch Search for Female F1 Sim Racers
Oracle Red Bull Racing, the Formula One (F1) team, and its official Team Partner Rokt, a global player in ecommerce technology, has announced that they are launching a global talent search for female F1 sim racers.
The talent scouting initiative, announced at Oracle Red Bull Racing's International Women in Engineering Day celebration at its technology campus in Milton Keynes, England, is part of the two organisations' efforts to promote diversity in esports, technology and commerce across the globe.
Oracle Red Bull Racing and Rokt will work together to identify six female sim racers to invite to the "Rokt the Rig" women's sim racer development program, where Oracle Red Bull Racing Esports will work with them directly to help develop their racing talent and provide opportunities for them to compete or work with the team in another capacity.
The six participating sim racers will receive mentoring from the Oracle Red Bull Racing Esports team's pro drivers, engage directly with the team and esports community via Discord, and have the chance to win prizes, including elite performance equipment.
"Rokt is deeply committed to fostering greater diversity in technology, sports and business and we are thrilled to launch this search for talented female F1 sim racers as part of our continuing partnership with Oracle Red Bull Racing," said Srishti Gupta, Chief Product Officer at Rokt. "As a woman in tech, I well understand the need to break down the barriers that women have traditionally faced in too many professions and arenas. This program will not only help make sim racing and esports more welcoming to female gamers but will help highlight many of the other career opportunities in esports that are available to women."
"This program will offer an open and inclusive platform for women around the world to prove their sim-racing talent and provide support to help them develop that talent to its full potential," said Joe Soltysik, Esports Lead, Oracle Red Bull Racing. "We couldn't be prouder to partner with Rokt to create a more equitable world where everyone is empowered to develop their professional knowledge and capabilities and succeed in any career path they choose."
The program will kick off with a Driver Accelerator Day at the Red Bull Racing technology campus in Milton Keynes, where the six women will receive individual mentoring from an Oracle Red Bull Racing Esports driver, tour the Oracle Red Bull Racing factory, and visit the "Erena," the team's state-of-the-art esports training and competition facility.
Following the Accelerator Day, the participants will receive monthly group training with a pro esports driver and have an opportunity to participate in races on-site at the Erena. In addition, they will be invited to join the Oracle Red Bull Racing Esports Discord community, where they can directly communicate with the team and its drivers. Top racers will also receive prizes that further empower them to continue their esports journey.
"As a lifelong F1 fan, I'm thrilled that Oracle Red Bull Racing and Rokt are making esports and sim racing more welcoming to women across the globe," said Ash Vandelay, an American Motorsport streamer, advocate for more women in the world of motorsports and an official content creator for the Oracle Red Bull Racing Esports team. "This talent search will go a long way to demonstrate that playing, enjoying and competing in esports is for everyone—regardless of sex, identity, background or income."