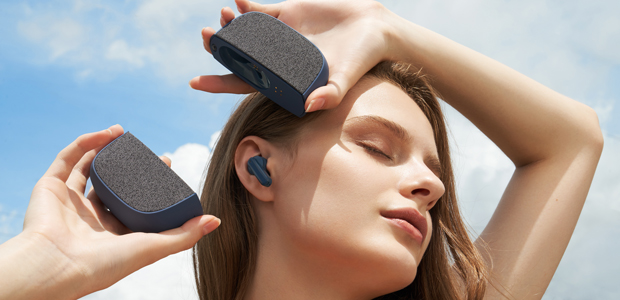 One to watch in 2021: Duolink
Duolink wants to build a future where music finally adapts to you. No matter whether you are on the go, listening alone, or socialising with others, it wants you to enjoy music to the fullest. So who are Duolink and what are the SpeakerBuds? We spoke to Founder Victor Liu to find out more.
1.Tell me a little bit about yourself, and your background?
I grew up in Guangdong and majored in information technology at Guangdong University of Finance & Economics. I had always been interested in tech and electronic products when I was young. After graduation, I was able to get in touch with an e-commerce business when online shopping was booming worldwide. I have spent the last 11 years in cross-border e-commerce and I feel lucky to have recognised, and seized, the trend when it was still in its infancy, so I've grown as e-commerce popularity has grown.
2.Where did the idea for Duolink SpeakerBuds come from?
Everything started at a friend's dinner party where there were five of us bringing portable speakers and headphones to the table coincidentally to provide accompanying music. After dinner, we noticed how messy those headphones and speakers looked lying on the table with all of the wires tangled together. We discussed whether there was a better way to simplify people's listening experience without compromising sound quality. And that was when Duolink was born. It was easy to have a simple idea, but it was much harder to realise it afterwards.
3.Can you explain a little more about your SpeakerBuds and, in particular, what makes them different?
We were surprised to discover that there simply wasn't any other product in the market that combined Bluetooth speaker, stereo speakers and earbuds together in one device. Duolink SpeakerBuds are very eye-catching, but more importantly, the product itself is the result of an innovational idea, and the team's desire and will to try and think differently, making it even more special.
4.Do you have any competitors, if so, how do you differentiate yourselves?
I don't think we have any competitors, but we do have lots of model brands to learn from and to surpass in the future. Many world-renowned brands may not have the flexibility that Duolink has. We are able to satisfy the needs of a more segmented market and will only keep improving through minor trial and error.
5.Tell me about some of the technology used within them?
We applied the BES chipset that has won hundreds of patents in its Bluetooth technology and is widely used in top-notch international brands. The other tech challenge we had is to realise the functionalities in such a small body without compromising the sound quality. But we made it by making good use of existing software and hardware technology.
6.How many on your team and how did you build and grow it?
We now have over a hundred people working as part of the Duolink team, whereas there were only five of us at the very beginning. I think it is the enthusiasm for innovative tech that has drawn us all together. Young people crave a chance to make a difference nowadays and our brand aims to provide a good platform for them to transform their ideas into life. That's really intriguing to most of our team. Besides, Duolink is very unique and I am sure they can see the potential of our company's continued growth in the future. It is like a snowball effect where we are growing so much faster now.
7.What funding process have you gone through?
Audio products are in the Red Sea market where there are so many brands and varieties. This makes the funding so much harder because most of the investors think there aren't many opportunities left. Back then, we only have a concept which is thought to be hard to carry out. After a long time struggling by ourselves, we were very close to giving it up. However, when we got our first prototype, we were so excited and lit up once again. The enthusiasm moved the investors. They tested it and really loved it. They were surprised by our perseverance and agreed to invest in the end.
8.What challenges have you faced, and how have you overcome them?
The biggest one is COVID. We had a very difficult time dealing with our suppliers because literally everything was delayed when the lockdown and travel restriction was pretty strict. We had to postpone our launch three times during that period, and faced pressure from both consumers and partners. Fortunately, most of our customers were very patient with us, which we were grateful for. Wanting to fulfil their confidence in Duolink gave the entire team the energy and motivation needed for us to hit the deadline.
Duolink was born in a turbulent year that none of us could ever have expected. But we made it. The challenges we had will definitely make us even stronger in the coming years and we will adapt ourselves to a new norm for sure.
9.What do you have planned for the future, both long term and short term? 
In the short term, we have a few new products on the way, with research and design for those being carried out in 2021. We are planning to develop a segmented product line with more innovation. In marketing, getting in close touch with the local market will be the priority. Building our own community needs more interaction, so we want to have people experience our products in a brick-and-mortar store.
As for the long term, we will invest more in brand building and expanding our market to Asia once we had built a strong foundation in North America and Europe.
10.What is your strategy for growth?
For a new brand, it is key to have an effective positioning and to build the seed users. We started it by reaching out to those tech enthusiasts first and held a crowdfunding campaign to draw their attention. We have gained 50k seed users so far and getting to know their feedback will be crucial to consistently optimise marketing strategies, product upgrade and customer service. Everything else will grow from there and we are expecting to see another growth spurt during 2021.