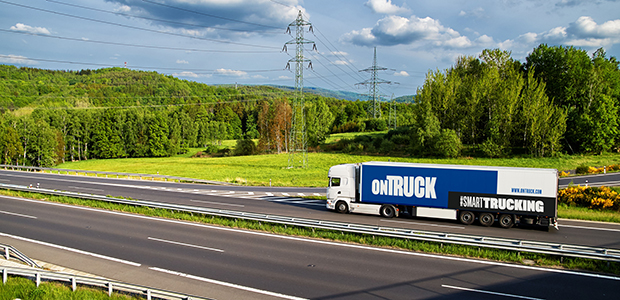 Onboard with Ontruck
Ontruck is an innovation-oriented logistics and transport company, founded in order to develop technologies which will make the road freight experience a smooth and efficient one for both truckers and companies who send shipments.
The Madrid-based startup does this by drastically reducing the amount of empty kilometres travelled by goods vehicles, therefore optimising their use and utilisation. We caught up with company COO Rika Christanto to find out more.
Up until recently the logistics/transport industry is one that has remained relatively untouched by technology, and has operated in a fairly traditional way which, as other industries and the world generally evolved, has left trucking looking pretty archaic.
However, as Christanto explained: "Now there's a lot of disruption in the space where technology is being used to automate processes and bring more transparency in terms of pricing, as well as to drive down supply chain cost through increased visibility and efficiency."
Ontruck provides a platform to connect shippers and carriers and act as the middleman to arrange the delivery of the goods. In addition, the company determines pricing, the optimal route for drivers, and matches the shipments with the right vehicle – and so effectively manages the marketplace.
Founded in 2016 the company has been VC-backed from the beginning. It raised its seed round approximately six months after founding and then its series A and series B funding from institutional VC funds.
Business model
So, how does it work? Christanto explained further: "We take a cut of each delivery transaction that is managed on our platform. So, the shippers are charged a price for the delivery and then we find the carrier. We then manage the pricing on both sides of the marketplace and the transaction fee that we take, which depends on location, type of vehicle and many other factors."
Christanto added that while Ontruck caters to all different types of vehicles and carriers, the company's bread and butter is the smaller fleets and owner operators. "We generate jobs for these smaller operators," she added. "So, in this type of non-transparent marketplace, having a guarantee that there is going to be enough jobs to do each day is quite hard, so we provide that visibility and reliability. A larger fleet will typically have larger, more reliable contracts that will fill up their vehicles on a far more regular basis."
Ontruck's philosophy is to provide a unique proposition for both the carrier and the shipper side of the marketplace and Christanto underlined three key advantages for both. For the carrier there is far more visibility meaning that Ontruck can guarantee that work will be available (which is crucial for the smaller operators).
The second is faster payment. The cashflow needs of a truck driver are tight - typically getting paid 60-90 days after a delivery – Ontruck pays at the end of the month or even sooner. Thirdly, Ontruck offers carriers the ability to better manage their fleets - providing a free service that enables them to track their vehicles, as well as assign and despatch jobs.
On the shipper side Ontruck offers guaranteed pricing. "There's no back and forth hassle (which is what has happened traditionally), with phones and emails flying around in an effort to find an available truck," Christanto added. Secondly there is the ability to drive down the typical service fee related to a broker. She added: "We have much lower overhead costs than a traditional broker. So, we are able to offer a much lower price due to our internal efficiencies.
Thirdly, Ontruck offer the ability to get a truck to a shipper within one hour. "We have a lot of on-demand urgent shipments that we fulfil on a very regular basis, which is something that's very difficult to currently find within the market," Christanto added.
Efficiency
Christanto explained that in order to make the business of trucking more efficient, Ontruck is automating a traditionally manually operated industry - using technology to automate end-to-end processes, from getting the orders into the Ontruck system to live shipment tracking and final proof of delivery and billing.
Algorithms run in the background that match the shipment to the most appropriate vehicles and then, because Ontruck consolidate many shipments together, it can optimally route which shipments should be loaded together on the same truck, as well as the best way to get the truck from A to B, and from B to C.
In addition, that optimal route is usually very different from a passenger car, as many larger vehicles can't go through congested city centres for example, which would render something like Google Maps ineffective.
Christano continued: "Our technology is developed in-house and the key to it is two-fold. 1; our pricing engine – the ability to dynamically price given a selection of variables is critical, particularly in an industry that offers zero price transparency. 2; our routing algorithm – how we match the shipments to the truck, as well as finding the most optimal routes and groupings of the shipments. This is being done in a very automated way where it has traditionally been done manually.
"We are currently 160 people based in Madrid, London and Paris, and of that, 50 work on the tech side, so we are very focussed on technology as a way of driving the business forward."
Market feedback
Christanto claimed that the company's rapid growth is a reflection of the satisfaction of its customers. So it's worth noting that although Ontruck is dedicated to technology and is super-automated, the key driving factor for its customers is that their shipment gets delivered on time and they get a good service – no matter what level of technology is used.
"In that sense they don't really care about technology and with that in mind, we've really invested a lot of time to ensure we're delivering the best service levels possible. And we try and position ourselves as a true transportation company as opposed to a technology company, even though that's what drives the business.
"We also want to build a partnership with our carriers. Truck drivers are typically not treated all that well in the industry. However, they are a critical part of it and are key to making our business work, and in fact, we're currently experiencing a truck driver shortage. So, we have established really good partnerships with them, we treat them well, we proactively communicate with them when things go wrong, and we are always there for them."
Roadmap
Once Ontruck had established that its business model worked in Spain, the next big question was whether it could be rolled-out across other European countries and potentially, the world – something that posed a challenge at the time as most of the company's staff only spoke Spanish. Despite these growing pains the company has already established itself in five other cities, including London, Paris and will be operational in Amsterdam by the end of the year.
Ontruck's speed of growth also presented a challenge of keeping the same company cohesion and startup ethos during a period of rapid expansion. "We invested heavily in internal communications," concluded Christanto, "sharing the founders' story and vision to make sure new team members are as aligned and as motivated as the people who first started the business when we were a team of just ten people.
Update
Since speaking with Ontruck the company is now approaching its fourth birthday, and celebrated by closing last year with a turnover of over €22.5m, and a growth of 250% in net revenue over 2018. The company's portfolio now boasts such names as P&G, Pepsico, CHEP, Auchan and Decathlon. The year also saw a 15% increase in staff numbers.
The technologies being employed by Ontruck have been key to this meteoric rise which has seen an 80% increase in active fleet vehicles which has placed the company on track to tripling revenues for 2020. In addition, the Ontruck team were recently recognised by the industry when they took home the award for Digital Transformation at the Global Freight Awards.
A company spreading its wings
The company now has a presence in four European countries, and since being featured in Startups Magazine earlier in the year, has also launched operations in Amsterdam, home to the fourth largest port in Europe and a central hub for freight transportation.
However, Ontruck are not merely sitting back and admiring its good work - 2020 will see further efforts to increase service coverage in new markets throughout Europe. 2019 also saw an acquisition that is predicted to increase fleet capacity by 20% and generate a 15% growth in turnover. This came in the form of Briver, a subsidiary company of the Wtransnet group, a move that will strengthen Ontruck's position in Catalonia.
"Our goal has always been to create a sustainable and scalable startup model and following the success of our business in Spain and the UK, we are proud to see a proven strategy that has worked in both France and the Netherlands. This will empower us to continue our sustained growth. In 2020 we will further this international expansion with strategic launches in new markets, fully opening up our interconnections across Europe," said Iñigo Juantegui, CEO and Co-founder of Ontruck.