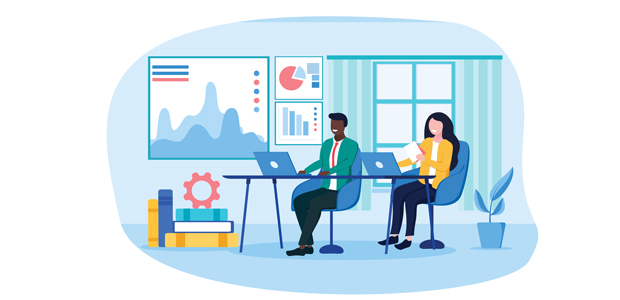 Offices will reopen soon: Flex spaces can ease the transition on employees
After eight gruelling pandemic months, it appears that not one but three vaccines are extraordinarily effective at protecting against the coronavirus, and at last employers will soon be gearing up to welcome workers back to the office.
In the corporate and startup spheres, this means that the long work-from-home chapter of our lives is, at least in some ways, turning a page. And this is a cause for celebration: Working only from home is a trigger for burnout and increased stress, because when one's bedroom and living room also serve as their office, there is simply no buffer between personal and professional worlds.
Sixty percent of UK employees worked from home during this pandemic, of which 26 percent plan to continue, either permanently or occasionally, long after the pandemic is a thing of a past. This long dark period has shown us that it's not only possible to do good work from home, in many ways, it's quite profitable and convenient. 
But without some connection to the physical office, it's also lonely. Moored at home without that physical barrier between home life and work life, many of us have become victims of burnout. The modern office, it turns out, offers us so much more than just a space to work. It has evolved to nurture and enhance the employee experience even more than in years past, through productivity, collaboration and community, and for thousands of employees, losing the office has been the equivalent of losing a stabilizing force in their life. Loneliness and decline in basic quality of life have ensued.
Previous studies have shown that 75 percent of Brits feel that working in a more collaborative environment would make them happier and less stressed. But many companies have enjoyed being out of office, and have plans to stay that way. Cloud communications platform Twilio produced research showing that four in five tech companies have definite plans to continue remote work; Google's staff in the United States is working remotely at least through 2021; Twitter, meanwhile, has told its workers that they never have to come back to the office.
Flex work presents an ideal fix to this conundrum: it allows for remote work while also fostering and allowing for connection and collaboration. And as research suggests, in a post-Covid-19 world, the demand for flexible office space will continue to rise. It's an elegant solution that gives employers tools with which they can empower their employees to navigate the challenges and complicated emotions that will doubtless appear when returning to work after the WFH era.
A key survey from CBRE laid it out plain: the office isn't going anywhere -- 60 percent of survey respondents, said they plan to return to the office in the post-pandemic era, and their primary reasons were the important roles of community and collaboration that the office plays in their life. Having the ability to interface with a team, and build a family of coworkers to network and share life with outside of home, is crucial. 
After so many months of isolation, that central role that the office played for us in our lives is now clarified ever more so, and there's a new purpose afoot, as well. The office must now be a destination for inspiration, one that inspires cultural bonds, helps us bond with both customers and colleagues, and fosters creativity and innovation. These are all key points that we sacrificed during our months at home, and our employees are more eager than ever before to return to work and let the office serve as a focal point for collaboration and connection.
Some companies will want to return to the way things were in February 2020, and bring their employees back full time. Others may look at how things have gone over the past eight months and choose to never bring employees back to the office. But most will opt for a middle ground, and most employees will prefer they do so, as well. In these cases, flex spaces can offer a useful bridge. In a post-pandemic era where we all remain in a heightened sense of alert over cleanliness and sanitation, they outsource housekeeping and janitorial services, removing one of the most pressing concerns for landlords and employers and ensuring that workers can come to the office and never have to worry about contamination or hygiene.
Office culture is changing, and many companies, while eager to help their employees navigate the challenges of burnout and isolation that have plagued them for months, are lacking the resources necessary to truly build community from the ground up. Flex spaces offers a starter package that makes it simple. There are professional workshops, social events and happy hours, and even tiny touches like stylish decor and stocked break rooms. And most importantly, there are colleagues and neighbors providing critical social interaction and a sense of normalcy. All of these combine to create the unified social net that isolated employees have been craving during these long and lonely months. They also work to jumpstart creativity and productivity when taken together, which is a boon not just for employee morale but also for a company's bottom line.