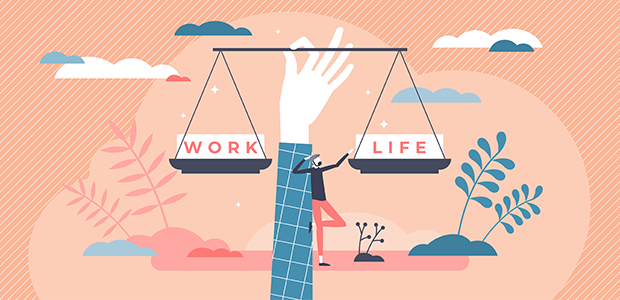 The office no longer provides separation between life and work, survey shows
Global survey results from IE University, #WorkAnywhere and Remote have revealed office workers are experiencing the highest levels of burnout and lowest levels of happiness and job satisfaction. This is when compared to remote and hybrid workers – indicating that the office environment isn't the effective separator between life and work that many believe it to be.
Some business leaders have justified return-to-office mandates by claiming that the office helps to establish clear boundaries between work and life, thereby boosting work-life balance and reducing stress. However, according to findings from The Global Life-Work Survey, in the past month alone, 41% of full-time office workers experienced signs of burnout compared to just 26% of fully remote workers and 34% of hybrid workers.
The study also found remote workers experience the highest happiness levels compared to office workers, with 42% of remote workers rating themselves at eight out of 10 and above for happiness compared to just 21% of office workers.
Ben Marks, founder and executive director of the #WorkAnywhere Campaign and co-founder of the Future Workforce Alliance, said: "We're repeatedly told that being in the office is good for our wellbeing, as it is a clear separator between home life and work, and yet these findings indicate that this isn't the case.
"Remote and hybrid working enables a true life-work balance, making for happier employees. Interestingly, at a time when businesses need to attract and retain the best talent, 74% of remote workers would recommend their job to a good friend, and 65% are extremely satisfied with their jobs, whereas only 56% of office workers would recommend their role and just 34% experienced high levels of job satisfaction."
The Global Life-Work Survey identified four types of worker profiles within its respondent pool, including "work warriors", which made up 15% of respondents, "separators" (45%), "integrators" (14%) and "family guardians" (26%). When working remotely, separators experienced the least burnout, as they are able to fully focus during work hours, complete their tasks, and fully switch off on evenings and weekends. Comparatively, integrators struggled to find a separation between life and work and experienced the highest levels of burnout.
Filipa Matos, VP of Special Operations at Remote and co-founder of the Future Workforce Alliance, said: "While remote and hybrid workers are clearly the happiest according to our research, it's important that workers establish healthy boundaries to capture the benefits of remote and hybrid working. This might mean creating a physical separation from work at the end of the day, establishing healthy morning rituals, or pausing notifications when not working. Employers must also implement policies to support balance for their teams, such as no-contact policies outside of working hours and not tracking employees' time and activities."
Dr. Kriti Jain, Professor at IE Business School, concluded: "We were astonished by the findings of this research, which clearly challenge the long-held assumptions about the advantages of office work. The data reveals that office workers experience higher levels of burnout and diminished job satisfaction compared to their remote and hybrid counterparts. These findings should serve as a wake-up call to policymakers, highlighting the urgent need to reconsider traditional workplace models and prioritise mental health and wellbeing. It is crucial that we embrace innovative solutions to foster a healthier and more fulfilling work environment for all".
Worker burnout is currently a priority of Members of the European Parliament thanks to the recently launched European Charter for Digital Workplace Wellbeing, spearheaded by the Future Workforce Alliance. The FWA is a forum of politicians, business leaders and academics focused on policy changes in response to the digital transformation of work environments.
1,000 workers from Europe, Africa, North America, South America and Asia participated in The Global Life-Work Survey, designed and analysed by academics from IE Business School. Participants work across a variety of industries including tech, healthcare, education and public administration and work remotely, in the office or on a hybrid basis.