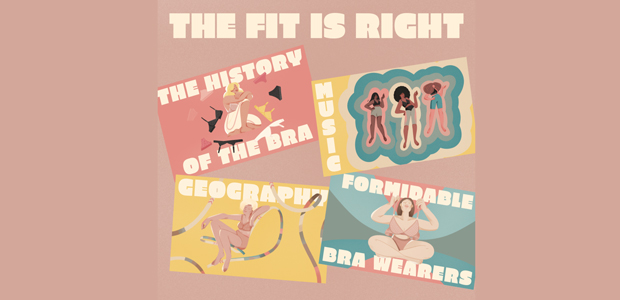 Nudea's Lockdown Evolution
Taking a look at how one startup navigated the challenges of COVID by adapting and refining their product and service and came out on top, we spoke to Priya Downes, CEO & CO-Founder of Nudea.
One year on from launch, fit-centric underwear brand, Nudea is now reaping the rewards of responding to the challenges of lockdown as well as celebrating new line launches. By disrupting traditional bra fitting through innovation and by modernising the measuring process with custom-designed tools, direct-to-consumer and online-only, Nudea has seen exponential growth during the lockdown period with sales of the brand's custom-designed Fit Tape up 500% since March and post-lockdown growth averaging 80% MoM.
Pivot, Adapt & Repeat …
Now as Nudea celebrates its first anniversary with new collections on the horizon, Priya Downes, Nudea's CEO and Co-Founder, explains: "The COVID-19 pandemic has forced change for many businesses and, for Nudea, the brand has certainly evolved for the better. We've had to pivot on holding face-to-face events, which had been working well for us prior to lockdown. Nevertheless, starting to offer free virtual bra fittings via Zoom has been a game changer for our customers. Time and again, the feedback we're getting from our customers is that they keep coming back for the personalised support we provide, right from the outset receiving the fit tape measure to receiving handwritten notes with every order and free returns, we ensure that the customer experience is paramount."
"Given 2020's circumstances, we've been in a great place to establish Nudea as the go-to brand for at home underwear fitting. Our bespoke Fit Tape Measure (developed leveraging data collated from over 1,000 women), Online Fit Finder and Virtual Bra Fittings have been all designed for self-measurement thereby eliminating the need to go to a physical store. What's more, as a new and agile brand, we've worked tirelessly throughout lockdown; we've released a new bikini brief line, responded to customer demand with a reusable, washable Face Mask which sold out three times, and established an enviable brand reputation as a go-to brand through extensive on and offline marketing activity and seamless customer service and support."
Capitalising On Digital Change
Nudea's USP of fitting at home, online and virtually was something offered right from the outset and was the founders' vision for the future of bra purchasing pre-COVID. Yet, what Covid-19 bought with it was an acceleration in digital adoption and customer acquisition. Nudea's growth has been exponential during lockdown due to the already existing core mission which was actually exactly what women needed at that time – a way to safely get fitted for a bra at home and also purchase a product that genuinely serviced the need for comfort in the new work for home culture. As lockdown is (at time of writing!) easing, the obstacles to physically based fittings are ever more challenging and we are now seeing a more permanent shift to at-home and online.  Nudea's offerings help women find their fit at home which not only helps at this time, but is also genuinely more convenient and less intimidating.
The Future's Sustainable
Taking steps toward being a more sustainable and inclusive fashion brand, Nudea is launching a new mainline collection in November. The new collection will feature bras and knickers made from recycled yarns, a sustainably sourced spacer fabric in a number of the bra styles, an expanded size range with 43 different bra sizes and new colourways. Moreover, the brand will launch a new line of seamless bamboo underwear including bralettes catering for 32A to 38F, camis and briefs. Additionally, Finally, in the run up to Christmas, Nudea will be launching an innovative Bra Care Kit to help increase product longevity and further reinforce the brand's commitment to sustainability.