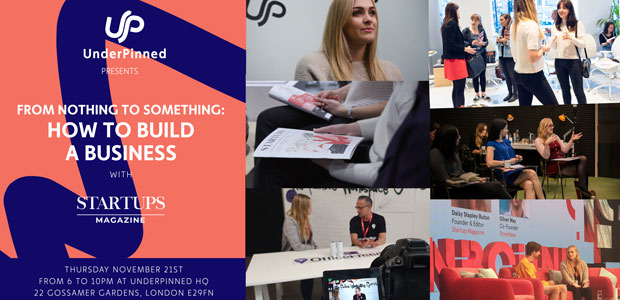 From nothing to something: How to build a business
Everyone has an idea about how they can create the next big thing, but how do you make that idea turn into a reality? Freelance platform UnderPinned teamed up with Startups Magazine to share knowledge about how to take a business from the idea stage to taking the first steps.
At UnderPinned and Startups Magazine's recent event 'From nothing to something: How to build a business with Startups Magazine', the two communities came together to host a night of panel discussions and an open Q&A for freelancers and entrepreneurs looking to start off their business with an expert panel distinguished by the following participants:
Q: How to know when to move forward with your business idea?
Sian Winfield: When you can't think of anything else, when you are obsessed with the business idea, that's the time to move forward with it.
Nicholas Nicolaides: There comes a moment and realisation when the time is right and you need the guts to go for it - there's no exact formula to know when it's right.
Lucy Werner: I worked within a PR agency for a long time, and I became disengaged, so when I decided to launch my own company, I made sure to bank at least three month's salary, giving myself three months to fail. In the first month I made £100, but by the third I had made a profit and required assistance to manage the influx of work.
Albert Azis-Clauson's summary:
There is no one approach when it comes to knowing whether to move forward with your idea.
Q: How do you go about defining your company's brand narrative?
Lucy Werner: I made an initial investment of £3.5K in my branding, but this lasted me three years before I made any changes. I wanted to differentiate myself from other PR agencies, and picked five words that described me and chose a brand colour (a greeny-teal) - I knew how I wanted to be perceived. My brand has changed since then, but at the start of the journey I wanted to look bigger than I was, whereas I have moved away from this now, which has invited positive engagement. People think that they can't afford to invest in PR, photography and branding - but this is so important.
Steve Duttine: In the early stages, you are the brand, so don't worry about perfecting the logo and branding too much at the beginning as it will change over time. The logo isn't the be-all and end-all.
Albert Azis-Clauson's summary:
Bring yourself into the brand.

Invest in your branding.
Q: The idea of formalising a business can be very intimidating from the outside. What do you think should be the key considerations, from incorporating to filing for things like EIS? Do you have a checklist of paperwork and admin that needs to be done?
Nicholas Nicolaides: It's easier than you think once you know what you need to do. Let's first put this into context. In Germany there is a nine-step process to set up a business which includes securing funding of €25k, engaging a notary and having a Shareholder's Agreement. In the UK, all you need is a business name, a chosen business address, a debit card and for a fee of £12 you can incorporate online in minutes. In the last 12 months, 680,000 new companies have been registered in the UK - that's a record number. However in that same time 530,000 have been dissolved. 
There are so many resources out there to arm yourself with knowledge. While it is easy to set up, it is also easy to fail by not being aware of or keeping up to date with your legal responsibilities as a Director. Speak with friends initially who've set up businesses and ask for help based on their experience, as well as researching on the Internet. HMRC and Gov.uk have great primers on how to set up and run a limited company. 
Lucy Werner: I am more on the creative spectrum than the numerical, so my very first investment was an accountant to help me with everything from VAT to PAYE and freelance contracts - it was the best investment I ever made.
When you run your own business you should create an informal network, find people at events and ask them specific, concise questions and skill-swap where you can, to learn. We are in a very mentor-driven culture, but sometimes all you need to do is just ask specific people, specific questions.
Sian Winfield: There is a perception that going from freelance to a company is a big deal, but just ask others how they did it. It's all about mindset - all of the information to do this is out there.
Steve Duttine: There are great organisations which can you help you set up as well such as Virgin Startups.
Albert Azis-Clauson's summary:
The infrastructure of setting up a business seems daunting but there are lots of resources available, such as those our panellists have recommended including: Virgin Startups, GOV.UK - Companies House, UnderPinned and Startups Magazine.

Find people who can support you and build both a formal (official mentors and organisations) and informal network (colleagues, peers, friends).
Q: Once you have the shell of the business set up, what are the first practical steps you need to take towards making revenue?
Nicholas Nicolaides: Create a Business Plan - not just a detailed document outlining your strategy - but a spreadsheet with columns for each of the next 12 months, and then plot our your expected revenue and costs to end up with how much cash you will have at the end of each month. Cash is king and this cannot be overstated. Many startups fail when they overspend or are too optimistic of the revenue prospects for the first 12 months. As entrepreneurs we're passionate about our new venture, and that inherent positivity for the prospects of the business can easily lead to overestimating potential revenue. Likewise, there could be events or costs that come out of left field that could throw you off. This is a document you should pin to your desktop and keep it updated regularly - don't keep it filed away.
Steve Duttine: I am a fan of building a Minimum Viable Product (MVP) early on - it doesn't need to be a polished project you work on secretly for years before launching. Figure out your route to market and start immediately.
Sian Winfield: I agree with Steve, this is a great way to test the waters as well before taking the business full-time. Test your MVP alongside your current employment to see if it gets traction.
Albert Azis-Clauson's summary:
Don't think you are just selling a product or service, you need to be solving a problem.

Get going with an MVP as soon as possible, for example if you have an app idea, create a landing page and encourage signups - this will start to validate interest in your business idea.
Q: What are the key metrics I should be tracking in the early days of a business?
Sian Winfield: Measure the engagement of your audience and clients, speak with the people you engage with for your business and ask for feedback - learn from what people are saying - they will offer you warning signs and are a good marker to measure your business by.
There are plenty of analytics to measure across all of your channels, whether its your social media pages or website, your revenue streams, your client base, sales targets, etc.
Steve Duttine: At the early stage, qualitative feedback may be more useful than from vanity metrics, listening to what people are saying about the business and focus more on understanding your financials.
Albert Azis-Clauson's summary:
Listen to feedback and be prepared to change and adapt.

Decide what success is for you and understand what and why this is.

Understand your business plan and track your financials.
Q: What are the key markers of a successful trajectory? And what are the warning signs I should look out for?
Lucy Werner: In terms of measuring your success, your idea of what success is will change as your business grows and with life. My idea of success has now changed and looks more like Paul Jarvis' 'Company of One'. And I am sure that my idea of success will change again in the future. Make sure you are the one that determines what success looks like for you and your company, don't be influenced.
Nicholas Nicolaides: Let me respond from a different perspective. Put yourself in the shoes of your potential customers and suppliers who want to engage with you. They may well be initially attracted to you by what they see on your site or from other marketing content, but they may well decide to do further due diligence and dig into your history at Companies House. This is a public and permanent record of how you have been running your business - if you fall behind on admin and filing responsibilities, such as late filing of accounts, for example, this creates negative impressions that suppliers, customers and investors will consider before they engage with you. Try to avoid these little slip-ups. 
Lucy Werner: Agreed. For example, with HR, there are many legal considerations, from the interview process, selection, redundancy, the difference between a freelancer and employee, etc. So make sure that you do your research and understand the processes so as to avoid issues later on.
Sian Winfield: Think ahead, and get contracts and processes in place for when you grow your team. Make sure you are protecting your business.
Steve Duttine: Warning signs in teams can emerge when you spot hubris, or people getting ahead of themselves with ridiculous business valuations for example if the business is growing rapidly.
Albert Azis-Clauson's summary:
It's easy to fall behind on admin, plan ahead and make sure you understand the processes involved.

Approach HR sensibly, to avoid traps - inform yourself.

Gain a good understanding of contracts within all areas of your business, especially when early-capital investment comes into play - do your research.

Hire up - investment in missing skill-sets in your business.

Build a culture that is driven and passionate - but considerate.

Pay the living wage.
Q: Once you start to define your brand and target market, what are effective channels of communication that you can kick off event when you're very small?
Lucy Werner: Build a community around your product or service and engage with them, incorporate their feedback into the business.
Sian Winfield: Build strong collaborations and partnerships that mutually benefit you both to work together. 
Nicholas Nicolaides: Start to build a visible track-record from the outset and think about where you want to be in a few years time. So its also important to plan ahead and consider what you're doing today and its impact on the long-term in all that you do.