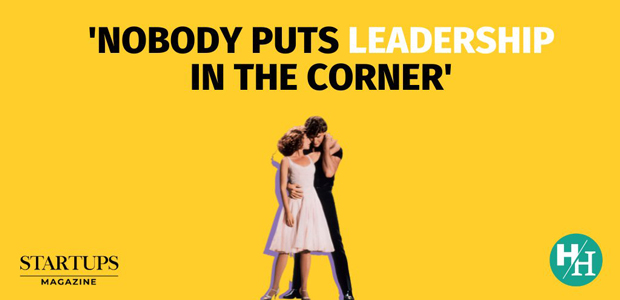 Nobody puts leadership in the corner
OK, we admit it. We're nuts about leadership. We could talk about it till the cows come home and then we'd settle them in for the night and tell them a bedtime story about it.
But cows are not very good listeners, so we want to talk to you about leadership instead. Leadership can mean many different things to different people and we get a kick out of helping people discover what leadership means to them, how to hone their skills and find out why putting their leadership front and centre can pay massive dividends.
You're a busy founder or entrepreneur, right? Do you really need to actively think about your leadership when there are so many other things competing for your attention that are seemingly far more urgent and important - the marketing strategy, meeting your accountant,  getting through your endless to do list? Well yes, yes you do and here's why…
If you have people working for you, they're probably your biggest expense. If you get it wrong, that cost will rocket – you'll be dealing with higher attrition, lower morale, increased conflict, and lost productivity. And that's just a conservative estimate of what could go wrong.

If you're thinking about scaling or growing your business, whether that includes hiring people or not, you're going to need to tap into some different skills and recognise gaps in your own abilities – that means you need to think about how you lead yourself.
Check out the top 20 reasons why startups fail according to research from CBInsights who reviewed post mortems on 101 failed enterprises here. You'll see that many of the reasons relate to leadership – from decision-making to planning, team and investor relations to not listening to key stakeholders.
It's tough though, we get it. We have been there ourselves – leading teams, projects and now our own business – and we've also worked with many leaders over the years, some of whom have loved it and others who have done it reluctantly! Most people become a leader through being brilliant at what they do: promotion often follows. Or you may find yourself in a leadership role in setting up your business, wearing all the hats. We never apply for the role of "leader". We wing it, we copy it, or we make a choice NOT to be like that terrible boss we once had. But the reality is, it isn't something that most of us do effortlessly. How to be an awesome leader isn't part of the school curriculum and when we start work, it's often a skillset that is deemed only relevant for those in senior positions so opportunities for training and development can be limited.
The great news though, is that it is entirely possible to become a great leader relatively easily and we want to share some of our secret sauce with you in this series. We're going to give you some straightforward aspects to focus on with practical tips on how to go about them. It's not about homogenous, identikit leadership – your authenticity as a leader is critical and we'll talk about that in the next article – rather it's about focusing on some core concepts that will go a long way to building shareholder, customer and employee confidence.
We'll share the importance of shifting your mindset from one of being 'in' your business to working 'on' your business, as well as your own learning and growth. We'll help you think about inspiring others through your ability to paint a picture of the future, and the ways in which you can engage everyone to deliver on that vision through honest, open and compelling communication. If you're someone who procrastinates making certain decisions, or finds themselves overwhelmed with work, we'll give you some guidance on how to focus on what matters. And we'll give you some good food for thought on how you can create an organisation that people LOVE to work in so that people LOVE buying from you.
Your leadership shouldn't be in a corner, left to its own devices and only getting a turn in the spotlight during a crisis or pandemic. It needs to be brought out into the open so you can see it, practice it and find your feet. We'll do our best to be the Johnny to your Baby – minus the hip action.
So get your dancing shoes on; we're going to leave you with some first steps to take –
Find out how others see you as a leader
Ask a handful of people whose opinions you care about to describe your leadership. Tell them why you're asking and encourage them to be honest. Listen/read carefully and only respond with questions to help your own understanding – e.g. can you be more specific about that? What was the impact of that for you? Thank them for their feedback.
Next time we'll talk about the importance of building your brand and developing your self-awareness. Until then, keep dancing.