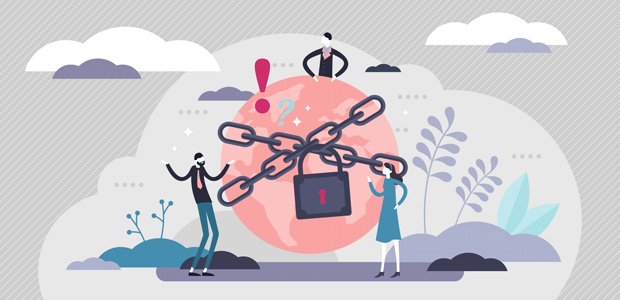 The Nine Lessons We've Learned from Lockdown
Last month we officially reached the milestone of a year since the first national lockdown. With lots of change and uncertainty - both at home and work - many of us turned to Google for advice and support.
New analysis of our search habits carried out by Bupa's health experts have identified nine lessons we've learnt over the past 12 months. Our experts share their advice on how to positively implement these learnings in the future – whether you're working from the office or remotely.
Lesson 1: Take regular breaks from your workspace
During 2020, the average UK monthly search volume for 'burnout' increased – peaking at 12,100.
We experience burnout when we are exposed to high levels of stress and pressure in the workplace. Often the pressure can feel uncontrollable and lead to us feeling overwhelmed. Negative feelings towards work, lacking motivation and changes to your mood and habits are all symptoms of burnout.
It's important to take regular breaks to reduce the effects of burnout. Lauren Gordon, Behavioural Change Adviser at Bupa UK, said: "A five-minute break away from your desk every hour allows you to step away from your workload. Using this time to do simple stretches or a short mindfulness practice, can leave you feeling reenergised when you return to your desk, boosting your productivity levels."
Lauren also suggests spending your time in the evening doing something you enjoy, as well as spreading your annual leave throughout the year. This will allow you to switch off and recharge from your working life.
Lesson 2: Challenging work keeps us engaged
Pablo Vandenabeele, Clinical Director for Mental Health at Bupa UK Insurance, describes boreout as a mental health condition experienced when we don't feel challenged enough by our daily workload. Those experiencing boreout often feel as though their work is repetitive, easy or doesn't challenge your mental abilities enough – leaving you feeling exhausted, anxious and stressed.
UK Google searches for 'boreout' increased by 680% during the peak of the first lockdown in 2020.
There are small steps you can take to avoid experiencing boreout. Pablo said: "Talking to someone you trust can help. For example, speaking to your manager about your goals and any new responsibilities you could take on can help you to overcome boreout as well as supporting your career development."
As a manager, looking out for signs of boreout (fatigue, stress, and anxiety) in your team as early as possible can help you to work with your team to boost motivation levels and reduce the effects of boreout.
Lesson 3: Flexibility leads to a happier workforce
With the closure of schools over the past 12 months, flexibility in the workplace has been more important than ever, especially for those juggling home schooling with work commitments.
In March 2020 - at the very beginning for the first lockdown - searches for 'working from home with kids' peaked at a monthly search volume of 12,100 – with many parents turning to Google for support and advice.
Clinical Director for Mental Health at Bupa UK Insurance, Pablo Vandenabeele said: "If you've found your time is stretched more than ever over the past few months with work commitments and home-schooling, it is important to not put too much pressure on yourself – it's been a challenging year."
Over the past year the importance of striking a greater work-life balance has been recognised with 67% of the UK workforce agreeing their employers have been supportive.
If you're finding it difficult to balance your workload talk to your manager about possible ways you can work together to overcome this.
Lesson 4: Nutritious lunches fuel us for the afternoon ahead
During 2020, there was a significant increase in searches for 'healthy lunch ideas', with search volumes peaking at 74,000 in May 2020.
With many of us spending more time at home than ever before it can be tempting to form unhealthy eating habits, such as snacking on convenience foods rather than eating healthy meals at regular times.
Victoria Evans, Wellbeing Programme Consultant at Bupa UK and Registered Associate Nutritionist says, eating a healthy and balanced lunch will help boost your energy levels and beat the post-lunch lull.
"Lunchtime meals that include a balance of fruit and vegetables, carbohydrates (quinoa, bread, rice and potatoes), protein (eggs, fish, meat or dairy alternatives) and health fats, (olive oil and avocado) will fuel you for the afternoon ahead."
Lesson 5: A year of too many video calls has left us feeling exhausted
Over the past year Google UK searches for 'zoom fatigue' have fluctuated.
Zoom fatigue explains the tiredness and worry we experience when we overuse virtual platforms as a form of communication
Our brains need to work harder when using video calls when keeping in touch with others. Processing several faces and voices through the lens of a screen requires subconscious effort. Our sense of self awareness is also heightened when we're on camera – meaning we become more concerned with our body language and facial expressions than we would do if the conversation was taking place in-person.
Others may worry about distractions such as, background noise, being interrupted by family members or technical difficulties – all these factors can lead to zoom fatigue.
Lauren Gordon, Behavioural Change Adviser at Bupa UK suggested: "Limiting the number of video calls you join each day. Ask yourself does a video call need to take place – could you communicate via email, teams or skype messages?
During video calls, try to avoid multi-tasking, such as checking emails or completing other pieces of work. This will reduce any additional cognitive load allowing us to concentrate on that task at hand."
Lesson 6: The right WFH set up is important
Since the beginning remote working in March 2020, new research by Bupa has revealed 63% of the UK workforce has suffered from an injury to their back, neck, hips, knees, and wrists.
The correct workspace set up is important in taking care of your posture. Whilst it can be tempting to work from your sofa or even your bed – this can lead to aches and pains.
If you're still working from home, try working from a desk or a kitchen table if you have no dedicated workspace. Keeping your shoulders relaxed, feet on the floor and arms at 90 degrees will help to reduce the risk of any injures.
Many of us sit at our desk for too long – taking a five to ten-minute break every hour or so, to step away from your desk reduces the risk of stiffness and muscle pain.
Lesson 7: Be creative with your virtual events
With social distancing restrictions in place over the past year many of us have become very familiar with virtual platforms as a way of staying connected with our friends and family.
Virtual work events are beneficial for businesses – making time for your team to socialise boosts motivation levels as well as promoting company culture.
Prior to the 2020 festive season in November, Google UK searches for 'virtual team building activities' peaked at 4,400.
Lauren Gordon, Behavioural Change Expert at Bupa UK said: "Virtual events can be as big or as small as you like and there are plenty of ways to get creative. For example, this could be a weekly coffee catch up, a quiz or even a gameshow."
"However, before planning a virtual event it is important to take all of the personalities of your team members into consideration. This will help put any anxieties at ease and help your event get off to a great start."
Lesson 8: Career development is a great way to feel a sense of control during challenging times
Encouraging employees to develop their skillset not only helps to boost your team's confidence and motivation levels but also forms a resilient and engaged workforce – lowering the risk of your team suffering from mental health conditions such as boreout.
During 2020, Google UK searches for 'online learning' increased by 400%.
Whilst learning something new can be challenging the results are very rewarding. With many of us facing uncertainty over the past 12 months, learning a new skill has given us something positive to focus on.
Pablo Vandenabeele, Clinical Director for Mental Health at Bupa UK Insurance explained: "Learning a new skill doesn't necessarily need to be directly linked to our day job. For example, learning a new language or craft both contribute to expanding your skillset."
As a manager there are small steps you can take to encourage your team to develop their skills, such as sharing any opportunities you think your team may benefit from. It's important not to make further learning compulsory – many of your team may feel as though their time is stretched more than ever at the minute, especially those juggling home schooling and work commitments.
Lesson 9: A morning routine sets your day up for a great start
Since adjusting to working remotely, many of us have made a habit of snoozing alarms and rushing to log on to our laptop to start our working day in the morning – and we're not alone in this.
Searches for 'morning routine ideas' peaked at a monthly search volume of 8,100 in May 2020.
Lauren Gordon, Behavioural Change Adviser at Bupa UK said: "Creating a morning routine that works for you is a great way to boost your mood and productivity levels for the day ahead. With the days becoming longer and mornings lighter now is a great time to find what works for you."
You can create a morning routine with an ordered structure of behaviours you would usually do such as, making your bed, having a shower, and eating a health breakfast. Whilst working remotely, you can also try to adopt new behaviours, such as swapping your morning commute time for a morning workout or run.
There is no right or wrong way to create a morning routine, it's important to find what works for you and your body to make sure you get the best start to your day.