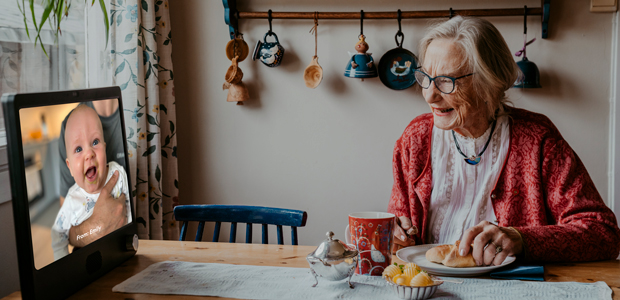 New version of the safe social network for analogue seniors
No Isolation, the company bringing people together through the use of warm technology and the application of specialist knowledge, today launches a new version of KOMP, its one button computer designed specifically for use by seniors. The new model, boasting a wider screen and in-built internet, has been launched in direct response to user feedback following an increase in demand brought about by the COVID-19 pandemic. To date, No Isolation has sold 4,300 KOMPs, and the app is currently being used by around 30,000 people across the globe. This means that on average, each KOMP is connected to approximately 7 family members.
Developed specifically to bridge the communication gap between analogue seniors and their digitally native family members, in order to reduce feelings of loneliness and social isolation, KOMP is placed at the senior's house, and family and friends can connect and share content through the dedicated app. When the KOMP is turned on, the user will automatically receive the messages, video calls and pictures sent throughout the day.
Due to the temporary closure of nursing homes and the shielding mandates laid out for vulnerable adults during the COVID-19 pandemic, KOMP experienced a significant uptick in both sales and usage. In the last two weeks of March alone, No Isolation sold 1,500 devices, and where the average KOMP would receive 1.9 phone calls per week pre-pandemic, this has now increased to 8.5. Additionally, the average amount of photos shared has also risen from 11 per week to 18, demonstrating the much-needed support the technology provides.
Updated features
Having worked closely with seniors, families and designers on KOMP's initial design to understand exactly what features would be needed to work for its target audience, the new version has been developed by No Isolation in direct response to feedback from its user base. Key updates to KOMP include:
Improved visability and screen size

- Accounting for the fact that many seniors are affected by reduced eyesight, with some experiencing vision loss by as much as 80%, KOMP now comes with a high contrast, 16:9 widescreen screen. In addition to improving overall visibility, the larger screen display better accommodates video content.

Enhanced sound quality

- The addition of a more powerful and better-encapsulated speaker to produce crisp, high-quality sound makes it easier to hear and understand the person on the screen. In addition, feedback from the microphone has also been reduced enhancing the two-way video experience.

In-built internet

- Given that a number of seniors do not have a WiFi connection already set up in their home, and many care homes have poor or, in some cases, no internet access, one of the most significant updates to KOMP is the integrated Wi-FI-enabled SIM-card. This enables seniors to simply plug in their KOMP and begin using it. Users are able to op-out, however, if they already have a home internet plan.

Improved design

- To ensure that KOMP is easily transportable between rooms, the updated version now has an easy to grasp carry handle located at the top of the device. The addition of a 'foot' and a slight tilt of the screen so that it sits at an angle also make the unit significantly more stable when placed on surfaces. Stability has also been improved when using a VESA wall mount.

 
According to Age UK, 3.6 million older people in the UK live alone, with 1.9 million reporting feeling ignored and invisible. Furthermore, The Alzheimer's Society reports that there are over 800,000 people in the UK aged over 65 who have dementia typically struggling more than others to learn how to use new technology. For these groups, communication is typically offline: either face to face or via the phone. Modern-day communication devices and social media mean that the younger generations are able to communicate instantly, via many mediums - something which has proved invaluable amid the COVID-19 pandemic. No Isolation has taken the most useful elements of social media and introduced them to the senior population, in a product designed specifically for them.
Karen Dolva, co-founder and CEO of No Isolation commented: "As a company, it has always been our mission to ensure that no one has to needlessly suffer from loneliness. This uncertain period, brought about by the outbreak of COVID-19, has enabled society to wake up to what we've always tried to emphasise: the importance of keeping people connected and the profound impact this can have on not only mental, but also physical health. By creating KOMP, we want to ensure that seniors feel like they are an active part of their children's and their grandchildren's lives, and to stop them feeling lonely, particularly while they can't physically be with their family. Now more than ever, we want to bring all of the most magical aspects of modern-day communication tools into one device, in order to ensure seamless communication between all family members, across all generations. It is for this reason that we made the decision to bring forward the implementation of these much-needed updates to KOMP."
How KOMP works
No Isolation knew that it had to create a communication device that was both simple to use and different from the tablets and computers currently available on the market. Modifying existing technology wasn't an option and No Isolation quickly learnt that being exposed to a new communication tool without prior experience could be frustrating for seniors and initial failures, discouraging. As such, KOMP is designed to allow users to seamlessly receive messages, images and calls. By removing all usernames and passwords, KOMP is immediately easy to grasp, giving seniors a sense of mastery over a piece of technology. Key existing design features include:
Ease of use

- The user can receive text messages, images and video calls, with all commands performed through one large, graspable, button and decline incoming calls by turning the button to switch the KOMP off. Accepting a call requires no action from the user - when turned on the KOMP simply counts down from 10, after which the call begins automatically - offering two-way video and audio. Unlike other devices and tablets, KOMP has limited functionality, requiring no complex commands from the user - all the content, as well as device management, is done through the accompanying family app.

No touchscreen

- During the research stage, the team learnt that a lot of seniors experience leathery and dry fingertips when they grow older, due to decreased blood flow, making it difficult for them to use a touchscreen. As such, KOMP has no touch screen and is operated by a single, easily graspable button.
Just like the device, the KOMP family app is intuitive to use:
Familiar interface -

The family app has a similar layout to other messaging services, making it simple and straightforward to use.

Personal invitations and secure streaming

- An unlimited number of invite-only members can share moments through the app, giving everyone in the family the ability to communicate with the user. Additionally, No Isolation only tracks metadata, and never shares data with third parties, meaning that all content is completely secure.

Social network-style capability -

An interesting by-product of the KOMP app has been that it has encouraged closeness not only between the user and the family but amongst all family members, across generations. Through the sharing content within the app all family members can remain up-to-date with each other and feel more involved in one another's lives.
KOMP can be purchased for £599, or rented for £39 pound per month, plus £19 per month for internet, and will initially be delivered within 2-4 weeks and then 2-3 days from late November. The KOMP app is compatible with most smartphones and tablets operating on iOS (11 or later) and Android (7 or later). KOMP is currently available in Norway, the UK, Sweden, Denmark and The Netherlands.
In October 2018, KOMP won the NESTA Smart Ageing Prize, awarded to products and services using innovative digital technologies to support older people and allowing them to actively maintain their social life. Furthermore, a 2019 research report on KOMP by Oslo Metropolitan University showed that KOMP is suitable for seniors with a range of health challenges, including cancer, poor hearing, and dementia. The report concluded that most relatives felt that KOMP reduces loneliness and results in greater contact between family members and seniors.
KOMP Pro for care providers
In October 2019, No Isolation launched the Pro software for care providers in the Nordics - in addition to the Family software - which offers care homes additional functionality including reminders, a dementia friendly calendar and clock. Currently, more than 75 Nordic municipalities have more than 1250 carers using the tool to send residents medication reminders, share daily schedules and keep in contact. Families can still use the KOMP Family software to send photos and messages to, and video call with, their relatives. KOMP Pro was made available in the UK in February 2020.