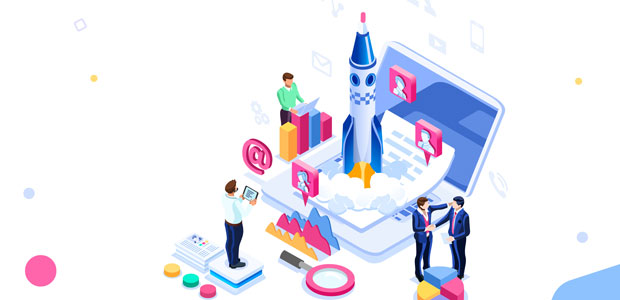 New 'Scale Ratio' identifies growth potential of UK tech hubs
Tech Nation, the scaleup network for entrepreneurs, has launched its inaugural Scale Ratio, which compares the number of seed stage, early growth and late growth companies in the UK's tech ecosystems.
Tech Nation reveals that a 50:30:20 ratio of seed (50%), early growth (30%), late growth (20%) companies in a UK regional tech hub is indicative of a mature, balanced ecosystem, well placed to benefit from the accelerated growth of late stage companies while creating the next wave of tech scaleups. 
Tech Nation's newly launched 'Scale Ratio' suggests the 50:30:20 ratio results in the highest performing hubs - areas with the largest number of scaleups attracting the most significant VC investment. London, Manchester, and Cambridge generally exhibit the 50:30:20 ratio and attracted the most investment in the UK in 2020, with 70% of this investment made into late stage companies.
Belfast (54:32:14), Dundee (54:26:20) and Exeter (59:14:27) are revealed as the tech hubs to watch in 2021, with Scale Ratios that indicate they have the highest growth potential. These cities have the highest proportion of seed stage companies compared to any others in the UK. Supporting this, Belfast witnessed a doubling of pre-seed (£0-800k) investment in 2020.
In 2020, Dundee was home to a high proportion of seed stage investments, such as a round of over £300k of investment in Eversens, a biotech firm, whilst in 2019 there were a higher proportion of Series A investment, including rounds raised by the likes of Agritech startup - Intelligent Growth Solutions. Exeter saw early stage investments in edtech firm Maths Kitchen, and SaaS platform Re-Flow (2019-2020).
On the other hand, Milton Keynes, Watford, Reading, Peterborough and Slough over index on late stage companies and have less developed seed stage pipelines, with as many as 52% of total scaleups in late state growth.
Looking at sectors, fintech, healthtech and enterprise software are the most mature scaleup sectors, where the number of companies are heavily weighted towards late-stage companies. Meanwhile, edtech and mediatech are weighted heavily towards seed stage companies, indicating these are sectors with opportunity for future growth and development.
Dr. George Windsor, Head of Insights, Tech Nation, commented: "Crucially, the Scale Ratio tells us about the growth potential of the UK's tech hubs and provides the levelling up agenda with new evidence to boost regional ecosystem development. It highlights exactly where scaleups are not receiving the support they need to grow from seed stage upwards to ensure these gaps are plugged. Despite the challenges of the past 12 months, the growth and potential of homegrown tech pioneers gives us something to celebrate.
"Tech scaleups hold the key to the UK's competitiveness in the next decade through job creation and investment. Scaleups are already driving investment into UK tech, representing 81% of the UK total and creating employment, with approximately 150,000 jobs in 2019. From established firms to startups, it's important to remember that companies at all stages make up the local and regional economies that give UK tech its global reputation."
Digital Minister Caroline Dinenage on the Scale Ratio: "These new figures show the resilience and potential of the UK's regional tech hubs which continue to create new investment and jobs.
"We are working hard to create the right business environment through skills and talent training, investment in digital infrastructure, and research and development, so we can build back better from the pandemic."
Tech Nation's Upscale programme announces UK's most promising tech companies

 
This report comes as Tech Nation reveals the latest cohort of its Upscale programme, 33 of the fastest-growing and most promising home-grown tech businesses in the UK. The Upscale programme supports the growth of leading scaleups, exploring the fundamental growth challenges between peers and established tech founders. 
Tom Blomfield, Founder of Monzo Bank, is amongst the speakers and coaches for the programme. He is speaking to the finalists this week about scaling vision, mission and culture, and developing as a scaleup leader.
Now in its sixth year, the Upscale programme has continued to evolve. The programme this year is completely online and is helping founders and scaling teams tackle the particular challenges which have arisen as a result of the COVID-19 pandemic, such as: scaling culture,  building a team remotely, raising funds in a lockdown, and pivoting strategy. 
The programme has been able to increase participation from across the UK, of the 33 companies joining the programme 48% are based outside of London, including in Belfast, Brighton, Bristol, Cambridge, Leeds, Manchester, Newcastle, Nottingham, and Oxford. 
Spotlight on healthtech
This year, the cohort is heavily skewed towards healthtech companies, representing 18% of the total cohort, reflecting how healthtech companies have come to the fore of UK tech. The UK is now third in the world for healthtech investment after the US and China, with investment in the UK increasing from $2.27bn in 2019 to $2.32bn in 2020. 
Healthtech companies joining the Upscale programme include: London-based LabGenius, which develops new protein-based drugs using machine learning - lowering the associated costs and risks of drug development; Belfast-based Locate a Locum, which enables temporary healthcare workers to connect; Oxford-based Vitaccess, a platform which quantifies patients' experiences of treatments and illness; and London-based Blink, a communications platform for Frontline workers.
VC investment in UK healthtech companies by stage of investment (2015-2021)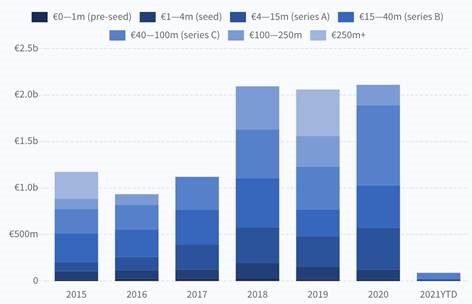 The 33 scaleups joining the programme are in excellent company, with scaleups on last year's programme including the London-based deathtech company, Farewill, providing people with easy access to will creation, which has now raised £20m led by Highland Europe; and Peanut, the social-networking platform for women, which raised £12m in 2020 led by EQT Ventures.
The programme is supported by partners, Cooper Parry, Cooley and SVB, who bring their expertise in finance, fundraising and international expansion to Upscale 6.0.
Liam Ward, Upscale Programme Lead, Tech Nation commented: "We're incredibly excited to launch Upscale 6.0, our most regionally diverse cohort ever, alongside the Scale Ratio Report, and to continue to champion and support the UK's most exciting fast-growth companies.
Despite the events of the last 12 months, we're still seeing some exceptional companies scaling at Series A stage, with healthtech and the future of work being represented particularly strongly. We're excited to adapt Upscale to support the new challenges that founders are facing around remote work, fundraising and culture; and to work with such an exciting group of leaders."
Aron Gelbard, Co-founder, Bloom & Wild, commented: "I was thrilled to take part in the judging process for Upscale this year and see how competitive the applications were. Our leadership team really benefited from our time on Upscale in 2016, and now as an alumni of the programme, it's great to be able to share my experience scaling Bloom & Wild as both a judge and speaker with a new group of founders scaling the UK's most exciting companies."