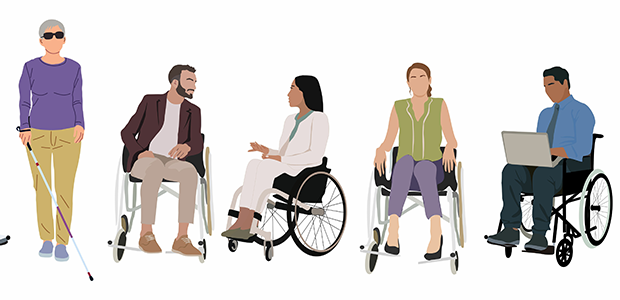 New Research Reveals Disabled Entrepreneurs Face Severe Funding Inequity
A groundbreaking research study conducted by campaign group Access2Funding, in partnership with leading organisations, has exposed the shocking disparities faced by disabled and neurodiverse entrepreneurs in the UK and the knock-on impact to the UK economy.
The findings have shed light on the significant barriers and missed opportunities that have left disabled entrepreneurs underrepresented and underserved in the business landscape.
In particular, it found that disabled entrepreneurs in the UK are a staggering 400 times less likely to receive investment compared to their non-disabled peers. Inaccessibility remains a major hurdle for disabled people, leading to approximately £2 billion in missed returns every month across industry. 
This huge funding gap has resulted in over half a billion pounds in returns being left on the table and untapped talent that could significantly contribute to economic growth and UK wide job creation.
Despite the barriers, disabled and neurodiverse business owners have proven themselves to be key innovators, as they are 28% more likely2 to create new products and services compared to non-disabled individuals. This being attributed to most disabled people developing a heightened ability to overcome barriers to accessibility with creative solutions.
Michelle Owens CBE, Founder of Small Business Britain, commented on the report: "Disabled entrepreneurs, who represent 25% of the small business population in the UK, are not a small cohort, but a huge economic force for the UK. We urgently need to do far more to level the playing field and accelerate disabled founders, including at the point of investment, to unlock this huge economic opportunity for the UK. In particular, the lack of representation and visibility calls for immediate attention and action."
Joseph Williams, Co-Founder of Access2Funding and disabled entrepreneur added: "This clear funding inequity deprives disabled entrepreneurs of the essential resources required to grow their businesses and to innovate, leaving skills and talent underutilised. 
"Despite contributing almost 10% of the UK's GDP, disabled entrepreneurs are disproportionately excluded from the investment conversation and support systems. Our current economic landscape is inherently inaccessible and not designed for us to thrive, hindering our ability to unleash our true potential. We hope this campaign acts as a large wake up call to the untapped talent within the disabled community if we create more accessible and equitable funding systems."
The campaign group behind Access2Funding is urging policymakers, investors, and business leaders to recognise and address these inequities. The campaigners believe that by empowering disabled entrepreneurs and removing barriers, the UK economy can harness the untapped potential and embrace a more inclusive and prosperous future for disabled and neurodiverse communities and society at large.  
Access2Funding Co-Founder Celia Chartres-Aris further added, "Imagine the possibilities if disabled entrepreneurs received the same support and opportunities as their non-disabled counterparts. By unlocking this potential, we can drive economic growth, foster innovation, and create a truly inclusive entrepreneurial ecosystem.
"We are committed to driving positive change and fostering an environment where disabled entrepreneurs can thrive. The research findings will be shared widely with policymakers, investors, and industry leaders, advocating for systemic changes to address the challenges faced by disabled entrepreneurs.
"We are inviting stakeholders to join the conversation and collaborate in creating a more inclusive and supportive entrepreneurial landscape for all."