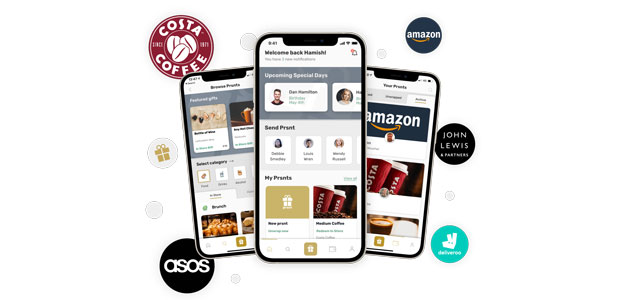 New gifting app raises £180,000 with Suss Ventures
Prsnt have raised £180,000 through Suss Ventures, the bespoke investor matching service at Sussex Innovation. The tech startup aims to dominate the gifting marketplace, by creating a peer-to-peer gift exchange platform to leverage the 'feel good' factor of giving and receiving gifts. The investment will be used to streamline the app after its successful beta testing, and to grow its user base as part of ongoing business and technological development. 
Co-founded by a team of five, the app draws on years of experience in design, tech and product development to create an app that enables users to send and receive gifts to their friends and family from their favourite high-street brands instantly. The app harnesses network effects, where generosity breeds new users who can send gifts with a personalised video or text message as a nice gesture, or in celebration of an occasion.  
Omid Moallemi, Co-founder of Prsnt, stated: "How amazing would it be if gifting was more than a card, chocolates, a stamp, and some sellotape? Prsnt is centred around small thoughtful gifts, where you can spend just two pounds on something like a coffee, with a personalised greeting video. 
"It's the same cost as posting a birthday card just without the environmental impact of postage and packaging. We spent the first six months working on the idea with very limited budget. When the lockdown hit a lot of the VCs were saying they're just backing their existing portfolios, but people were very receptive to our idea. It was great having Laurence, Founder of Suss Ventures, to guide us through the journey and we developed a good amount of trust which is very important to us."
Louis Wren, Co-Founder of Prsnt added: "We spent a lot of time profiling and seeking out the very best investment partners, leaving no stone unturned and being deliberate about who we wanted to align with. Suss Ventures helped connect us with a VC that shared our values, vision and long-term strategy. They will now join us on this journey for the foreseeable future thanks to the introduction through Laurence." 
Laurence Grant, Founder of Suss Ventures, commented: "It's been a real pleasure to get to know Omid, the Prsnt team, and the product itself. The app is reinventing the market of gift-giving by leveraging the power of technology and consumer brand partnerships. Besides making me personally more popular among friends, having been able to give away three free coffees as part of the due diligence process, it's clear that Prsnt has given hundreds of users the joy of reciprocity in these isolating times. I have no doubt Prsnt will be here to stay as an innovative platform that continually celebrates friends and family in new, exciting, and rewarding ways. Congratulations to the entire Prsnt team!" 
What is Prsnt?
Prsnt is the one-stop gifting app that helps users stay connected. Partnered with many of the UK's beloved High Street retailers, the 5-star rated app has curated a highly desirable and user-friendly marketplace with a range of gifts no matter your budget size. The app is currently available to anyone with a +44 number and Prsnt is developing its platform across Europe and the United States by working with brands that are specific to each territory. 
As the effects of the pandemic are felt across the globe, special days have never felt so lonely. Prsnt puts emphasis of emotional exchange at the heart of their user flow to simply amplify the human connection we've lost as a result of COVID-19. They've cracked digital gifting like no other. 
The combination of acts and emotional intention is what makes gifting such a powerful ritual. Their user-generated messaging amplifies the emotional transaction making meaningful gifting quicker, easier and more rewarding than ever before.
How does it work?
The user experience is intuitive, quick and smooth. Prsnt connects with your contact list so users can connect with friends and family and invite those who aren't already using the app. Simply select the person you want to send a gift to, browse the range of gifts from a cup of coffee from Starbucks or a meal for one from Just Eat, and send or receive gifts from as little as £2 with a personalised text or video message. Digitally unwrap your gift with your finger and send back a message to say 'Thank you'. It's that simple. 
Key features 
Prsnt ditches unnecessary post and packaging used when sending gifts, which saves our planet, and enhances the instant peer-to-peer gifting experience. 

Never miss a birthday with personalised reminders. The app mitigates the risk of forgetting your close one's birthday, or your anniversary. 

Snap a video just for them and send it along with your gift for a personalised experience. 
Download the Prsnt app available on the App Store or Google Play.