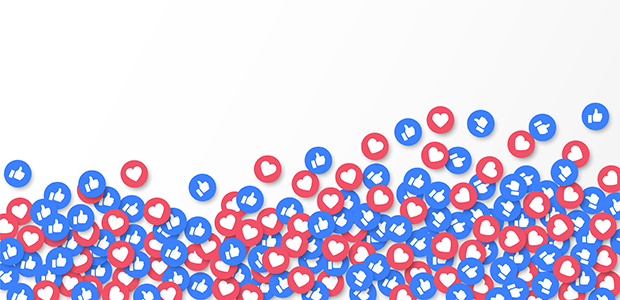 New data reveals the world's most influential entrepreneurs
Modern-day entrepreneurs have utilised various resources such as programs, interviews, and podcasts to expand their empires. With this emergence of entrepreneurs in the influencer sphere, Business Name Generator has delved into social data to find out which entrepreneurs hold the most influence online in 2023.
By examining the cumulative number of followers and social sentiment towards some of the biggest names in business, Business Name Generator has created the influential entrepreneur's index.
Former Facebook COO and VaynerMedia CEO among the most influential entrepreneurs online
According to the study by Business Name Generator, Sheryl Sandberg is the most influential entrepreneur online in 2023. Despite having a relatively low number of followers (1.2 million) compared to others on the list, Sandberg had a remarkably high percentage of positive tweets (74%) and the lowest number of negative tweets (4%) among all the entrepreneurs analysed.
The top 10 most influential entrepreneurs online in 2023:

Gary Vaynerchuk ranks second among the most influential entrepreneurs online. Gary Vaynerchuk, who is also known as 'GaryVee' on social media, has been a prominent figure in the entrepreneur-influencer space for a decade, leveraging YouTube to grow his Twitter and Instagram following to over 13.1 million. Vaynerchuk received the highest percentage of positive tweets (75%) among all entrepreneurs analysed, making him the most loved entrepreneur-influencer in the study.
The top five most loved entrepreneurs on Twitter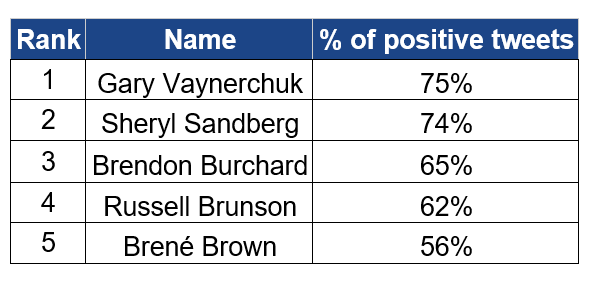 When considering positive social sentiment exclusively, Gary Vaynerchuk and Sherly Sandberg occupy the first and second positions, respectively.
Brendon Burchard, a high-performance coach, ranks third among the most popular influential entrepreneurs online. According to Twitter data, 65% of the tweets about Burchard are positive, reflecting his immense popularity as a motivational speaker. Despite his remarkable success, Burchard faces some criticism online, with 15% of tweets directed at him being negative in nature.
The five most trolled entrepreneurs on Twitter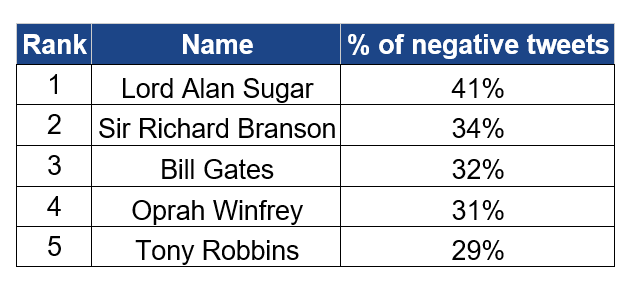 On the other end of the scale, British Business Magnate, Lord Alan Sugar, receives the highest number of negative tweets. With his reputation for getting into Twitter spats, 41% of tweets directed towards him are negative in sentiment.
The founder of the Virgin Group, Sir Richard Branson, has earned the second spot in the list of entrepreneurs with the highest percentage of tweets carrying negative sentiment, at 34%. Despite being a British business magnate who has expanded into various sectors, ranging from music to travel and beyond, Branson has received criticism online for some of his ventures, including his recent foray into space. While he is known for his philanthropy and inspirational leadership, some people have called him out for the environmental impact of his space projects.
Elon Musk is the most followed entrepreneur on social media
When analysing which entrepreneurs are the most influential on social media, numbers count. Business Name Generator's analysis of Twitter and Instagram social media followers shows Elon Musk has the largest combined following (over 135 million), followed by Bill Gates (over 70 million) and Oprah Winfrey (nearly 45 million).
Branson is the most followed British business entrepreneur with over 17 million followers.

Chloe Chai, spokesperson for Business Name Generator, comments: "The landscape of the business world has undergone a significant transformation in recent years. To become a globally recognised entrepreneur in 2023, business owners need to think beyond what they can offer to the world of business alone.
"Many successful entrepreneurs leverage their niche skills to influence others positively. By sharing their knowledge and experience through various platforms, they inspire and motivate others to achieve their goals. Others use their entrepreneurial spirit to secure prominent roles in the media landscape, such as being a part of reality TV shows like The Apprentice, Dragon's Den in the UK, and Shark Tank in the US. These opportunities not only provide a platform to showcase their business acumen but also help them gain public recognition and credibility.
"Overall, to be a successful influential entrepreneur in 2023, one must have a unique niche, share their knowledge and experience, be media-savvy, have a strong online presence, and constantly innovate to stay ahead in the game."