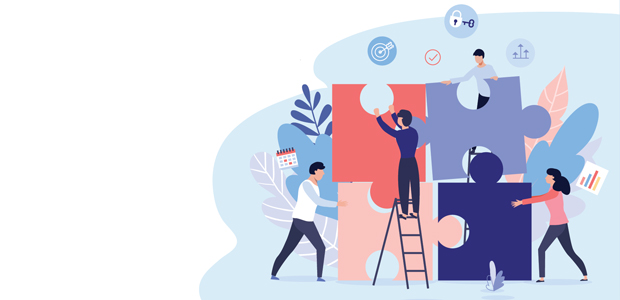 New business development during pandemic is an exciting opportunity
SDG Monitor started from a common mission of three sustainability professionals to help the United Nations to reach the Sustainable Development Goals (SDGs) by 2030. SDG Monitor is a true startup of COVID-19 Pandemic.
We met at the online course 'in' Cambridge and started chatting about how Agenda 2030 is a government level contract but companies are in a crucial role realising it. So we created a hands-on tool that integrates SDGs into any business  strategy or sustainability policy and helps companies to measure and communicate their sustainability performance. We have been working together now for over a year while meeting face to face only three times. These are our tips on how we did it.
Embrace working from anywhere culture
Remote work relies on innovation and modern technology. Quickly developing digital technologies have enabled people to be accessible and connected at all times. As a new business created during the COVID-19 pandemic we have only met three times face-to-face. For our core team it was clear from the beginning that we won't be working all in the same place but we will do it remotely from wherever we are at the given moment. We believe strongly that physical location has no restrictions to your learning curve as a Tech startup.
We have created an online office space in Zoom where we work together in real time and get work done as we would in a physical office. In the work from anywhere (WFA) culture achieving a good work-life blend can be both a challenge and a benefit, as all-remote work allows more freedom and flexibility. It is highly beneficial that team members are self-driven and self-regulatory in the sense that they manage their time, know what motivates them and understands their best ways of working, as well as what they are good at. High levels of self-management skills among persons are helpful in making all-remote teams work efficiently and create value.
The whole recruitment process for finding the right web development agency to realise and maintain our SaaS tool was executed online. Similarly our tool was developed through web development tools (Atlassian, AWS) and communicating via Zoom and Slack with our web developer supplier. Without having met face-to-face.
In brief, working from anywhere is our biggest benefit. Stimulating interest and curiosity is one of our missions and we do it through knowledge sharing and educational bi-weekly webinars. As we are in the course of creating a global community of sustainability entrepreneurs, consultants and specialists, we have realised that we don't need a physical space to create strong interest. An ability to create a diverse community that is globally spread does not require the core team to be in the same place.
"You don't need to be physically in one place to ask questions or to understand and learn. The feeling of being part of a community creates inclusion to something bigger and we are excited that SDG Monitor as a business can make that happen." (Vilma Catani, Data Scientist)
"Being digitally confident and creating new ways of delivering our products and sustainability consulting services, for example, through our concepted Online Programs makes us very reachable." (Tuuli-Anna Tiuttu, CEO)
Complementary skill-sets but mutual interest
We think that one of our greatest advantages is that we hold complementary skill-sets, but we share the same vision and business goals for our company. In addition to complementary skills, we are lucky to have open team members with flexible mindsets. These factors ease sharing of tasks as mostly we don't even need to discuss who does what. Open mindedness helps in everything we do as a company and every new idea is discussed and evaluated together.
In the core, we want to do small things in a consistent way  because  we believe this is the most efficient way to get things done. We are curious and motivated to learn and understand how we can use technology to help companies become more sustainable. Our curious minds go beyond what is necessary to run a business. We are constantly living and breathing sustainability and applying new technologies to help businesses realize their sustainability policies and communicate them through their own collected data.
"Our team's open-mindedness, high level of curiosity and will to learn more brings us further one step at a time." (Tuuli-Anna Tiuttu, CEO)
Value trust, equality and well-being
Trust is the foundation of our business. There wouldn't be an SDG Monitor without a strong, mutual trust between the co-founders. We have a strong work ethic and we consider ourselves lucky that we get to work and develop something that we believe has purpose. We want to transfer this type of mindset to our future team members. These same features also apply to the client work and building trust in our products and services 'in' virtual environments.
We can honestly say that we are having fun at work. As we like to say, we get inspired from working with people who bring great energy. We strongly value personal chemistry, and we believe this to be a key factor to well-being and trust at the work-place. As our work-place is primarily completely virtual, we found that one of the most essential characteristics that we require from team members  is a respectful and appreciative  tone of voice. When expressing yourself through video, the tone in which we speak reflects on the energy and vibe in  the virtual environment. Therefore, speaking to each other respectfully is  an obligation as we are committed to ensure 10/10  workplace well-being. 
Creating a work-life blending for our team members is the key of a successful all-remote business. We support and encourage each other to show our skills and competencies. This is how we share learnings and stimulate positive thinking, self-confidence and trust within the team.
We believe this to set a foundation to good results and workplace satisfaction. As mentioned before, we value having fun at work. Therefore, even though we consider ourselves experts and professionals, we always remind ourselves not to take everything too seriously.
"It doesn't feel like work because it is integrated into my way of living." (Vilma Catani, Data Scientist) 
Employee benefits of the future
The concept of place and time has radically changed and thus we want to rethink the employee benefits to meet the new way of working. Our goal is to take into account the saved costs that would be composed of a physical office space and embed them as employee benefits to our all-remote team.
We want our employees to feel supported in their remote offices and we'll start paying their monthly WIFI connections, laptops leasing bills and even a part of their apartment's rent or a co-working space they are booking to work. Having no physical office, for the team get-togethers we book co-working space on-demand in the location where we have decided to meet.