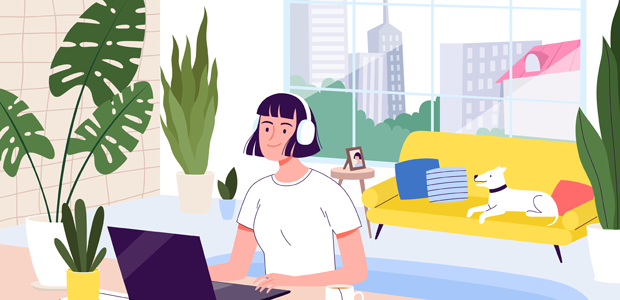 National work from home app launch to ensure staff are safe
UK software company, TAAP is helping small, medium and large businesses across the country work safely from home, keep tabs on company equipment and help boost productivity by launching the TAAP Work From Home app (available across Android, IOS and Windows).
With almost half of the UK workforce regularly working from home, many businesses haven't had the chance to get to grips with their employees' home working environment. Employers, however, still have legal obligations to meet in terms of making sure staff are safe and well if they work from home.
Due to the speed of events, they haven't been able to make sure, home-work spaces are safe and suitable, or staff have all the tools they need.  Also, with a large amount of office equipment now relocated to employees' homes, it is essential employers can keep track of it all. 
To help with these issues, the new free Work From Home app developed by TAAP, asks employees to: 
Complete a risk assessment of their homes

- For example, checking that they can work safely such as ensuring they have functioning fire alarms, or that their home is secure to protect against both physical and cyber theft. Also, for example, checking ergonomics so employers can confirm staff can sit correctly to avoid back problems.

Provide an Equipment List

- Confirming what equipment do they have at home, and what do they need? This checklist helps employers keep track of valuable office gear, as well as make sure staff have everything they need to work productively. This information can help future purchase decisions.

Offer General Feedback

- This is an opportunity for employees to communicate confidentially about their situation and raise any concerns or queries they might have. The feedback is a useful tool in helping businesses manage the mental wellbeing of their staff.
For hard-pressed HR, IT and other departments, the shift to homeworking has been a significant challenge. In some cases, if the employees were hired this year, then it is unlikely they have been able to go through a proper 'onboarding process' in terms of getting everything set up. As well as better onboarding for remote staff, the app can manage the process of any team members leaving, for example, in helping to recover laptops, desks, chairs, monitors and other office equipment.
With staff now working at home there is serious amount of administration and logistics involved with employee starters and leavers, what kit have they got, what do they need, where do they store surplus kit as staff come and go. Who cleans it, preserves it, ensures it is in good working order when required.
The TAAP Work From Home app brings the challenges of managing staff operating out of their home workspaces very clearly into focus for the management of the business, HR, and a significant increase in administration, HR/H&S ensuring staff have the correct seating, desks and monitors, lighting, IT ensuring staff are correctly setup, securely setup, Procurement that the right equipment is purchased for staff, Finance, ensuring budgets exist to cope with this shift to home and office, hybrid working.
Does everyone have a laptop so they can move between home and the office, what has happened to all the desktop PC's that can't be easily moved? How much technology does the business need to invest in to allow the staff to work effectively, at home, back in the office.
As well as helping employers keep track of assets and staff needs, the app creates another communication channel. One of the advantages of working in the office is the opportunity for interaction to build culture and relationships, as well as providing valuable help. 
There is a risk for employers that without regular contact, staff might feel less valued and motivated. With home working, HR and line managers are also less able to observe compliance with health and safety, security and other important policies and procedures. The TAAP Work From Home App provides staff with helpful reminders, and provides visibility of compliance to the employer, based on the responses to the risk assessment questions.  The app also encourages people to take regular breaks, exercise and to stay hydrated.  
TAAP's CEO, Steve Higgon, said: "New technologies like TAAP Work From Home are going to be key to managing the new world of work and measuring the pulse of an organisation.  With millions of people now regularly working from home, rather than just one or two offices, companies need to worry about potentially thousands of micro-offices that are now an extension of their office. 
"Employers need to be able to assess their staffs' at-home risks to comply with their legal requirements as well as ensure staff have the right equipment that allows them to work well. 
"While companies work hard to make sure that the office environment is up to scratch, the TAAP Work From Home app helps bring this kind of rigour to home working and, with this in mind, we think it will also help boost productivity. As well as reducing the risk of people needing to take more time off, the app also means they can keep track of valuable office equipment taken home. The TAAP Work From Home app is a simple and effective way to help employers and staff work better, as the UK adjusts to living with COVID."