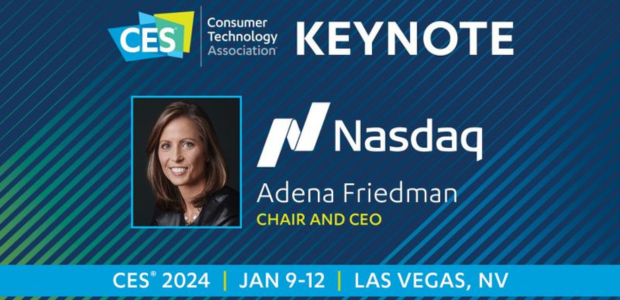 Nasdaq's Adena Friedman to Keynote CES 2024
Nearly 70 startups, plus hundreds of attendees and media from around the globe convened yesterday for CES Unveiled Amsterdam. The event highlighted tech innovation from European startups that will solve global challenges and conference programming addressing sustainability, healthcare, climate change, and tech trends—including digital health, enterprise, AI, and a look toward using tech for good.
Major CES 2024 news was shared, including keynote announcements from the leader of Nasdaq. CES Unveiled Amsterdam was co-located with World Summit AI in partnership with the Dutch Ministry of Economic Affairs and Climate Policy.

During the event, Consumer Technology Association executives announced the latest lineup for the CES 2024 keynote stage. Nasdaq Chair and CEO Adena Friedman will deliver a keynote address at the world's most powerful technology event, CES 2024. Friedman will discuss how the private sector—and the financial industry specifically—is leveraging technology to solve major societal issues including the global fight against financial crime and human trafficking.
 
"CES Unveiled Amsterdam was a phenomenal event as we celebrated the latest European innovation, broke major CES 2024 news and discussed the exciting road leading up to CES 2024 in January," said Gary Shapiro, President, and CEO, CTA. "Excitement continues to build for CES 2024 with our incredible keynote lineup, including Nasdaq Chair and CEO Adena Friedman, whose leadership is implementing tech solutions that will solve some of the world's most pressing challenges."
 
"At Nasdaq, we are driven by the belief that technology can solve the most complex challenges facing both industry and society—a force for good with the unique potential to drive economic progress for all," said Adena Friedman, Chair and CEO of Nasdaq. "Financial crime is a pervasive challenge and underpins some of the world's most insidious crimes, such as human trafficking. At CES, I look forward to discussing how we can collaborate and leverage technology to eradicate financial crime and further protect the global financial system and the people that it serves."
 
One of American Banker's most powerful women in finance, Friedman joins an ALL ON lineup of CEOs from L'Oréal and Walmart as CES 2024 keynote speakers, reinforcing a shared commitment to societal impact through technology and human security.