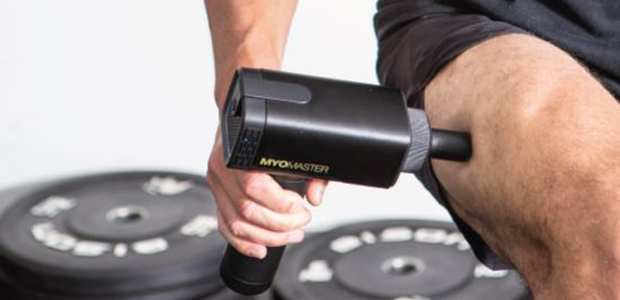 The (Myo)Master of sports recovery
A lot of people say they couldn't work with their significant other, but imagine founding a whole company together! Well that is exactly what Lottie Whyte and husband, Joe Gray, a professional rugby player currently plying his trade at the Harlequins, did. And after speaking to the pair a few times, the business and co-founding seems to be working perfectly!
Explaining that they are both quite different when it comes to the business Gray explained: "I am more into the product side, so I have been keen to work with the product development team, at CRL, with the prototyping and ideas – so far it has been amazing."
Whyte added: "I am more into the business side, so the growth, marketing, funding and being here with CRL has really helped us to prep, and has given us the support we needed in different areas. It has been genuinely nice being around a group of people doing something similar."
If you hadn't already guessed, Gray, Whyte and their company MyoMaster are another startup that are a part of CRL's 2020 cohort, sponsored by Mouser.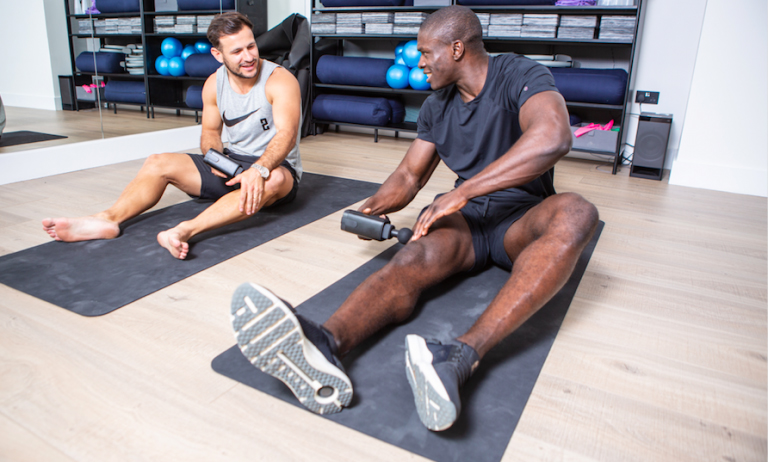 There is an interesting story behind how MyoMaster was created. Back in 2018 Gray developed achilleas tendonitis and, as a trained carpenter, was put to work by Whyte to do some DIY, he explained: "Instead of doing the work I thought I would have a play round with some of tools, and dismantled one, welded an end on and created this quick and effective massager. Took it to training and this injury that was causing so much was almost instantly alleviated. I could run with no issues whatsoever."
He took it into the changing rooms – this bright yellow, loud, drill-looking item and the lads destroyed him. He told them to try it, and of course none of them wanted to go near it. Gray carried on: "I went out to get a strap and as I came back in I could hear it a mile off, and they were all using it on each other! On their lower backs, their quads, and they couldn't believe what it was doing. Straight away one of the lads pulled out his wallet and said I'm taking it home – I need it in my life."
Gray gave him that one, and stopped at B & Q on the way home and picked up another drill and made another one. "By the end of the week I'd had around eight orders," Gray laughed.
This is where Whyte came in, Gray explained: "I just thought I would carry on adapting the drills, but Lottie thought surely there is a space out there where people want proper top quality equipment for the masses."
The pair soon realised instead that of using drills they could develop not just a massage gun but a range of products to help professional athletes with their recovery. As time has passed MyoMaster has been used by a number of people – not just professionals. Whyte explained: "It is about making recovery really accessible and simple so everyone can use it – it's not just the professionals that need to work on recovery."
Gray explained: "In September I will be going into my 15th season as a professional rugby player, and over the years recovery techniques have gone from 15-minute cool down sessions at the side of the pitch to sport therapists and masseuses. Over the years and trying everything I have been able to work out what I like and what works for me."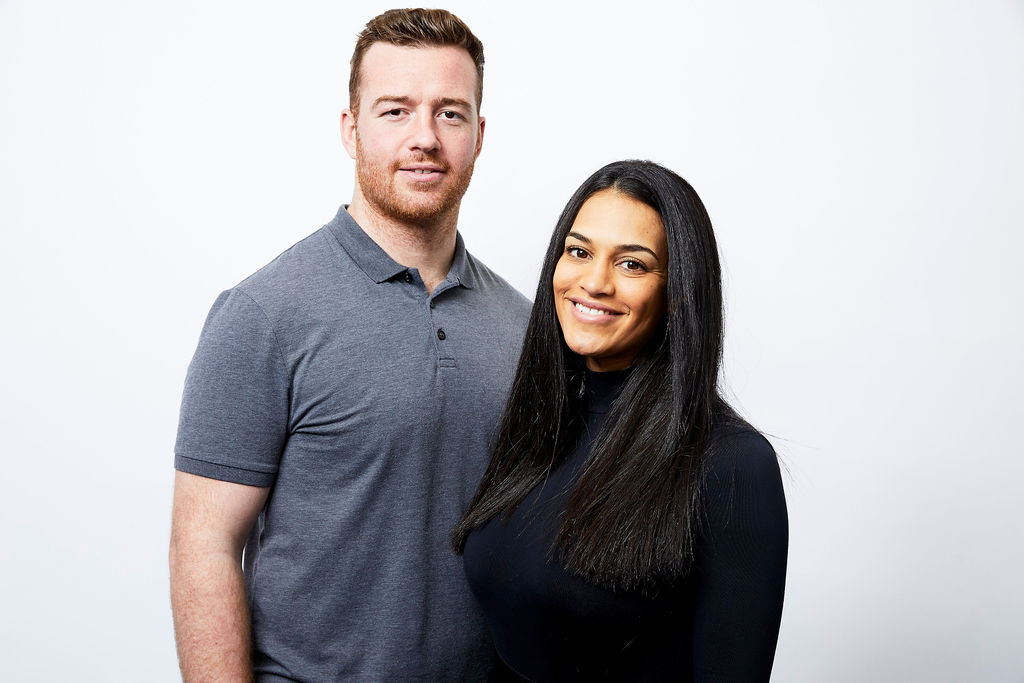 MyoMaster, in Whyte's words, isJoe Gray and Lottie Whyte - co-founders 'the home of sports recovery' she explained: "We create products and knowledge that help people to recover properly and efficiently. Our mission is to make recovery the third dimension. There is lots of information out there on how to train and get fit, there is also a lot out there on nutrition – diet plans, what to eat, what not to eat. But what we think is missing is the education on how you should look after your body after training."
She explained to me that this is where the real benefits lie, and recovery after training is what really pays off on your body. There are two real benefits of taking recovery seriously, the first is it actually improves your performance if you do it properly. The second is it helps to avoid injury, something that holds people back when trying to achieve sporting and fitness goals.
The business really took off during COVID-19, as a lot of people were at home, working out more and started looking after themselves. MyoMaster saw a complete pivot. Gray said: "It was a challenging time, but we were so busy and it was so enjoyable! The second quarter was amazing as we moved completely online."
Whyte agreed: "We did have to take a bit of a gamble as we weren't sure what was going to happen, but luckily it has really paid off."
The challenge is now coming out the other side of lockdown, and keeping up that e-commerce side. When I asked the pair if they thought the pandemic may have impacted the future of gyms and the industry now they are opening back up, Gray didn't seem to think so: "If you always went to a gym previously and loved it, you will definitely be going back, but I know some others have really enjoyed the home work out."
But all three of us were in agreement that we will see a difference in the industry, Whyte said: "Some areas will thrive as it is cheaper to work out from home and there is no commitment."
The plan is to raise some funding again this year and continue to grow. MyoMaster now has a range of products available and has just launched a new product, the MyoLite – the world's most compact lightweight massager, which can fit in the palm of your hand and weighs less than 2lbs. It also includes silent power technology which uses a brushless motor to create a high-impact bearing rotating structure that is practically silent. It has four adjustable speeds and boasts a longer battery life of over five hours.
The other massage gun available is the MyoPro which is designed for the people who like to go 'all in'. This device has five speed level settings, lasts for over three hours in terms of battery life and again uses quiet motors. The MyoPro stretches muscle tissue and fascia increasing flexibility and mobility. It also stimulates the muscle-increasing blood flow and reducing the chance of injury.
The pair have also developed products for compression, electric massagers and occlusion, as well as having a range of accessories available.
Gray said: "We hope to carry on our growth this year, and see how far we can go there's always a worry whether this will continue?"
Whyte added: "Yes more success brings more ambition and pressure, there is always another number you want to achieve in your head."
The pair actually bootstrapped the company for the first 18 months, Whyte explained: "If you can I would recommend you do that – it makes you super disciplined, and now we are in a strong financial position – when it's your money you are a lot more careful."
Gray added: "It also makes people more keen to put money in and shows people that you believe it really is going to work."
The pair did go through a very small round of funding at the beginning with two investors but said they had done their research, Whyte added: "A lot of businesses raise too much too soon – that can be a negative thing."
Speaking to the pair and learning about them and MyoMaster it was clear to see it just works really well. Whyte explained that she had always wanted to run a business, and Gray being a professional rugby player, he never wanted an office nine to five job.
Gray added: "Seeing the drill, and Lottie's business flare it just all seemed to fit and work. Then the fitness and wellness industry took off – it was a great space to be in."