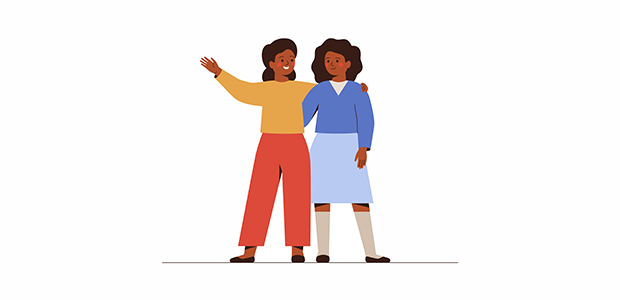 My Sister, My Business Partner
Family relationships are tricky – they can be a source of both tension and solidarity.
It's even trickier when you decide to start a business together. So, what happens when the personal is professional? This year, I have taken the plunge with my sister, and we learned some valuable lessons.
When it comes to running a business, you need someone who constructively challenges you. It's true in our case. Despite always having a close relationship, my sisters and I are very different – whether it's career choices we made or how we organise our day-to-day. As a Finance Professional, Fadhia is meticulous and organised – whether she's managing her work or her private time, there is always a spreadsheet. Numbers are her forte and her ability to solve complex equations on the spot never ceases to amaze me.
It's not how my brain operates at all. I'm spontaneous, I jot down ideas on a piece of paper and revisit them later. My whole desk is one big sticky-note. In my defence, I work in Comms. I don't shy away from disagreements; in fact, they are a source of creativity for me, whilst Fadhia is known for her quiet pragmatism. So, on paper, we're a match! We find ways to mesh our working styles, and don't try to change each other. 
But it's not what inspired this venture. It was our shared experiences of being black (women) in Europe, and our desire to challenge pervasive disparities, that ultimately led to the launch of AspireForce.
We Started a Business to Help Others Like Us
In 2008, we decided to move to London together – in part to escape an overwhelmingly white neighbourhood in Germany that increasingly felt isolating.
From elementary school on, we had honed different strategies for responding to racism – when to ignore it, when to confront it, and when to simply flummox it by studying hard and outperforming expectations.
London felt like home right way, not least because it's hard to feel unwelcome in a diverse city with a vibrant and visible black community. It became the perfect place for study and self-discovery.
But below the surface lies a culture of exclusion in corporate Britain, a serious problem of under-representation of black professionals in our industries (and beyond) that never went away throughout our careers.
The disparities begin when hiring managers fail to reach, attract, and offer black graduates entry-level roles, ensuring that they get a fair chance at developing and budling a career. If more black candidates could get started on the corporate ladder, it would carry through to the senior ranks and it would create the role models that young black professionals are so eager to see. This is certainly true for my own industry which, despite making all the right noises, broadly remains white and middle class. According to the 2021 PRCA Census, 74% of the PR industry "identify as 'white British', 13% as 'other white'."
The statistics in the Finance world are more daunting and align with my sister's stories and experiences over the years. The fact that even three years after the death of George Floyd "just 1% of senior dealmakers at top investment banks in Europe are Black" shows the scale of the challenge.
With AspireForce, we want to change that. At the micro level, this simply means solving an important problem. It means breaking the cycle where recruiters hire the candidates whose faces 'fit' best into a profession or team and overlook candidates from different background who have the right skills for the role.
At a macro-level, our purpose is far more ambitious and deeply personal. Our own stories expose Europe's repeated failure to recognise, encourage and reward black talent on the continent. We are well positioned to leverage our background and decade-long industry knowledge to inspire and build the next generation of black professionals in PR and Financial Services.
Changing The Rules, Changing The Future
Despite worries about a possible recession and fierce pushback against initiatives like ours, we are convinced that this is the right moment for our business. A post-Brexit, post-Covid economy provides an opportunity to start over, completely reimagine recruitment, change cultures and set up the tools to track progress.
For real, tangible wins companies need to move beyond glitzy mega-events with generous corporate sponsorship or simple statements. They must acknowledge that eradicating racial inequality is not just a moral imperative, but benefits businesses and should be an essential part of any long-term strategy.
For us, the path seems long. What we want to achieve requires full-time commitment, investment, transparency – and with no wealthy background or powerful business connections, we are certainly taking risks. 
But my source of optimism is fellow black women, who have shaped history. Their important contributions to society, that we rightly celebrate this month, are an invaluable source of inspiration and motivation to undertake the mammoth task of tackling racial injustices.