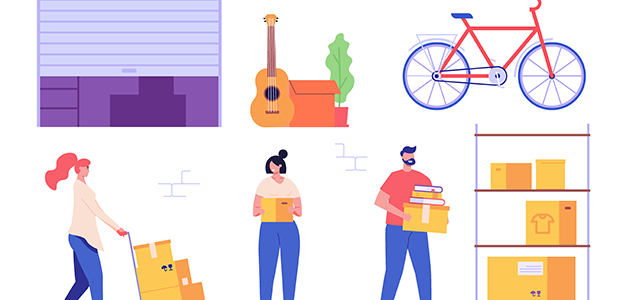 Moving houses? here's how to get through the transition
Moving home can be a stressful time. It's exciting to think of the new possibilities and different opportunities, but it comes with its own set of challenges.
Packing up your belongings, transferring all your utilities, changing your address – these are just some of the things you need to do in preparation for a big move. In this article, we'll look at some tips to help you through the moving process.
Consider renting a self storage
It's a great way to declutter and store all your belongings in one place while you're in transit. This will also give you time to sort through your things before deciding what should travel with you and what can be left behind or donated. When you rent self storage, make sure you keep the documents safe and close at hand. The last thing you want is to misplace important documents in the chaos of your move. 
Start early
A good rule of thumb is to start packing at least 8 weeks prior to your move date. This will give you plenty of time to get organised and collect all the necessary materials for a successful move. Create a list of all the items you will need to purchase, including packing supplies and storage boxes. Make sure to label each box clearly with what is in it so that unpacking will be easy. Once you have all your supplies, start packing the items that you don't need anymore.
Organisation
It can be overwhelming trying to keep track of everything when moving house, so organise your possessions into categories such as kitchen items, clothing, accessories, etc. This will make packing and unpacking much easier and less time-consuming. Additionally, it's a great opportunity to get rid of anything you no longer need or want, so take the time to go through your belongings and make sure you're only taking what you really need.
Utilities
Once your move date is confirmed, contact all your utility providers to inform them of the change in address. This includes gas/electricity companies, internet/phone providers, cable companies, and any other services you currently have. It's also important to update your address with the post office and change it on all your official documents such as your driver's license, bank accounts, etc. 
Prepare for moving day
On the big day, make sure you have a plan in place. Have a checklist of all the tasks that need to be completed and assign each task to a family member or friend. It's also important to be prepared for any unexpected issues, such as traffic delays or breakdowns. If you have hired a moving company, make sure to review their contract and confirm all their details before they arrive. 
Unpacking and settling in
Once you have arrived at your new home, the fun part begins! Unpack all your belongings and start setting up your furniture. Make sure you take some time to explore your new neighborhood and get to know the area. This is also a great opportunity to meet new people in your community and find out about any local events or activities that may be of interest. 
Nevertheless, moving can be a daunting process. With the right preparation and knowledge, it doesn't have to be so overwhelming. Keep these tips in mind when you are planning your next move and you will find that the transition can go much smoother. Remember to enjoy the process and embrace the new possibilities that come with a change of scenery.