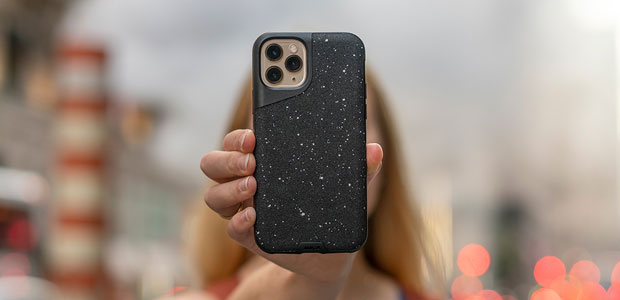 Mous redefines products in unexpected ways
Mous use outlandish stunts and challenge the status quo in the best interests of their customers. Co-founder and CBO, Lucy Hutchinson, explains why.
Mous is a tech accessories brand that, alongside my four other co-founders, we started in our early twenties. Fast approaching an average age of 30, we've found ourselves in the enviable position of having a brand that creates ambassadors in our customers – they love our products, recommending them to their friends and being vocal about us online – as well as our being unconstricted by the boundaries implicit at a larger company: we're really free to experiment with our brand and our ideas (we put our products through outlandish stunt testing, for example). These are claims we're really proud of, and they boil down to our putting our customers at the heart of what we do.
Why our customers value our products
We started out with what, at the time, we thought was a really simple rubric: to make the best possible products. What does that mean, though? And who were our target audience? Equally, how could we make this work, where quality and innovation come in at a high cost?
We joke that we're product nerds; we're always looking at how people interact with the world around them; what their needs are; what innovations seamlessly improve their lives? Think of a Dyson hand-held, lightweight, power-suction and rechargeable vacuum cleaner, say, and think back to the heftier vacuum cleaners of yore. People welcome solutions that do more with less, making routine jobs more manageable. This has meant that Dyson hasn't only got a huge customer base, but a vocal one: it is a valued brand because it looks beyond what is effective, toward what is the most effective.
Or, then, tin openers: there was a time when households had to puncture their way to their tinned goods with a lever-type opener (an innovation in itself), but how much easier when the classic-toothed wheel crank design became standardised? I told you: product nerds. It shows, though, that small innovations embedded in everyday behaviours, can make a huge difference (see also, the toilet flush, the Anglepoise lamp, zips: all inventions you never knew you needed and now can't live without).
With this in mind, and with the proliferation of personal tech in our day-to-day lives, we saw an opportunity to create products that answered our own needs: we were the original Mous customer, longing for phone cases that weren't bulky if they were protective, and weren't flimsy if they were stylish. This isn't (only) a marketing line (though, true enough, we want to educate as many people as we can to our product), but is an approach to which we are committed, to the point of obsession. We joke that some companies deliberate on how much of their profit margin to reinvest in the company, whereas our finance team are constantly having to rein us in before we overspend on R&D and materials. Sometimes it's enough to have invented the tin opener; you don't need it to update you on the stock exchange, too.
And yet, what if you were brought up to speed on the Nasdaq whilst you tuck into your Cream of Tomato Soup? I jest, but you do always need to be haggling with your finance team / accountants at this boundary, to ensure you have the money to invest into product development; to always be moving forward. The mantra, 'If it ain't broke, don't fix it,' still stands, but where to next? Where do you see your product going in five years' time? And ten? How will demands change?
Anticipating your customers' needs goes hand-in-hand with passion for products and product development. In order to innovate, you have to reject the status quo, which is often then a steep and scary learning curve. I'll start from our early days.
In 2016 we put the Limitless 1.0 case onto Indiegogo. This was an extremely protective case that gives phones added functionality (and looks good). We secured $2.5m in pre-orders, proving that there was a demand for what we were doing. In fact, we were Indiegogo's largest mobile phone accessories crowdfunding campaign of 2017: the numbers are not something to balk at. We created accessories that could be easily connected to the phone case, and equally easily removed. One day you might want to use a card wallet, but then might want to mount your phone to your car's dashboard, the next: we didn't want people to feel they had to buy different cases for different needs.
Prior to this we had begun to establish our China product and development office, including relocating some of our UK team (who remain there to this day), and with the success of our Indiegogo campaign we were then able to begin manufacturing the orders, gratefully sending these to our early backers, without whom we wouldn't exist.
With the invention of wireless charging, however, we discontinued the Limitless 1.0 range as we wanted to ensure our system didn't impede the new technology: the metal plate in the back of the Limitless 1.0 did. Back to the drawing board, then.
Ensuring our customers wouldn't have to choose between our cases and wireless charging, we created the Limitless 2.0 case embedded with an AutoAlign™ magnetic mounting technology. Whilst many companies were integrating card holders into their cases, we were hell-bent on making an impressively slender card wallet that could easily detach to ensure no interference with wireless charging. What seemed like a small tweak was actually a significant innovation, designed crudely by me and another of the Mous co-founders, JG (James Griffith), on a Post-it Note, before our industrial design and product teams worked their magic. I won't overwhelm you with any more details, though to say this meets our customers' needs now. Job done.
Except, we're not done yet. Before we hung up our calipers, and in spite of the warm welcome the Limitless 2.0 has been getting from our customers, we'd made it for the iPhone X. When Apple then launched the Xs Max we increasingly found that this larger phone meant that AutoAlign™ wasn't connecting quite as we'd hoped, falling off our car vent mount on bumpy roads. We had to adapt, also anticipating the future sizes of phones, too (there is talk of the 2020 iPhone prototypes having a 6.7" screen). If it can be made better, then make it better: we've now developed an AutoAlignPlus mounting system, which still uses magnets, and which we have embedded in the Limitless 3.0 range for iPhone 11. These magnets, however, we've arranged in such a way that they emit a super strong hold outwardly from the case, all the while being Qi wireless charging compatible, and refined: these cases only add an overall 2.1mm to the size of your phone. A clever, if simple tweak that ensures longevity of our products in the face of customers' changing personal tech.
I should add, putting your customer first isn't always a painless process. We've designed products and tooled up, to only then scrap everything where they weren't good enough. Good product design takes time and iteration: and the courage to cut products that aren't working. This is scary for a startup, but it's essential that we maintain our bent for creating the best products, however hard it may seem. In the long-term, you'll have learnt from the process and avoided what could have been a disaster. It only takes one below-par product to end the fairytale (take Juicero, a fable for our times).
Brands know that they are answerable to their customers in the long-run; we put even more of a premium on our customers' involvement, answering them, and to them (an important distinction), along the way. Not only in being responsive on social media, or via our customer experience team, but we also absorb their feedback and use it to improve our products.
Small, but dynamic
We've been welcomed by the tech community and early adopters with open arms, it's been great: people vie for our success, because they're on the journey with us. Take our drop tests. We have no one hundred carat guarantee that dropping phones in our cases is going to leave them completely unharmed. We've done everything we can to best protect hardware in our cases, but certainly the hardware itself isn't designed for its internals to undergo huge impacts, and whilst we mitigate against damage, the world is full of sharp edges, slim chances and mischief. Our cases provide outstanding protection and reassurance to the consumer, but we would never claim that they are completely unbreakable.
This was something we riffed on when, at this year's iPhone 11 launch and reopening of the Apple Store on 5th Avenue in New York, we decided on a playful hoax. JG and I spent the night on the pavement, being the second and third in the queue to get the new iPhone 11. This we then gave away to a passer-by, Michael Burkhardt from Brooklyn, who came to watch the excitement, though he couldn't afford to get the new iPhone ('I'm only fourteen!').
JG threw the prize over to Michael, only to have the phone fall short and show its shattered screen. But not so fast: cut to ten minutes earlier, and JG had added a pre-smashed screen protector to the phone. We were able to reveal Michael's pristine prize to him, unharmed as it was by the drop.
What was great about doing this was that we were able to strike up face-to-face conversations with a community that completely shares our enthusiasm for Apple releases; for tech developments; and for thoughtful design approaches. Our customers recognise our dedication to products, and whether you're there with us in the queue or watching us on YouTube, then you're neither going to be patronised, nor hustled. Lots of people saw the internet as an opportunity to get rich quick; we saw it as an opportunity to create an innovative product brand and one providing excellent customer experience.
This is where our size comes into it, too, as we are able to take risks such as these stunts and throws on behalf of the consumer: risks that could be really damaging to our brand, and that the risk-averse larger corporate might shrink from. We chewed our nails about whether our good intentions would be evident (hoaxes are by and large well-intentioned gaffes: would we find this out the hard way?); would a phone's internals malfunction because of a throw; would people even care?
We reminded ourselves going into this that Mous works hard to create the best possible products that solve everyday problems, and that our customers understand this fact above any playful content we put out there. That's what's great about being a d2c (direct to consumer) company: we don't give away our gross margins to distributors and retailers, so can invest in more cost of goods, materials and innovation – in better quality for the price. Put another way, it's not only our drop-tests and stunt content that sells our products, but user experiences, reviews and recommendations. We just have to keep on trying our best, and being honest as we learn and grow.
This is why, when we take risks that pay off, it makes it especially rewarding. 2019's Apple iPhone 11 launch saw our stunt go to plan (thinking back, I'm not sure how we got so lucky!) and not only that but we also got to meet one of our heroes: JG and I entered the newly refurbished 5th Avenue store, high fiving the Tim Cook as we did. I'm still coming to terms with it. Not only that, but JG managed to sneak a second of his time and thank him for being so pivotal to the Mous brand.
It was so huge for us to be there in the revelry. We used to package products in bedrooms, and work for free from the Google Campus in London's Shoreditch. James Day used to sleep at the end of JG's bed, all just to get the hair brained idea of Mous off the ground. What were we thinking, jumping into the oversaturated market of phone cases with very little business experience between us?
And yet, here we are. In the queue alongside people as passionate as we are about tech innovations. Sharing the products we've worked so hard to bring to market. Able to continue to do so because people want to buy considered products that will enhance their everyday, without compromising on style and quality. Something to think about as you enjoy your soup.