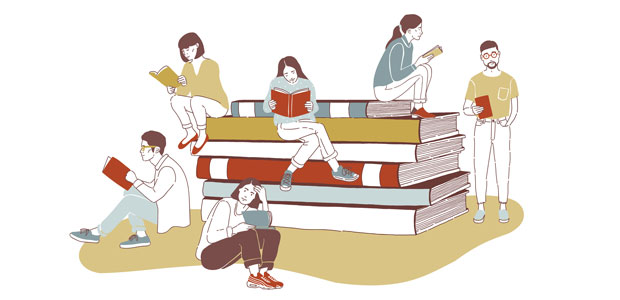 The most popular summer reads for UK business leaders
Business leaders across the UK have experienced one of the most turbulent years on record, as the Coronavirus pandemic surged across the world, Brexit finally happened, and the possibility of an economic depression looms - the world ahead seems uncertain and daunting at best.
Perlego, the large online textbook and self-development library, has seen non-fiction popularity skyrocket since the UK lockdown, with users spending more than 152,000 hours (17.2 years) reading on the platform since March alone. In light of the challenges businesses face, many c-suite execs are turning to non-fiction literature for guidance. 
Gauthier Van Malderen, Co-founder and CEO of Perlego said: "With advice on leadership during a pandemic, managing a remote team and the importance of diversity, the most popular reads over the last three months reflect the increasingly volatile and changing nature of running a business today."
Based on reader behaviours and insight, the top 10 most popular summer reads for UK business leaders and C-suite executives on Perlego, are as follows:
Authors: Lisette Sutherland and Kirsten Janene-Nelson
Published: 2020 by Wiley
With many offices remaining closed or running at a reduced capacity, Work Together Anywhere offers a complete blueprint for optimising team success by supporting every member of the business. The book is packed with hands-on materials and actionable advice for cultivating agility, camaraderie, and collaboration, wherever you and your team are working.
Authors: N/A
Published: 2020 by Harvard Business Review Press
As the pandemic is exacting its toll on our lives and wreaking havoc in the global economy, forward-looking organisations are moving past crisis management and positioning themselves to leap ahead in a transformed economy after the 'Great Pause'. This book provides essential thinking about managing a company through the COVID-19 pandemic, keeping employees healthy and productive, and challenging the business to continue innovating and reinventing itself ahead of the recovery.
Author: Scott E. Page
Published: 2017 by Princeton University Press
Scott Page, a leading thinker, writer, and speaker, makes a clear and compellingly pragmatic case for diversity and inclusion. He presents overwhelming evidence that teams that include different kinds of thinkers outperform homogenous groups on complex tasks, producing what he calls 'diversity bonuses'. These bonuses include improved problem solving, increased innovation, and more accurate predictions - all of which lead to better performance and results.
Authors: Mathew Donald
Published: 2019 by Emerald Publishing Limited
This book modernises the topics of management, leadership and organisational change. It covers modern disruptions, ranging from Trump and other geo-political changes, to Brexit, new currencies, trade wars, and even knowledge mobility. It also considers the broad scope of potential impacts posed by artificial intelligence. Including strategies that the modern manager can implement in their daily work, the book provides critical thinking that will future proof organisations with practical models.
Author: Jeffrey Gitomer
Published: 2019 by Wiley
Working from home taking its toll? This book provides a comprehensive, step-by-step plan for achieving maximum productivity. Bestselling author and 'King of Sales' Jeffrey Gitomer guides you through each aspect of the GSD process, from attitude, desire, and determination, to goals, productivity, resilience, and fulfillment. This book shows you how to discover the best ways to invest your time into productive and profitable actions - and feel great about your achievements.
Author: Leigh Thompson
Published: 2020 by HarperCollins Leadership
Everybody negotiates at various points every day, be it in life or business, and it's important to get it right. Finding the Sweet Spot walks people of all skill and experience levels through simple and proven techniques that are sure to result in better outcomes for all parties and that uncover the hidden value that exists in any negotiation.
Authors: Peter F. Drucker
Published: 2020 by Harvard Business Review Press
The political issues impacting our global economy have changed dramatically since Peter F. Drucker first wrote the essays in this book decades ago, but the relationship between business, government, and society remain a potent driver of national and global prosperity. In this collection of essays, Drucker reminds us how economic and political shifts shape the context in which business must operate - as well as the specific challenges that leaders face. 
Authors: Barry Connolly
Published: 2020 by Bloomsbury
Consumer trust is more important than ever, as digital platforms and social media redefine the relationship between businesses and consumers. With a unique combination of academic rigour and practical guidance, Digital Trust is the definitive guide to effectively using social media to build an authentic, trustful connection with a consumer base. 
Author: Ben Horowitz
Published: 2014 by HarperCollins Leadership
In The Hard Thing About Hard Things, Ben Horowitz, cofounder of Andreessen Horowitz and one of Silicon Valley's most respected and experienced entrepreneurs, draws on his own story of founding, running, selling, buying, managing, and investing in technology companies to offer essential advice and practical wisdom for navigating the toughest problems business schools don't cover. A lifelong rap fan, Horowitz amplifies business lessons with lyrics from his favourite songs and tells it straight about everything from firing friends to poaching competitors, from cultivating and sustaining a CEO mentality to knowing the right time to cash in.
Author: John C. Maxwell
Published: 2019 by HarperCollins Leadership 
Change is so rapid today that leaders must do much more than stay the course to be successful. If they aren't nimble and ready to adapt, they won't survive. The key is to learn how to leadershift. In Leadershifts, John C. Maxwell helps leaders gain the ability and willingness to make leadership changes that will positively enhance their organisational and personal growth.