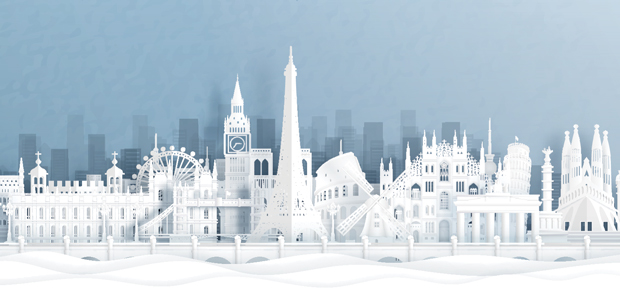 The most attractive startup hubs in Europe
Since 2016 the Startup Heatmap Europe crowns the most attractive startup hubs in Europe. Based on a representative sample of founders in Europe the survey reveals the Top 50 cities where founders would like to start a company if they could choose freely. 
Berlin enthrones London in founder popularity
Competition is fierce, the report shows based on their analysis of actual founder movements and international ties of startups: With 27% of all founders in Europe being foreign-born, they are far more likely to move than the usual EU citizen.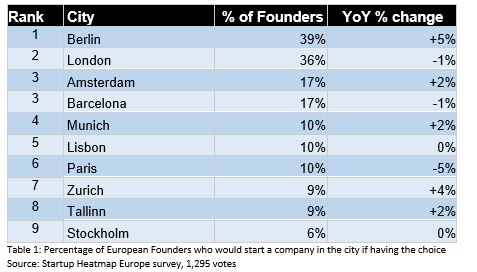 Six unicorn ecosystems in Europe
The options have become more diverse: While three hubs (London, Berlin and Paris) still capture more than half of all Venture Capital funding in Europe, their popularity among founders is shrinking: Only around 36% of founders still see London as a place they would like to start their company. In 2016 this number was over 50%. Surprisingly, also in the UK, more than 60% of founders would not choose London if they could start over again. A fact that could be explained by the frustrations of founders who migrated to the UK before Brexit.
Consequently, other hubs are on the rise and the venture capital industry is following suite: The report shows that there were 6 "unicorn" ecosystems in Europe in 2020, who managed to attract more than 1bn € of investment for their startups. This number has tripled since 2014.
"You cannot underestimate the power of networks and community – we have observed the development of exciting startup hubs like Stockholm or Munich over time and we have learnt that it takes years to build a thriving "unicorn" ecosystem", says Thomas Kösters president of the Startup Heatmap.

COVID-19 slows ecosystem growth and internationalisation
In 2020 COVID-19 and Brexit have taken their toll. There is three worrying effects of the crisis:
Funding gap for female entrepreneurs is widening
Female founders' participation in VC funding is decreasing from 9% to 8%. In 2020 the discrimination against women entrepreneurs amounted to 3bn € in 2020.
Local tech communities and meetups lose their members
58% of startup communities in Europe lost participants due to the pandemic. Looking at the attendance of meetups, we see a strong divide. Digital meetups in top hubs like London or Stockholm saw growth rates of 65-160% while in most communities participation dropped sharply.
Internationalisation rate of startups falls below 50%
Due to the complications for cross-border business relations, the rate of startups expanding internationally has dropped below 50% for the first time since the start of the survey. What was more is that startups increasingly looked towards Asia and the US for expansion, each having over 20% of startups either creating offices, hiring talent or finding funding there. On the one side this proves the global ambition of European startups, but on the other side also shows inefficiencies of the European Single Market that still create hurdles for growth companies.
The Startup Heatmap Report will be presented publicly on the virtual DEEP Ecosystem Conference on 15th April, where policy-makers and innovation managers meet to discuss how to improve the situation for founders in Europe.