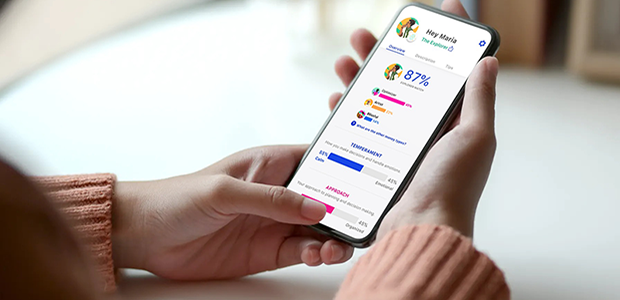 Money made personal
Quirk's goal is to empower people to take control of their money, feel secure about the decisions they're making, and make use of data and intelligence to help humanise the world of money and finance.
The company was founded in 2019 by Nikos Melachrinos and Nafeesa Jafferjee who met while studying design at the Royal College of Art (RCA) in London, where they bonded over the issue of personal finance.
The idea for Quirk came from innumerable moments of vulnerability the pair felt in tyring to navigate what is a complex financial system which has caused young people to distrust many financial services. Getting ridiculous credit card fees, feeling guilty for not knowing how to manage money earlier, the anxiety from handling multiple accounts at once, not knowing where your money is going, and never finding a tool that seems to solve the problem without having to rely on complex spreadsheets, all contribute to this lack of trust.
In turn, many prominent financial services benefit from users in vulnerable positions by monetising bad decisions or benefiting from a lack of transparency. However, innovations like open banking has provided the world of finance with greater clarity and control and can help people reduce their anxiety when dealing with personal finances. It's here that Quirk comes into play.
Green shoots
Nafeesa picks up the story: "We are a personal finance app that uses psychology and personality testing to help young people manage their finances better. Our focus, which is different from other players in the market, is on contextual education – by understanding someone's financial situation, and their behavioural tendencies, we can provide more focused personalised advice so they can take action with their money.
"For me personally, it was rare that my fellow female co-workers and I would discuss money. And so I realised how far behind our male colleague we were when it came to investing or doing smart things with our money. I really wanted to level out this whole financial logistics problem."
Nikos was more on top of finance from an early age, yet he still felt dissatisfied by the state of financial services. "Even though there have been pretty cool innovations in mobile banking and personal finance etc, there's still a gap in terms of how people can do it in a more accessible way. Especially one that helps with financial literacy," he added.
Nikos and Nafeesa continued to develop the psychology aspect of financial management while studying at university. It was then they caught the attention of Telefonica's innovation lab, who wrote the pair's first cheque and motivated them to turn this seed of an idea into a company.
Quirk has since been accepted into Innovation RCA, the Royal College of Art's centre for enterprise, entrepreneurship, incubation and business support, and are currently closing its first pre-seed round of funding. The first version of the product has been built and is being tested with around 100 users. - opening up to 1,000 over the next few months. Quirk aims to move past the beta stage and launch publicly in March.
Traditional model and problems
Nikos added that compared to other personal finance apps in the market, Quirk's focus is more on financial literacy, educational content, and targeting a younger audience who are gaining financial independence for the first time. "The idea is to almost replace the relationship of a certified advisor with something that happens through technology and open banking data," he added.
"The issue with the more established players is that they're not typically technology companies, they're banks. And so, when it comes to adapting to the digital age and using some of the innovations like open banking, which gives a tremendous amount of control to the end user, they just haven't been able to move with the times, because they're not agile enough. However, that's still how the vast majority of people get their personal finance experience."
"A lot of fintechs have been focusing on clarity and control," continued Nafeesa. "But now there's a race as people are looking at how to turn that into actions. Open banking is getting adopted, and we're getting this wealth of information, but it isn't enough to just show people, we're also here to educate people on what they can do with it.
"Our unique angle is that we're really focusing on personality and psychology because it engages people in a brand-new way. We are able to reach people who traditionally find money boring."
UX
On signing up for Quirk users first take a money personality test. Once in the app, the user is prompted to set up a spending goal (a positive spin on a budget), which, instead of limiting the user, helps them spend where they want. Quirk then links the user's bank accounts and will be supporting investment and loans over time.
The app then pulls in the user's income, recurring transactions, and offers some tailored categories for the user's personality type. The user can customise those and add other categories to track against, which are all tied to the spending goal.
The Quirk personality types are broken down as follows:
The Optimizer checks their balance often, is a master of comparison sites and is the person other people turn to for financial advice. They have the latest app and are always looking for ways to optimise their money so that they can live and experience life on their terms. For the Optimizer, money isn't something to stress about but something to be mastered. Being money savvy gives them a sense of pride and achievement.
The Explorer is a risk-taker with a passion for adventure. They are people who live in the moment and love new experiences. The Explorer racks up the credit card points, never leaves a voucher unused, and digs up deals and offers. However, the Explorer can sometimes overspend and lose track of money when they are enjoying themselves. Explorers, in general, believe money is an important tool to be free and independent, and tend to spend on things they enjoy today, rather than longer-term items.
Inspired by creativity, the Artist has a different outlook on the world, taking the road less travelled. The Artist is a free spirit and money is not at the centre of their reality, but that doesn't mean they won't use it to improve their wellbeing. For the Artist it's not about working for money but about making money work for you. Artists are the least materialistic of the money personality types and often have a love/hate relationship with money. They aren't worried about having enough of it, as long as they are able to do what they love.
Thoughtful, deeply empathetic and generous with the people they care about, the Blissful are the first to cover the extra £5.00 on the dinner bill. They are highly social and value time with friends and family. When it comes to money, they don't always tackle problems head-on and wait for things to build up before taking action. Blissfuls tend to live in the moment and feel that everything will work itself out when it comes to money.
COVID
Since receiving its original cheque from Telefoninca, Quirk has also continued to bootstrap, with Nikos and Nafeesa using their savings and consulting gigs on the side. Through the COVID crisis, Quirk began a more formal fundraising process which proved something of a roller coaster. "We ended up getting investment from people we never met in real life, which was challenging, but interesting, nonetheless," added Nafeesa. "We're now closing a pre-seed round, which is led by SFC Capital. Then around eight to ten angel investors are filling up the round. That will take us through the next year or so before we go out looking for funding again."
Discussing the COVID crisis still further Nafeesa added that Quirk has been lucky, in that they were still in the process of building their product, and so didn't take a big user or revenue hit as other fintechs did. However, the disadvantage as an early-stage company, was the inability to meet people and network, especially for an industry such as fintech which is quite a close community.
She added: "A lot of relationships are forged after the pitch or meeting, and that was just completely lost during COVID. However, I would say that it helped us keep really focused - we were able to make a lot of headway on our product, and build even quicker, because we just didn't have any distractions."
A problem shared
Nikos added that when building a business, particularly through a crisis like COVID, having a co-founder is a must, adding: "Doing it alone must be extremely lonely and difficult, because it's a roller coaster ride. There's no signposts, and there's no winning formula."
Nafeesa continued: "Practically we had to learn some harsh truths about entrepreneurship. In our profession, you are so used to knowing the customer need and solving a problem, but you also have to build a business. That means thinking hard about how to make money, and how to scale. You really have to think carefully about the kind of business that you want to build. So when you go and have conversations with investors and even VCs, you have the answers.
"As a founder you have to be comfortable with uncertainty. It's okay to make the wrong decision as long as you learn from it and fix it quickly. A lot of founders can be paralysed over doing the wrong thing. It's also important to get comfortable with rejection – you'll have a lot of people telling you why it won't work. However, most founders have a unique insight into their market, and that's why they're doing it. And as long as you have customers telling you that they want what you're offering, then that should be a motivation enough to keep going. For many people the last 12 months have been a challenge financially, so if anything, this period has been a validation that what we're doing is very important."