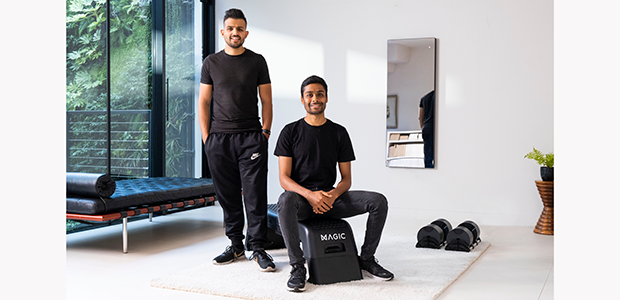 Mirror mirror on the wall – who has the best AI personal trainer of all?
MAGIC AI is the UK's first personal trainer that uses AI to track and train its users.
This article originally appeared in the March/April issue of Startups Magazine. Click here to subscribe
MAGIC AI is the UK's first personal trainer that uses AI to track and train its users. It corrects posture, gives real-time feedback and stats, includes training secrets from celebrity athletes, and fits discreetly within the home – because when it's not being used as a personal trainer, it is just a normal mirror.
The brain behind the mirror, Co-Founder Varun Bhanot, created MAGIC AI from a place of personal need. The concept, though he didn't know it at the time, was already forming whilst he was a founding member of a previous tech startup
"Growing the previous team from founding to scale-up was a stressful experience. I ended up putting on a lot of weight, and I let go of my health. I'd never been to a gym before, and I didn't know how to use a dumbbell properly. So, I enrolled in a personal training programme … This was a big turning point for me.
I realised there could be a way to automate and personalise this experience, but to do it for people at scale and on demand within their own homes … which led us to start working on the MAGIC product."
What is it?
"It's a beautiful intelligent mirror," Bhanot comments.
"We're building the UK's most intelligent personal trainer, combining AI and hardware to enable people to get hyper personalised training at home.
On the outset, it looks like any other wall mirror, however, embedded behind the glass are 3D sensing cameras, and the company's proprietary technology, MAGIC AI, which uses advanced algorithms to follow the user as they train and tracks their form – counting reps and giving live feedback on position and technique, posture, pace, and range of motion whilst they work out – just like a real-life PT session.
The clever thing is that as the user sees and follows their personal trainer in the mirror, they can also see themselves – ensuring their form is correct – just as they would at any other gym.
Workouts are selected by touchscreen, and, once active, the computer vision has been trained to map a person's body, so it understands the different range of movements that people use. This knowledge allows the smart technology to correct a user's form.
"If you're doing a squat, it understands if your bum needs to be lower than your knee. If it's not, it will give you an on-screen command to go lower, and if it's correct, it will count the rep."
In addition to the mirror, MAGIC offer clever adjustable dumbbells that add or reduce weight with the twist of a handle – so rather than a rack of various sized weights, you only need one.
How it works
When you turn the mirror on, a menu pops up offering a series of workouts, classes, and other programmes – such as training with celebrity athletes.
There is an embedded progress tracker, which allows the user to see the headway they're making, what they've achieved, and how close they are to reaching their goals.
As they're working out, a score based on how well they complete the exercise appears at the bottom of the screen. At the top, reps are counted, and the user receives a percentage score on how good their form quality is. It also counts any calories that have been burned.
Classes and celebrity training
"We've worked with a range of different British athletes who teach their unique [training] skills … and tailored specific programmes on how they built up their form – essentially, 'revealing their secrets.' The celebrity training is based on a series of four-week programmes and just like a personal trainer, they'll guide you through the various workouts, exercises, reps, and sets that you might do."
So, you could have a personal training session with the likes of former England Cricket Captain, Sir Alastair Cook, on body strength and cricket secrets, or how about Strictly Come Dancing secrets with Katya Jones. Team GB Olympic Medallist, Asha Philip, coaches full body strength secrets, whilst Rugby's Celia Quansah teaches foundational strength, and footballer Matt Morton will show you how to gain full body and football skills.
"We also have a range of classes that you can jump into which are oneoff 30–45 minutes high intensity classes.
Democratising personal training
"We're democratising access to personal training. When I went through my experience [into PT], it was very expensive. And sometimes people might want to go multiple times a week. With this, we offer things like Klana financing where it only costs £38 a month interest free. So, for a whole month it costs less than an hour with a personal trainer – and the whole family can use it on-demand, and in their own home.
"We also want to be inclusive for those people who may not feel comfortable going to the gym. We want to provide them a safe environment. We want to help people to become healthier, fitter, and be able to do it on their own terms."
Don't give up the dream
Raising funds to support the MAGIC AI dream was "initially hard to get those first few yeses, for many reasons. Some investors were a little wary of hardware-based products. And sometimes people just prefer apps and websites. And here we are with a complex piece of hardware with chips and screens, etc., so people were initially wary about that, but once we had those first few investors, the ones to follow became easier – and without them we certainly wouldn't be where we are now."
Spreading the magic
"The next thing for us is expanding the variety of modalities that we offer. The next thing will probably be yoga – it's a great one for the posture detection technology to advise you on your form. From there we will expand into dance, boxing, pilates – things that appeal beyond strength training."