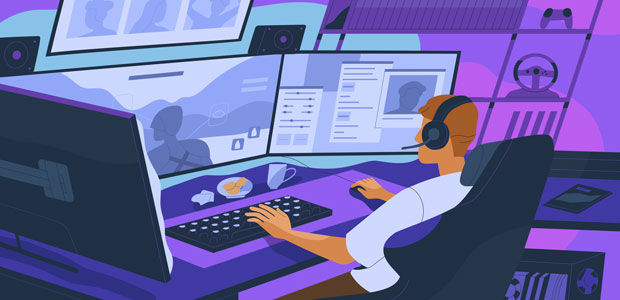 Minecraft adopts deep tech startup's engine to scale gaming experiences
Minecraft has signed up to use a spatial simulation engine that is so powerful it is also being used in the fight against COVID-19. Created by supercomputing startup, Hadean, Aether Engine is being made publicly available for game studios of all sizes, from independent developers to AAA game studios, with Minecraft developer Mojang Studios as its first global partner.
With more people than ever before enjoying video games and going online, the demands on games to support large numbers of users is growing exponentially. Built from the ground-up, Aether Engine allows developers to augment both new and existing games with minimal effort and no disruption to players' experiences. 
Craig Beddis, CEO and Co-founder at Hadean, said: "We're seeing a huge behavioural shift in gaming, as more and more people want to be involved in massive, online multiplayers. Aether Engine enhances these experiences by providing games unprecedented depth, complexity, realism, and connectivity. That's been our focus as we developed Aether Engine, along with its ability to integrate with existing games, such as Minecraft and its highly engaged gaming community."
Aether Engine is underpinned by the Hadean platform, which sits close to the metal and eliminates excessive middleware, orchestration, and overengineering. It implements a unique process model that distributes applications by default, dynamically provisioning more or less resources as required, and marking a step-change in how game engines are developed and used by studios. While several other businesses are exploring distributed multiplayer solutions, traditional infrastructure requires layers of middleware, creating architectural complexity that negatively impacts scalability, performance, and reliability. 
Michael Weilbacher, Chief Technology Officer at Mojang Studios, stated: "Hadean's Aether Engine is a game-changer that opens up a range of new design possibilities - not just for games like Minecraft, but for streaming platforms, developer communities, and even enterprise applications. We are pleased to be partnering and using Hadean's next-generation. technology to help us create new opportunities for our customers."
Running large scale simulations and managing the computational requirements of highly complex environments has a wide range of applications beyond just online gaming. The globally renowned Francis Crick Institute is using the engine to accelerate the development of a single, massive-scale simulation of how viruses, like COVID-19, spread.
Beddis concluded: "It might seem incongruent that AAA games like Minecraft would use the same technology as efforts to better understand viruses, but they both create and consume huge amounts of data. That means massive compute power, combined with the ability to rapidly simulate and model complex situations with millions of different variables. Aether Engine is one of the few platforms with the scalability, adaptability, and reliability to support those requirements."