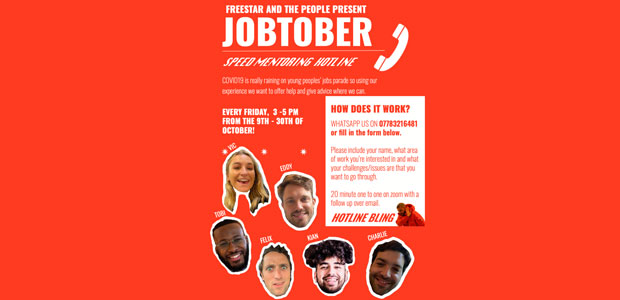 Mentoring hotline launched to help support young job seekers
The impact of COVID-19 on young people's career prospects has been severe, with under-25s being more likely to be furloughed than any other age group, and many more young people being let go or having their job offers rescinded following the March lockdown. 
Moreover, the number of graduate jobs being advertised has fallen by over 60% year-on-year, demonstrating the limited number of positions available for those that have graduated during the lockdown period.
To offer support to young people seeking work, award-winning alcohol-free beer brand, Freestar have teamed up with next-gen marketing consultancy, The People, to create a free mentoring programme. Running throughout the month of October, the online service provides out-of-work youths with industry advice and tips on breaking into the current job market, and how to stand out against the fierce competition.
Taking place every Friday afternoon in October from 3-5pm, young people are invited to book into the Jobtober mentoring sessions by dropping Freestar a WhatsApp on 07783216481, including a name, what area of work they're interested in, and what challenges they're currently facing to chat through in the session. The Jobtober slot includes a 20-minute one-to-one video session with one of the participating mentors, and a follow up over email.
Whether young job-seekers are interested in business strategy and development, or interested in expanding their social media knowledge, Freestar x The People have gathered a number of experienced individuals to offer unemployed youth advice on job hunting from within the industry. Please find all mentors involved in the Jobtober programme outlined below.
Meet the mentors:
Please find full information about Freestar x The People's Jobtober mentorship programme here.