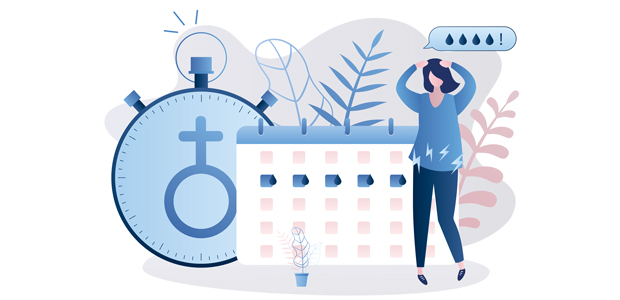 Menopause isn't just a 'women's problem' - least of all at work
Menopause seems to still languish in the outdated 'women's problems' list of things to brush under the carpet when it comes to employee health - despite the fact that just over half the population will experience it.
Perhaps that's because it falls at the intersection of a number of things that historically, patriarchal norms have made people squeamish about, or which have been ignored: middle aged women's much-discussed 'invisibility'); women's bodies (menstrual health only became a compulsory part of the National Curriculum last year); and mental health.
We should be able to talk about menopausal symptoms in the same way we discuss other health issues: we've made significant progress in recent years around discussing mental health in the workplace, and while there's still work to be done on that front, we should open up the conversation around the menopause in the same way.
That means education for men and younger women too, since many have little understanding of what menopause entails until they reach it. In practical terms, it's about businesses putting in place clear guidelines on who women can talk to about menopausal issues, ensuring they know where they can access resources and information, and more.
As DEI (diversity, equity and inclusion, an evolution of D&I) becomes an increasingly important topic in the business community it's essential for organisations to recognise that menopause is part of that conversation. A workplace that's friendly to women is about more than just closing the pay gap, after all - it's about closing the experience and opportunity gap. Until businesses are more supportive of menopause, women can't feel wholly welcome and included in the workplace.
Taking menopause seriously in the workplace
Hopefully, things are changing for the better. In 2019, Unison published a report titled The Menopause is a Workplace Issue, which aims to help employers to "treat the issue with the critical importance it deserves" and push for "policies and procedures to protect all workers and not disadvantage those who are experiencing the menopause."
Certainly, over the last year or so we've seen more discussion of the menopause in very visible forums: there was Davina McCall's Sex, Myths and the Menopause on Channel 4 earlier this year, and the broadcaster is a great example of an organisation that's taking such issues seriously.
In 2019 Channel 4 launched its menopause policy – the first of its kind in the UK media industry - and has since published a PDF setting out its policies in the hope of helping other companies adopt similar approaches.
How businesses are stepping up
At my agency, The Team, we recently created a series of ten menopause-focused videos for IBM, each featuring a woman from a different country around the world. In order to encourage honest, open discussions, we wanted to take a daytime TV chat feel, so we brought in Zara Janjua, a broadcaster and journalist who's written for the likes of Loose Women and the BBC.
The films are an honest appraisal of what it is like living and working with the menopause. Together with a series of podcasts, they are designed to make all IBM staff more conscious of the challenges that colleagues face at work. In terms of talking about the menopause at work, this is a first for IBM as it leads the way in opening up the discussion about this topic.
NatWest is another great example of how businesses can do more around the menopause. This year, the bank provided written evidence to a UK Parliament committee acting as a best practice example and offering businesses advice on how to factor in the needs of employees going through the menopause.
Changing culture once and for all
While there is currently no specific legislation discussing the menopause, under the Equality Act 2010 it is unlawful to discriminate against people at work because of a protected characteristic such as age or sex. As such, it could be argued that if menopausal women are treated detrimentally, that's both sex and age discrimination. This is a legal issue, too, for employers.
Clearly, gender equality and ageism are more than just legislative concerns: they're about kindness and human decency. But they also affect a company's bottom line: "Companies with low rates of both gender and racial diversity are 29% more likely to make less money," according to Forbes.
As it stands, no legislative change would be required to allow employers to introduce a menopause policy – but a policy is only as good as its implementation, and with regular reviewing. It's all about changing the culture of an organisation, which might look like implementing training and advice for all colleagues and doing away with the immature and dismissive way we talk about women's health generally once and for all.