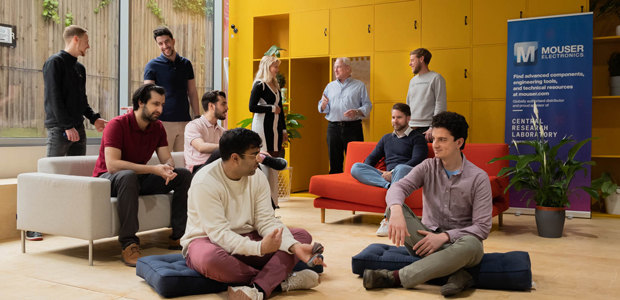 Meet the startups
As we now know, this year's CRL cohort is slightly different with a larger number of startups initially involved, and then after a six-week period, a hackathon and a pitch day, six will be chosen to continue on the accelerator programme. I got the chance to catch up with all 18 startups, to find out a little bit about the founders, the business, their big ideas and some of the challenges they have faced with their products and proof of concepts so far.
VRGO
It all started around eight years ago with a completely different product, but Founder Joe Ryan has created the VRGO chair, a device created to navigate virtual reality.
Fast forward to today and Joe has created an iteration on that product and produced a miniature version in the form of a very thin sensor to sit on an office chair. This will connect to Bluetooth and provide users a way of tracking and monitoring your posture and how you are sat.
This is a wireless device that has a desktop application that will give you the information from the wellness tracker. Joe said: "We want to use machine learning to understand how peoples posture changes throughout the day."
Zobi
Having been in the IT, tech and cyber security scene for around 25 years, it was no surprise when Scott Lever founded Zobi, a hardware enabled software startup who has created 'digital guardians' to look over your home, and make it easy to check the tech to keep you and your family safe in the modern digital world.
"Every device is connected but not every device is protected," Scott explained, and the main aim of Zobi is to connect to your WiFi, blocking cyber-attacks at home, but also act as digital guardians that allow certain people to be blocked from devices in your home.
Muddy Machines
Florian Ritcher always knew he wanted to create a business that really meant something and could make a different and that is why he and his Co-founder, Christopher Chavasse have created Muddy Machines. Florian explained: "Our family took over a farm a few years ago and I couldn't believe how simple and basic the technology was for agriculture. So I had the idea to create robots who could help harvest certain vegetables - I met Chris who was able to build robots and the rest is history."
Every year there are less and less workers to pick the vegetables, to the point where soon there will be a massive shortage of vegetables in stores as they will all be rotting in the fields.
The pair have built a working prototype and are now working out how far they can push the robot, to test its capabilities and how much it will cost to run. Florian explained: "Using Edge computing we are able to take this technology further than ever before. Most robotics are run in greenhouses, but we want to push the boundaries and have them operating in fields."
They have joined CRL to take their prototype further, as so much can go wrong with research and development, so having the skills and advice from the programme will help massively. "Being in a cohort and having people around you always helps," Florian added.
Radiant Matter
Elissa Brunato has created this design-led biomaterial company after working in the fashion and textiles industry for ten years, and she started to see what the wider supply chain was really like.
"It was damaging for the environment and people, and the materials were having massive implications on the health of workers. I want to make fashion and materials more sustainable. There are so many issues that need to be addressed, like the micro plastics from materials, glitters and sequins breaking down and ending up in our food chain," Elissa said.
It all started as part of her Masters Project and now she has joined the cohort to gain experience and create a network of people around her. The environmentally-friendly materials including sequins are at the prototyping stage, but with some more research and development Elissa wants to take them from the lab to industry.
O Innovations
Wind turbines are working wonders for the environment, but the O Wind Turbine takes the concept one step further. Designed by Nicolas Orellana Olguin whilst at Lancaster University studying his Masters, the O Wind Turbine is a bladeless turbine that can harvest wind from any direction.
Co-founder Dominic Chippendale, and Matt Taylor who had been involved in the project since the start, explained that the concept uses a ball with shafts on every side of surface, so when the wind blows it creates movement. Dominic said: "Nicolas and I are on the same level with this, and think it's a good technology. If we get it in the right places at the right time it can really help urban environments. We want it to be a renewable technology source for people living in apartments."
The goal whilst at CRL is to target the correct audience and try and help as many people as they can. "We may need to transition and make some changes to the size, but we are looking at our next piloting and testing phase."
Yawboard
Ever since studying Product Design at the University of Wales, Swansea, Ray Reynolds knew he wanted to create a new revolutionary product, and 15 years later that is exactly what he did. It started off being a stunt scooter for kids, where they could perform kick flips, Ray explained: "I had access to CAD and designed a few ideas. I then decided I wanted to take it electric and more mainstream, but with a twist, and over the past five years and seven prototypes later, we have created a hybrid of a scooter and skateboard."
Essentially you ride it side on, but it includes one handle. "It combines the practicality of a scooter and the fun of a skateboard," Ray explained.
Yawboard's goal is to be a global brand, and has already sold some models, and is available in some shops in the UK. "We want to increase our product range eventually, whilst still looking at safety. The hardest part so far was the steering mechanism and we have just patented this."
WoLo
This last year has transformed the working landscape, and many people have changed the way they work or want to work going forward, as remote working is becoming a lot more popular. That is exactly why Ben Justice has created WoLo – Work Local. A co-working company aiming to be fully flexible situated in shopping centres.
"The idea came to me last March when COVID hit and remote working really took off. Shopping centres are crashing and need to fill spaces so we want to fill them. We want to be able to offer three models - a 3,000, 5,000 and 8,000 sq ft space."
This is a co-working space for the modern person or SME, and as WoLo has limited space, unlike its competitors, it will really target SMEs and startups. WoLo works through a platform and app, and the idea behind WoLo is not only utilising shopping centres for remote working, but also having a network of people to connect with so you can feel that sense of community when working alone.
Armaros
Esmeralda Tuomi had been horse riding her entire life, when in 2008 at 17 years old, she suffered a major injury when a horse fell on top of her. Luckily she was wearing a body protector which saved her life.
Not everyone wears these, as they are so rigid, uncomfortable and not compulsory. Esmeralda has created Armaros, and a new body protector called the Guardian Angel, which is designed with complete movement, flexibility and additional support for the spine – a product unlike anything else currently on the market.
"I started developing it for my personal need, but also for everyone else in the industry as so many people don't want to wear what is currently available."
The Guardian Angel is 1.5-2cm thick, and is completely flexible to move with the body until your body moves into a position which it recognises as dangerous and then becomes stiff and acts as an exoskeleton shell.  
For Esmeralda the biggest benefit of being at CRL is having the amazing team and knowledge for the engineering and product development side of the project. "I want to be able to offer a better level of protection, to more people and eventually move into different industries."
Co-opts
Describing himself as older than most startup founders, Kevin Flanagan has Co-founded Co-opts to create a platform that can help therapists see more patients efficiently, and help the mental health industry in general.
It stemmed from a personal experience with his daughter and Kevin realised we need to change people's reactions to mental health, but also improve how mental health patients are seen. Co-opts is about building digital tools to help mental health therapists treat more patients than they currently are, and more efficiently. Using this digital platform to record, transcribe and summarise therapy sessions, this allows more information to be taken in from sessions.
Kevin explained: "It is hard for a therapist to take everything from a session in. You cannot pick up every bit of body language and change in tone of voice - therapists are human too. Our first product has been designed like a mini super computer and no data will leave the therapy room, unless it's on their devices – we will never store the data."
Kouo
With the ethos; 'if you can't measure it, you can't improve it' Shaan Bassi and Keidi Kapllani also wanted to help improve the mental health space. They created headphones that help to measure mental health.
"Our headphones are like a Fitbit for mental health. The data and metrics help people with their fitness so why not use to help with your mental health?" Shaan explained.
The headphones include embedded sensors which can pick up electric signals and other elements that help to measure your mental health. "But it is an everyday item you would use headphones, they work like any others in that you can listen to music through them," Keidi added.
The headphones include EEG sensors, put into this product everyone will use so it makes it seamless for users to be able to measure on monitor. The testing phase of the proof of concept was really fun the pair explained as they finally got to a seamless and comfortable PCB design, which did prove very difficult.
New Motion Labs
Whilst studying at the University of Birmingham Rob Wood met Marcel Fowler the founder of New Motion Labs, a company who has created the Enduo technology. With Enduo technology, everything changes – unmoving fundamentals collapse, enabling the manufacturing of new products with unparalleled efficiency.
With Enduo, New Motion Labs has the ability to transfer power on both sides of a tooth, also known as Dual Engagement. This is used a lot in track cycling and is actually being used by top athletes in Tokyo at this year's Olympics.
The goal for New Motion Labs is by 2025 to be developing new and innovative technologies in the machine sector. Rob explained: "We're focusing on innovating on the absolute core. The first proof of concept we designed was for the bicycle but can be used in so many ways. We thought the bicycle was a good starting point, we want to prove ourselves here and then move onto other projects."
Project Stealth
Being one of the most diverse teams with three co-founders from Ecuador, Turkey and China, Project Stealth has created a mouth wearable device.
It all started whilst on an Innovation Design Engineering Programme as part of the Royal College of Art and Imperial College London back in 2019. Paul Mendieta one of the Co-founders said: "We wanted to create something worthwhile and we thought where would be a good place to innovate with digital devices? We decided on the mouth as no one had explored there."
The end goal is to be able to replace blood tests with saliva tests, and the three saw that no research was progressing on this so decided to work on this – bio sense technology. Paul said: "Our main goal is to empower people. Between us co-founders we have a lot of allergies – it really makes you think you don't know what's going on in your body, so we wanted to find out more."
The sensor technology is hosted in a retainer that sits on the roof of your mouth. "We have created this vacuum effect to make it stay in place as it needs to be touching the roof of your mouth to get the data. This is where the bio sensor is and as your tongue is always touching the roof of your mouth the sensor is in constant contact with salvia."
Project Stealth is designed to measure the bio makers in your salvia to which there is over 1,000 per person to read. Paul said they also chose the tongue as it is the only organ directly connected to the stem of your brain. The sports industry is a natural fit for this product as it will help benefit high performance athletes but there is room for it to help a number of industries. Paul said: "The sports scene makes sense; the demand is there. We will use the sports industry to validate the technology, since we can perfect it for performance and can avoid some medical approvals.
The challenges for the team so far have been the issues around the dental and software side. Paul explained: "We have a strong design and engineering background, so we do need some help when it comes to the software side. We have started working with a dental prosthetics company in Brazil which has been amazing."
The team is excited to be working with CRL as they need to develop the product further, test and demonstrate in the market. Paul added: "There are some barriers in how big it is going to be and so the hardware maybe difficult. CRL have the knowledge and experience we need."
Lava
It was during placement year whilst at University that Paramveer Bhachu and Joanna Power realised how awful the system was for students doing their washing, and that is when they came up with the idea for The AquaX.
The AquaX is a portable washing machine for students, that takes reused shower to wash clothes. It is designed with a shower-like mat which you place on the floor of your shower cubicle, which collects the water and sends it into a tank to use in the portable machine.
Jo said: "We saw the amount of water being wasted and wanted to help. Students have such poor facilities when it comes to washing, so we decided to try and address both issues."
The pair have created a looks-like model, and as they had no workshop facilities they 3D printed 37 parts and glued them together. Pav said: "We haven't tested for functionality yet but it is fit for market as there is massive need for this around universities."
The biggest hurdle so far has been the technical challenge of creating the pump. Jo explained: "We were told you cannot combine electronics and water and with a washing machine that's difficult."
Agile Import
Agile Import is a customs declaration platform created by Salih Chad Derya. Even before Brexit happened Chad said he realised imports were going to be very difficult and trade was going to be massively effected.
"The UK's biggest trade is the EU so we wanted to create a software to help solve this issue."
The software is designed to allow businesses to declare their products quickly and more efficiently and accurately. Agile Import is also designed to help UK businesses expand their trading and importing further. Chad added: "When we first had the idea we came across multiple occurring problems, so we also wanted to help reduce prices and also help the economy. It also is in some ways tech4good."
The biggest technical challenge so far has been understanding the customs process, Chad said it is something you learn a lot whilst on the job.
Mumbli
Back in 2018 Marion Marincat created Mumbli a hearing wellness company powered by Smart Cities. After experiencing hearing loss, it drew him out of the renewable energy sector and into the health space.
The world is too noisy, so Mumbli was created to improve hearing wellness and solve the problems with sound in social spaces, so people can enjoy a social life without any difficulty. Using monitoring devices and collaborating with hearing health experts and academic institutions to understand sound performance in public spaces and the impact on hearing wellness, it is developing an IoT technology based system which monitors and reports on the sound performance of public spaces in real-time.
Marion explained: "Mumbli allows people to match with venues based on atmosphere preferences and on your hearing personality. We want to match you with venues, through a live data feed on social spaces."
To start with Marion didn't want to be a hardware company, and said he wanted to speak to as many people as possible about sound preference. "We then developed a BETA app to measure sound levels. Having an app and data is important but we also need the data from the venues so we created a prototype and got an Innovate UK grant in November 2020."
He has joined CRL as Mumbli became a hardware company but that is not Marion's background. He said: "CRL is perfect for taking your product from prototype to the next step."
Sew Conscious
Samantha Supan is on a mission to repair rather than replace when it comes to clothing and fast fashion. Sew Conscious was founded to create a recycled plastic sewing machine that is foldable and decorative, to try and end fast fashion and create a tailored experience for Gen Z.
It started off as a second year university project, when Sam could see clothing hauls and Instagram pictures of clothes becoming really popular and speaking to people they just said 'it is what it is.' This sewing machine is about creating an individual change. "This is about changing your clothes to add value to what you already own," Sam said.
It is still in really early stages as Sam said they haven't decided all the technologies yet. "One idea is to have connected with Bluetooth to your phone, so you could look at video tutorials on YouTube. Or maybe having a touch screen panel on the machine to connect to the Internet, and having alerts to indicate when you are going wrong, so it is like a mini real-time guide helping you."
Sam said being with CRL she is really keen to focus on learning who her customers need to be.
Berry studio
A tech company that creates online 3D Immersive games mixed with VR reality spaces. Sebastian Negus Co-founder explained it is a virtual world with characters but you can see it through a first person perspective, and interact with others.
After graduating from Brunel University and not being able to experience the expedition show at the end of the year with networking due to COVID, Sebastian and his co-founders decided to create an online 3D environment, which worked very well so they decided to go for it.
Sebastian said: "The platform is called HUBs, you can join in and see people – you don't all have to be connected, it just depends on the circumstance. You can also hide yourself from people, and as you move further away the sound decreases like it would in real life."
There is a number of different use cases for the platform, events, universities, immersive teaching – for example aerospace and engineering students could use it to see big engines and interact with them virtually. "It is a good way for students who struggle to learn in more traditional ways," Sebastian said.
The biggest technical challenge so far for the founders has been pushing themselves too much. Sebastian said: "As we are all quite techy, we always try to push new technicalities and features no one asked for, but we wanted to push for more."