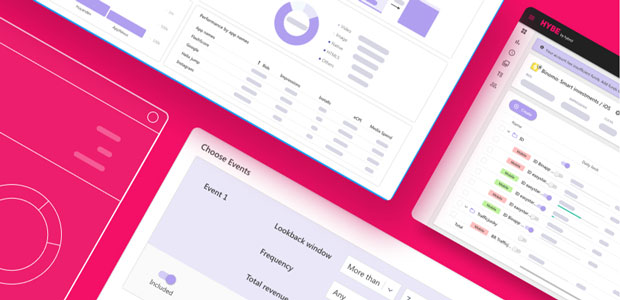 Meet the startup challenging the status quo to help mobile app developers
The founders of hybe.io are aiming to disrupt the status quo of managed-service mobile programmatic and enable mobile app developers to take control over user acquisition and retargeting through an in-house Demand-Side Platform (DSP). The company utilises the infrastructure and various APIs from its parent company, hybrid.ai, in order to effectively roll out its DSP; which would otherwise be a time-consuming process. Startups Magazine spoke to Vladimir Khudiakov, CEO & Co-Founder of hybe.io to find out more.
Tell me about Hybe and what you do?
My co-founder Dmitry Cheklov and I built Hybe as a programmatic in-housing platform for mobile app developers to acquire new users for their apps and re-engage with dormant ones.
What technology is involved?
Hybe acts as a DSP (Demand-Side Platform) in a programmatic advertising ecosystem, based on the OpenRTB protocol. This protocol was developed by IAB which allows mobile app developers to buy ad impressions in other mobile apps by placing bids in real time for their ad placements. It is Hybe's job to programmatically, in other words - intellectually, decide how much to bid for each relevant ad impression. Our goal is to make sure that advertisers' money is spent wisely and impressions lead to installs and lower-funnel events for example purchases and subscriptions.

To ensure effectiveness, Hybe's data science team leverages a variety of machine learning approaches so that automated buying is successful and competitive. The areas where we use machine learning include, but are not limited to, fraud detection, app events, and dynamic creative optimisations.
How many are on your team?
Currently, there are 14 people in the team. Amongst them are product managers, developers, data scientists, an analyst, UX designer, and customer-facing team members. At the beginning of 2021, we are planning to expand after scaling our MVP with several early adopters.
What is the main goal?
Our main aim is to improve the current state of the mobile adtech ecosystem by providing our clients with performance along with fair SaaS pricing, transparency, and levers on all data points required for app developers to succeed with programmatic in-housing. We offer app developers the data they need to gain valuable insights to optimise their ad campaigns for better ROAS and keep these learnings to themselves.
Another goal for us is to make programmatic in-housing a commodity not only for medium-large mobile apps, but also for emerging ones. Currently, self-service DSPs can prove too difficult to operate without a dedicated person for that. This is the case for two reasons. Firstly, to run successful programmatic campaigns, a UA manager should have some background in programmatic as well as understand the difference between running campaigns through an ad network and via a self-service DSP. Secondly, the user interfaces often leave much to be desired in terms of usability and automation of repetitive operation.
What makes your business different from others?
Currently, the majority of mobile programmatic platforms work with medium-large mobile apps, who have already fully exploited walled gardens and ad networks. Therefore these mobile apps tend to look for more sophisticated and transparent programmatic channels. At Hybe, we target these customers but are also ready to partner with emerging apps too. There are certain app categories where programmatic advertising might work well from the beginning, even if it proves more challenging and requires sophisticated optimisation algorithms.
Another difference is that we pay significant attention to the usability of the product, focus on the performance component of the platform. Hybe was built using core and all supporting components of Hybrid.ai's DSP. We adapted it for mobile use while keeping all the advantages of the product.

As I mentioned earlier, the idea is to build a product where UA managers gain all the crucial data and flexibility of an in-housing platform yet, don't spend hours on frustrating UI operations, and focus on analytics and strategic decisions. We achieve this by automating time-consuming operations such as campaign creation, creative upload, editing, and optimisations.
How have you found funding?
Currently, my co-founder's company - Hybrid.ai invests in Hybe from its revenue and we're just starting the fundraising process this quarter. We plan to achieve this through SAFEs (we're a Delaware corporation), so that we can move faster.
What are some of the biggest challenges facing app developers looking to utilise programmatic in-house?
There are several challenges that mobile app developers face when adopting programmatic in-housing. One of them is onboarding. Without proper onboarding and fully understanding what programmatic in-housing can offer, it might lead to disappointing results. When starting the onboarding process with a client on programmatic, it is important to start as 'warm' as possible, meaning, we are trying to leverage clients' existing knowledge about their users.
For example: How can we transfer the knowledge we already have about our users to leverage it via programmatic? What data points will be valuable? How fast will I get the results? What are the milestones upon which I can draw conclusions? What would be the best option to start with? How do I efficiently distribute my budget? How do I pitch this to my CMO? What value add compared to managed solutions can I get from in-housing? These questions are to be answered at the beginning of the onboarding process and to be agreed ashore to make programmatic in-housing work.
Another challenge is to ensure that the machine learning algorithms kick in as soon as possible. Before they can start optimising effectively, they should receive a certain amount of data, a so-called 'training sample'. There are certain approaches to shorten this learning curve, like using the existing data for training them, starting with a whitelist of placements that have already shown good performance before.
The third challenge I'd like to highlight is the time required for campaign management. Frequently, UA managers on a client-side don't have enough time to spend on campaign optimisations until this new marketing channel starts to give suitable results not only in terms of performance but also in scale. That's why we offer our clients several options of in-housing to overcome this challenge, one of them is co-managing during the onboarding process.
What is the current state of programmatic in-housing and how does Hybe accelerate its development?
Programmatic in-housing has been actively developing for the last five years. There are a number of platforms that focus on a specific client category (e.g., CTV, mobile) with some being more versatile in their approach. If we speak from the perspective of brands, the adoption rate of programmatic in-housing grows fast, in fact, around 70% of brands have already adopted in-housing. In the mobile app industry, the adoption rate is significantly lower due to much tougher campaign KPIs.
At Hybe, we focus specifically on the advanced mobile app developers, who are ready to try programmatic in-housing. To accelerate the development of in-housing and to be competitive, we provide our clients with all the data points directly in the UI that are usually hidden in programmatic platforms. We also offer them a fair SaaS pricing model that is tailor-made for mobile app developers and doesn't include the conditions that will reduce the chances of success.
Clients can also choose whether they want to store their audience data on our side or in the storage within their infrastructure or cloud. Of course, we are also proficient with - an ability to connect our DSP with the client-side or 3rd party components like an ad server, custom bidding algorithms and CDPs.
What have been the most influential events to occur in 2020 that have had an effect on the programmatic industry?
Without a doubt, it was the deprecation of IDFA in iOS14. In a nutshell, Apple will require mobile apps to ask every user if they want to grant this app the access to user's IDFA (opt-in). It's the advertising identifier based on which programmatic platforms build their bidding logic (look-alikes, user graphs) and attribution happens.
The introduction of these privacy changes was postponed by Apple to the beginning of 2021 to give the adtech market more time to adapt to these changes. However, this will have a major impact on the wider industry, as many players including DSPs, ad networks, MMPs will have to adapt to the new conditions. Even Facebook is thinking about shutting down its Audience Network due to these changes and possible limited ability to run value- and event-optimised campaigns without IDFAs.
Furthermore, there is a big field for experiments for app developers to find a perfect solution to increase the opt-in rates. They will rely on data and continuously test and iterate.
Apple's privacy change will heavily impact the state of mobile marketing, but DSPs have all the required tech at their disposal to continue to operate. Yes, it will be harder to optimise for the performance without deterministic signals. However, over time, this might be improved with the development of Apple's SKAdNetwork (their attribution solution that doesn't require IDFAs to work), the increase of opt-in rates and more opportunities for contextual targeting.
Launched in the midst of the pandemic, how has hybe navigated business during this time?
As I mentioned earlier, Hybe wasn't starting from scratch. We had a pretty solid base from Hybrid.ai, this let us build our MVP fairly quickly for us to officially launch in the middle of October. Now, we already nurture a handful of clients with whom we're validating our retargeting product and adjusting it according to their feedback. At the beginning of Q1 we plan to launch our product for user acquisition.
The app usage has spiked a lot since the beginning of the pandemic. The mobile app developers advertising spending was sustainable and even grew.
What do you have planned for the future?
We plan to raise funding so that we are able to move faster with the development of our product and launch our product for user acquisition faster, then, find a product market fit.