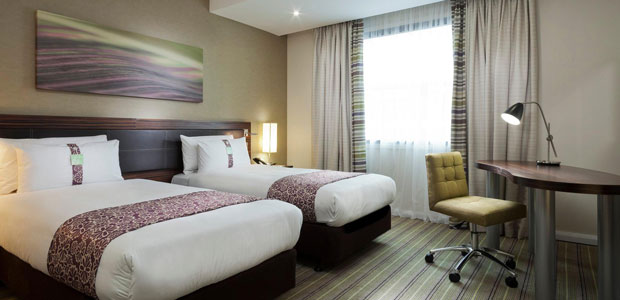 Meet the Italian startup fighting to save the struggling hotel trade
With the travel industry under threat and the off-peak season looming, the travel platform behind the 'daycation' trend is pioneering an innovative way to breathe life into empty hotels: turning hotel rooms into flexible offices that people can work in for the day.
Bringing a whole new meaning to 'WFH', the 'workcation' concept from DayBreakHotels is leveraging the shift to home working to support the hotels hit hardest by COVID. For remote workers desperate for a change of scene - and either self-employed or not back in offices full-time - the new offering provides an affordable alternative to working from home. 
The concept is also introducing hotels to a new, local market of workers; and venues can earn much-needed revenue on rooms that would otherwise go empty.
'Smart working' rooms can be booked via DayBreakHotels' website or app between 8am and 8pm. Users simply search for their chosen location, choose any additional facilities (like gym or spa access) they;d like to include, and select a date. Day use rooms can be booked for up to 75% less than overnight rates.
Hotels offering the 'smart working' package in the DayBreakHotels network range from popular chains such as the Mecure in London Paddington, to stylish independents such as Henley House Hotel in Kensington. Over 300 hotels are already signed up across the UK and Italy.
Co-founder and CEO of DayBreakHotels, Simon Botto, said: "Many months have gone by since we first started working from home. And many companies are now transitioning to remote models on a more permanent basis. But it's clear that the lines between work and life can easily blur. Throw housemates, partners and children into the mix and it's unsurprising many of us are starting to feel exhausted and burnt out.
"The idea behind the 'workcation' concept is that anyone can swap a day in the home office for a day in a hotel nearby, and feel completely refreshed by the tranquillity and change of scene. 
"By making luxury rooms and facilities accessible at affordable day rates, we hope to give a nation of hard workers a well-deserved getaway without even taking a day off work. And we also hope to support all of the brilliant hotels who've been more or less vacant since the start of the pandemic. 
"It has been an incredibly tough year for tourism and travel, so we hope to breathe life into a struggling industry by encouraging a new, domestic market to use these hotels' facilities. We hope this new approach will be of huge benefit to both the hotels themselves, and the workers who get to enjoy a much-needed 'workcation'."
'Smart working' day rooms are available between 8am and 8pm and can be purchased for either 1, 5 or 15 consecutive days at a time, with users able to make significant savings on a room or service's usual cost. Any other available facilities such as pools, spas and restaurants can be booked independently, or in addition to a day use room.
For more information and to book a hotel visit the website here, or download the app for free on iOS or Google Play.