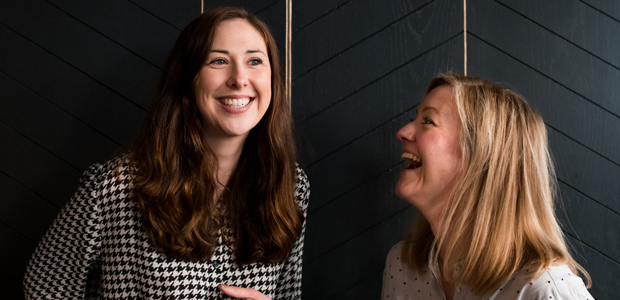 Meet The Hustle House
Like many good things in life, The Hustle House started out over a couple of G&T's. Free ones at that. Maybe it was because Fiona had her laptop out in a restaurant on a Friday night, or maybe it was because the waiter felt bad for seating them late. Whatever the reason, the free G&T's set the tone for a discussion on possibilities, on the notion of leaving behind the comfort blanket of corporate life and taking the plunge into the start-up world.
Carolyn and Fiona met 5 years earlier at a FinTech working in their professional roles in client management and talent management respectively but shared a love of developing people and seeing the impact that can have on a business. Through working on many memorable projects together from company values, appreciation and recognition, engagement, manager development (and organising a couple of Christmas parties) they discovered their skills blended well.
After they had both left the organisation, Fiona started talking (and even presenting) to Carolyn about the possibility of working together and taking their skills and experience to support a wide range of businesses.
Although Carolyn had thought about stepping away from a job on the payroll for some years, it still felt like a risk: "I come from a family of teachers - entrepreneurialism is not something I'm that familiar with and setting up a business felt like something other people did." Despite this, and thanks to Fiona's persuasive arguments on the possibilities a start-up life could offer, she decided to quit her job in a large grocery retailer and together they began to build the foundation of a people development consultancy.
The Hustle House launched officially in August 2019 with a mission to change the way organisations think about their people, putting them at the heart of the business agenda. One of the key areas of focus is around developing leaders and managers, something that Carolyn is particularly passionate about: "I've worked with leaders at all levels over the past 20 years and most of them have had little to no direction or support in how to do it well. When you lead people, you have the opportunity to motivate, inspire, grow and enable greatness in others, but you also have the potential to frustrate, disconnect, and demotivate; it takes practice and humility to lead effectively."  Fortunately, The Hustle House believes that great leaders and managers can be made not just born, and they bring an engaging and highly practical approach to their development solutions.
Another key aspect of their work is around developing teams. We are all part of a team in one way or another and right now, almost all teams are having to work virtually, so The Hustle House is focusing on helping teams stay connected and productive through effective communication and prioritisation. "We spend most of our conscious hours working or thinking about work, so it makes sense that we do all we can to build good relationships with those we work with" says Fiona, who draws from her experience of managing teams globally.
Much of their work centres around developing a better understanding of self and others, and the duo use a variety of tools to help teams do that with humour and a down to earth style. This works for Executive teams as much as it does for those further down an organisation and is particularly useful for newly formed teams who must be effective quickly – such as those that are dealing with the current crisis. Building great relationships also forms the cornerstone of The Hustle House's work to developing brilliant client management skills – making use of Fiona's experience in working with a wide range of clients in the Financial Services sector.
Since launching last summer, the team has worked with a variety of businesses to help them address a range of challenges, from a newly formed Executive team to a recently promoted commercial management group. There are no boring PowerPoint sessions here: Fiona and Carolyn use a blended approach for their solutions to make sure learning sticks and can be applied IRL.
"We started The Hustle House because we believe that people hold the key to unlocking the best in a business and we want to help others find joy and success in discovering how to do that."
It's sometimes tough to think about spending money on developing people – especially when you're watching the bottom line and times are hard. But if you're looking to increase productivity, retain brilliant people and supercharge business performance, then it's an investment that will pay off.
The Hustle House have some brilliant free resources (although sadly no free G&T's) that you can access by signing up here: https://www.thehustlehouse.co.uk/resources and if you want to get in touch directly you can contact Fiona and Carolyn at hello@thehustlehouse.co.uk