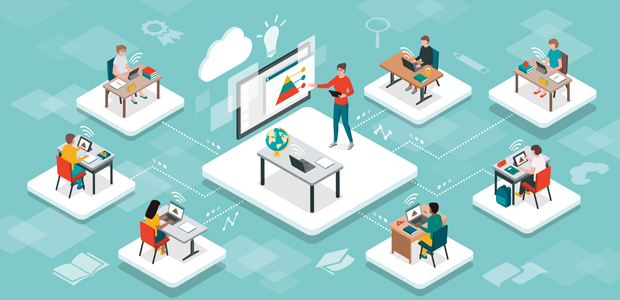 Mature students are eager to embrace higher education - but are courses up to the challenge?
The education sector is facing some of the toughest years in its history. But how can it position itself to handle the demands of the modern-day learner? Here we take a look at what's driving a return to the classroom and how providers can best respond by offering new digital learning methods. 
COVID-19 has forced higher education to undergo drastic changes. Universities have had to quickly switch over to online classes. Students have had to adapt to Zoom meetings so that they can continue their studies with as little disruption as possible. In addition, the past year has seen an increase in mature students wanting to return to studying. Data published by admissions body UCAS in its 2020 End of Cycle Report on 16 December revealed that the number of mature students in higher education rose to 114,000 in the current academic year, accounting for the biggest jump in 10 years.
So, what's driving mature students' return to the classroom? There are a whole host of reasons as to why people may want to return to education. For example, this could be to pursue a new career path, new interests or new demands in the job market, which might require enhanced knowledge, skills and competencies. Pursuing further education could provide tangible commercial benefits for business owners and entrepreneurs. Furthermore, the digital age is being shaped by ever-evolving technologies. We need to constantly adapt to them in our private and professional lives. This requires us to remain curious and open-minded, and be prepared to constantly grow. The working world is not so stagnant anymore. 
Digitalisation is adding to the need to understand the latest developments in technology. In addition, more and more students and employees want to have a job with a sense of purpose and make a difference. Corporate social responsibility, the transformation of the labour market through digitalisation or tackling the climate crisis and inequalities will have to be considered by entrepreneurs in their daily work. In order to be prepared for the global challenges of the 21st century, students not only need to obtain different skills but also have the right motivation and mindset. They require both competencies and a readiness to tackle future challenges to be successful. 
The justifications and benefits of returning to education as a mature student are clear. But are courses up to meeting the needs of the modern day learner? 
Today, pretty much any and every subject imaginable can be studied at almost any level from anywhere – be it at home or in the office – without having to step foot in a classroom. This opens up new opportunities. Students now have access to higher education providers throughout the world offering dynamic courses, with advantages that stretch beyond a qualification.
But keeping the same teaching format from the past 30 years is no longer appealing to the modern learner. No one wants to travel back in time and be reminded of boring days at school or university where lessons dragged on and teachers held monotonous lectures. It's not enough to just offer online lectures and workshops. Students today want a more engaging and holistic approach to learning that will better equip them for the working world. In view of this, it is crucial that courses are engaging, interactive and motivating. They need to mediate the skills required to find the right answers to the challenges of the 21st century. Mature students come back to learn because they seek a community of like-minded people and they bring with them a clear purpose for their studies.  As educators we should encourage them to have a mission for what they want to achieve. A simple formula outlines the path to success: Purpose + Capability + Community = Impact.
Taking up a master's degree is a huge time and financial investment for many mature students. Therefore, providers should be looking at ways to provide the best future income prospects along with accessible, flexible and mobile learning that fits individual needs and competencies. 
In light of the above, education today needs to include new teaching methods such as challenge-based and bite-sized learning to appeal to the demands of modern students. Education providers ought to create a personalised format that ties in students' requirements. 
Research shows that embracing a mobile-first learning platform and finding ways to make it interactive increases course engagement by 60% compared to traditional online courses. At Tomorrow's Education we decided to add challenge-based elements to our curriculum. We focus on practical projects that reflect real-world problems and the development of relevant skills. Students enjoy interacting in group challenges. That's why we will provide them with opportunities to connect in person at international learning hubs. We also give them access to a large network of renowned mentors and strong corporate partnerships. 
We've found that traditional universities recognise the value of our new teaching method and platform. For our first part-time Professional Master programme in Sustainability, Entrepreneurship and Technology, we have partnered with the WU Executive Academy at the Vienna University of Economics and Business (WU Wien). 
It is certainly an exciting time for the world of higher education. But simply switching the classroom over to Zoom won't cut it. To truly capitalise on the appetite of the modern day learner, providers should be offering courses that meet the demands of students and truly serve their needs.