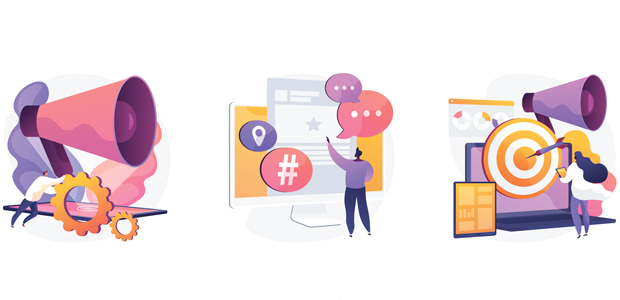 Marketing strategies that integrate online and offline tools
There was a time when online and offline marketing efforts were considered to be altogether separate and unrelated activities. Thankfully, most marketing professionals know better than that now – but that's not to say that the integration of the two can't be a challenge.
Here's why integration is without a doubt the way to go, along with a five-step checklist for marketers keen to start integrating – with impact.
Online marketing is handy in many ways. It's cost-effective and offers international reach, while at the same time allowing detailed targeting and personalisation. On the other hand, technical issues can prove a nightmare, and often times you have to pay through the nose to fix them. Moreover, the internet is full of distractions, and some users aren't even savvy enough to navigate it well. Offline marketing can feel more reliable that way. It offers a variety of channels as well as a tangible in-person experience, which comes with a different level of trust and credibility. But the offline world can be slow in comparison. The conversion times are longer and the audience targeting leaves a lot to be desired.
Enjoy the best of both worlds – and better
You've probably heard about Online-to-Offline (O2O) commerce, an approach to business where online and offline marketing channels work together in complementary ways, like in the case of click-and-collect services and similar shopping solutions. Considering the success of such customer experiences, there's good reason to be paying attention.
But there are more subtle ways to integrate your online and offline efforts, some of which may yield less immediately obvious results but which are undoubtedly worth trying. Start with this five-step checklist, and you'll be well on your way to successful integration in no time.
Review your brand consistency
All the talk about brand consistency can get tiring, but it's relentless for a reason. You might think that any marketing professional worth their salt will be on top of it by default, without the need for constant reminders, but it's important to remember that your brand is far more than a logo, a colour palette and a selection of typefaces. Before you spend time and money on new campaigns, events and materials, make sure that you have a well-developed, detailed set of brand guidelines, complete with a tone of voice, considerations for localisation and transcreation, and a strong visual identity. It's not ready until you've thought long and hard about customer journeys, personas and touchpoints. Consistency is key. Nothing is more harmful to an interaction with your brand than a confused customer.
Understand the customer journey
So you've analysed your target audience and the customer journeys – now it's time to make sense of them. When do your potential customers first get in contact with your brand, and is it by accident or on purpose? Where do they go next? What distractions are there? What's the incentive that makes them decide to go ahead with the purchase? The better you understand these prospects, the more likely you'll be to convert them into real or even loyal customers. Did you know that the average customer won't buy from a brand until they've encountered the brand message seven times? This is why understanding where they are and where they're going is important.
Offline to online
There are many ways in which offline communications can boost your online marketing efforts. Experience marketing and PR stunts can seem gimmicky at times, but the right thing at the right time can spark the curiosity of potential customers and convince them to check out your social media channels for more. QR codes, needless to say, make another straight-forward connection between a physical leaflet or product catalogue and your website or campaign landing page. But events and trade shows are still hugely important in the world of sales and marketing, not just for direct sales, but for brand exposure too. Remember what we said about brand consistency and invest in branded, large-format presentation systems such as roller banners, scaffold banners, tarpaulins or large fabric posters. Added social media symbols serve as a reminder for attendees to give you a follow in order to stay in touch. Trade shows and other events are also ideal for collecting email addresses, which will be invaluable when it's time for your next email marketing campaign.
Online to offline
Needless to say, an optimised website can be all it takes to turn a Google search into a bricks-and-mortar shop visit. But there are other ways for online marketing to benefit offline efforts too. Social media channels are great for countdowns to big events or TV ad drops, and you should never underestimate the effectiveness of calls to action in encouraging customers to visit your shop for a special promotion or launch. Customer reviews and testimonials should most certainly be recycled and make it into your printed communication materials, and if you invest in a content marketing campaign, blogs and other articles make a good foundation for a branded magazine or other quality print products. Most importantly, however, is probably the data your online channels produce. Trawl through the statistics and dig into the nitty gritty, and you'll be able to get to know your audience even better – and indeed adapt your marketing strategy accordingly, to suit them better too.
Try a teaser
Few emotions are as powerful as curiosity. Whodunit thrillers are based on this very fact; it's curiosity that will keep you up all night reading because you can't put the book down until the mystery is solved. In the world of film, teasers have been used for decades to bring people to the cinema on premiere night. Advertising makes use of this too, engaging audiences in the thrilling anticipation of answers and the chance of being in the know. If you're launching a new collection on your website, tease it with a print or TV campaign. If you're planning a festival, build excitement through snippets of social media teasers. If you're running a special one-day-only offer, tease wherever you can to get as many people as possible queueing up outside your doors. A well-planned, carefully-crafted teaser can deliver not just new customers, but in a best-case scenario even viral mobile footage, trending hashtags and significantly boosted brand recognition.
Integrate to survive – and thrive
At the heart of this evident need to integrate online and offline marketing channels is a customer that's grown more confident and empowered in recent years, expecting both the immediacy, flexibility and access of the online world and the personal service and connection of a traditional boutique. And there's no reason why they shouldn't; we no longer have to choose.
The reality is that more than 70% of customers use the opportunity to order items online and pick them up in a nearby shop, with more than three out of four searching for products online to visit a shop in their area, eventually buying from them. Integrated marketing is no longer a fancy add-on – it's a necessity if you want to survive, and research suggests that it's great for customer loyalty too. If you still need convincing, consider the fact that an integrated approach is far more cost-effective too. What are you waiting for?