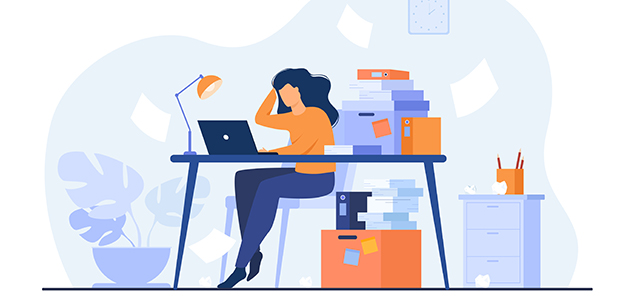 Managing stress as a tech founder
Stress is inevitable in entrepreneurship; managing finances, handling uncertainty, and other pressures are parred for the course. Yet learning to manage stress is an important learning curve for any entrepreneur and eventually makes for an all-around better leader.
As the founder of a digital product agency that has worked closely with numerous startups, I can personally attest to the stresses that almost always occur when starting and growing a business.
Despite the growing recognition of the importance of mental health in the workplace, entrepreneurs still face significant barriers when it comes to addressing their own stress and mental well-being. According to research by the British Association for Counsellors and Psychotherapists, over half of business owners (56%) feel they need help with their mental health but don't know where to start.
The pandemic and subsequent economic turmoil of recent years have only added to the already challenging landscape for entrepreneurs. A report by Three at the end of 2022 found that 39% of small business decision-makers stated that financial pressures are contributing to a decline in their mental health, while 22% say mental health exhaustion could be their biggest challenge this year.
However, there are tools that can be used to better equip business leaders to succeed in the face of stress.
Prioritising well-being
A common experience for business owners is that there's always some kind of fire to put out. It can often feel like there's constantly something to do and that one's work is never truly done. It's easy to fall into the trap of feeling like you have to work around the clock, but working at all hours often does more harm than good. It leads to unnecessary burnout, anxiety and even resentment of the project you've started.
That's why setting a clear distinction between "work time" and "home time" is important for managing stress and maintaining a healthy work-life balance. This can involve setting specific work hours and sticking to them, creating a designated workspace that is separate from your personal living space, and avoiding the temptation to check work emails or complete tasks outside of designated work hours. I have done this by trying to work from the office, instead of working from home, so that I can switch on and off.
Communicating openly about any concerns you may have is also highly valuable. Starting a business can be an isolating experience, so seeking appropriate and relevant advice from like-minded people can provide an understanding of the perspectives and strategies needed to better equip ourselves with the tools to succeed in the face of stress and adversity. I have done this by joining other founder communities where everyone shares their experiences. Somehow talking about some of the challenges can put things into perspective, and more often than not, it leads to the realisation that in the grand scheme of things, the issue causing stress is not as big a deal as it initially seemed.
Further, while staying focused on your vision is important, it's vital not to get caught up in making definitive plans for the future. No one can confidently predict what will happen a week from now, let alone months into the future. Giving yourself the necessary breathing space to take things as they come is an invaluable means of avoiding anxiety and disappointment when things aren't going exactly to plan.
For tech startups, this may mean remaining focused on the core proposition and ensuring that your MVP is truly an MVP (instead of a huge bloated product that you have to then maintain). Once the product is functioning well, it can then be adapted and iterated based on customer feedback, giving you a bit more room to manoeuvre, pivot, and adapt.
Don't stress (although saying it won't mean you won't)
Unfortunately, stress is something that we all experience as part of our personal and professional lives, and as social and economic crises continue to dominate the news; it is more important than ever for people to pay attention to how they are feeling. Everyone has different ways to help themselves deal with stress, and I don't think there's one size that fits all. At different stages in your life, you'll have different ways in which you de-stress. For instance, at the moment, my biggest outlet is spending time with my wife and 8-month-old, as it helps me put things into perspective.
Ask any founder how they felt on the day they launched their own business; their answers will usually fall somewhere on the spectrum between excitement and apprehension. Although some stress in these moments is inevitable and almost always amplified (the highs always feel higher, and the lows feel lower than they actually are in hindsight), it's important that one learns to ride the waves. Starting a business can be an incredibly rewarding journey, but it's essential to be cognisant of the impact on one's well-being and try to find pragmatic ways to mitigate the potential impact.