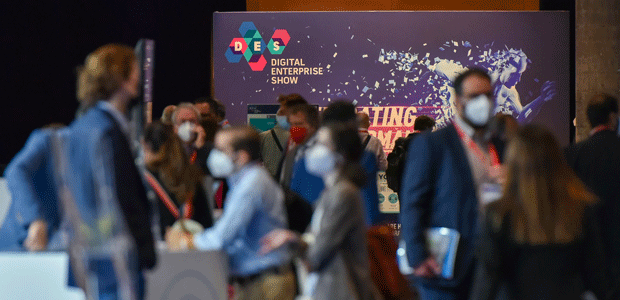 Malaga and DES will mark the future of the technology sector in Spain
The creator of the Blue Economy concept, experts in genetic rejuvenation, or leaders in ecosystem development such as Jerome S. Engel or  Cristina Dolan, from MIT, some of the featured speakers of DES2022
DES-Digital Enterprise Show will hold its new edition from June 14 to 16 at the FYCMA to promote the digitalization of companies and administrations
More than 200 exhibiting firms such as AWS, IBM, KPMG, Kyndryl, T-Systems, Arcopay, Codurance, Personio, or The Cube, will present the most innovative technological solutions on the market
DES-Digital Enterprise Show, the reference event in digital transformation in southern Europe that is held from June 14 to 16 in Malaga, will bring together more than 12,000 congressmen and aims to promote the digitalisation of companies and administrations to increase their competitiveness and promote economic and social development.  Francisco de la Torre, Mayor of Málaga;  Sandra Infante, Director of DES – Digital Enterprise Show 2022;  Nacho Villoch, director of the Digital Business World Congress, which is held within the framework of DES2022; and Albert Planas, general director of NEBEXT, the company organizing the event, presented this morning the novelties of the sixth edition, which aims to promote the Andalusian city as a hub of technological and digital innovation in southern Europe. Francisco de la Torre, Mayor of Malaga, stressed that "Malaga is a perfect enclave to celebrate the DES. The city has all the ingredients to be the European technological capital. If DES triumphs, Malaga triumphs".
With the vocation of helping to turn Malaga into the epicenter of technological innovation, DES2022 will host different activities in which to promote networking and alliances between the entire business and technological ecosystem that will meet from June 14 to 16 in the city. Among them, are the lunches for CEOs Leadership Summit, the forum for technological startups Innovation Hub, and the European Digital Mindset Awards 2022 stand out, awards that recognize business projects and people who lead the digital transformation in their businesses.
New international experts confirmed
The auditoriums of DES2022 will see interventions by an extensive cast of international experts of the stature of Gunter Pauli, the creator and greatest specialist in blue economy;  Liz Parrish, will present the advances in her research to develop a method that will reverse the aging of cells and allow us to extend life expectancy;  Jerome S. Engel, expert in innovation, entrepreneurship and venture capital or Cristina Dolan, from MIT, who will help the attending professionals to provide transparency in their sustainability strategies through the application of Big Data and Analytics. Along with them, other experts such as Jesús Hernández Galán, director of Accessibility and Innovation of the ONCE Foundation, will analyze how technology can help people with disabilities to increase their autonomy or the media expert in digital transformation Marc Vidal will attend the sixth edition of DES-Digital Enterprise Show.
In total, more than 500 experts from around the world will share their strategies and success stories that will inspire all professionals attending DES in more than 270 conference hours.  Sandra Infante, director of DES-Digital Enterprise Show, has announced the celebration of The Scale-Up World Summit, "a new space that arrives this edition where we will host everything that surrounds the world of entrepreneurship".
Along with the congress, DES2022 will have more than 200 exhibiting firms such as AWS, IBM, KPMG, Kyndryl, T-Systems, Globant, Arcopay, Codurance, Personio or The Cube, which will present the most innovative technological solutions in the market, such as the use of Artificial Intelligence, IoT, Cybersecurity, Big Data, Virtual Reality, Blockchain or 5G, among others.  DES brings together the latest technologies, solutions, success stories, and inspiration to contribute to the evolution of digital transformation that allows companies to transform their business models and be more competitive.
The new edition of DES2022 will focus on how to reimagine new business models after the pandemic has accelerated the digitalization of many companies. In fact, according to IDC predictions, by 2022, 70% of all organizations globally will have accelerated their use of digital technologies, transforming their processes and reinventing their business models. Betting on digital transformation strategies facilitates resilience and drives business differentiation to deliver unique value.