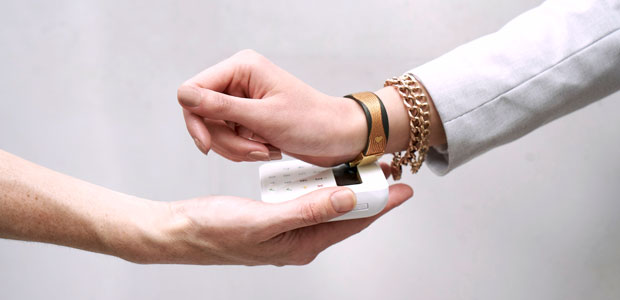 Making tech fashionable
As I write this, from my living room floor (don't judge me, since lockdown started I've noticed it helps me get creative when I'm writing) we're still in a global pandemic and I'm just about getting used to all that isolation life has to offer. But as I interview the two brains behind a luxury British accessories brand that specialises in creating stylish contactless payment accessories, Tovi Sorga and Agnes Davis, I can't help but think about how timely this interview is.
But how is this in anyway related to technology or the dreaded, unmentionable C-word I hear you ask. Well at first glance of the Tovi Sorga website, I must admit I wasn't entirely sure they were a startup or relevant to Startups Magazine seeing as we focus on tech startups. But how wrong I was!
Tovi Sorga's brand began as more of a hobby when he started selling his jewellery creations to East London Boutiques. "Back in the day, I had a friend with one of the very first iPods, and I noticed there wasn't much on the market to protect them, and the few cases that were on the market weren't the most aesthetically pleasing. I thought I could do something about this, as I had recently come up with an unorthodox way of printing on leather. I started selling a few designs online, and they really took off."
Since 2015, Sorga has designed and managed the brand with his partner, Agnes Davis, Director of Sales and Marketing, and she added: "I was finishing a Master's in Creative Writing at Oxford, and was between jobs. I had been working as a freelance copywriter for a long time, but knew I wanted a change of direction. Not long after that, I met Tovi and he was just insanely busy all the time with his creations. I began tinkering with his website, taking new lifestyle photos, and updating the social media channels. I just fell in love with the brand and the products, and then quite rapidly I picked up all the admin, sales and marketing side of things."
In 2016, the team met UK bank Barclaycard at a trade show and joined forces to pioneer contactless payment bracelets - a fast, secure, and discreet way to pay. Of course, contactless payments have been around for a while and are something I've always loved, purely for the convenience.
With Tovi Sorga bracelets I can hop on the tube without having to fumble around in my bag for my card, or I can quickly pay for that coffee before my meeting with no fuss. According to Barclaycard's 'Time is Money' report in March 2018, 'touch and go' spending will rocket up to 317% by 2021, with contactless payments expected to save UK shoppers almost £1bn worth of time over the same period.
At present in the UK we've been urged to use contactless instead of bank notes where possible, as we know that money changes hands frequently, with the worry that it might be helping to pass on bacteria and viruses. I don't know about you, but even in pre-corona times I can't remember the last time I carried cash around, and it feels like contactless payments are needed more than ever right now. As the UK strives to keep everyone as safe as possible, we can do our part by preventing unnecessary transmission. So, why not make it stylish with one of Tovi Sorga's beautiful, wearable payment accessories!?
The company's fifth payment collection was released in August 2019 and featured increased functionality for UK shoppers, enhanced by Barclaycard's Pingit technology. Tovi Sorga also works with global corporations to incorporate payment, access and bespoke RFID solutions into their luxury wearables, and has partnered with some exciting companies, such as EVRY Card Services in Scandinavia and Visa to create VIP wearables for the Women's World Cup in 2019.
Tell me more…
Tovi Sorga has an ethical focus, with all their leathers being responsibly sourced from certified European suppliers. As well as this they make a conscious effort to ensure their products and packaging are as plastic-free, biodegradable and/or recyclable as possible.
Tovi Sorga's pure leather bracelets and key fobs contain a tiny hidden chip that links to a free app powered by Pingit. Pingit is a mobile payment service that lets you send and receive money using just your mobile phone number, manage your spending across different wearables, and raise money for charity. These fashionable wearables work with any UK-registered current account. You can make quick, secure payments up to £45 with just a touch of the wrist, wherever you seen the contactless symbol, including on public transport and while travelling abroad.
You can load funds to the chip from your debit card through the Pingit app, where you can also top up, or set auto top ups, and track all your spending while out and about. Contactless payment bracelets have the same fraud protection as CHIP and PIN, with the added security benefit that their payment functionality is discreetly hidden. Users can also track their purchases on the go and cancel or pause their bracelet instantly via the free app if it's lost or stolen.
There are a range of different designs for men and women, priced from £45 to £120. Davis explained: "Of course we try to make the products as accessible as possible when it comes to price point, but they are luxury, handcrafted products, designed to last. Our high-definition in-house leather printing is a really specialised process which takes a lot of time and experience, and the prices we charge are a realistic reflection of the labour and materials involved in supporting quality British and European manufacturing today."
I asked Davis and Sorga if they each had a favourite product; Davis said: "That's a good question! We have got some really good ones coming out soon, but I can't talk about them just yet, so my favourite at the moment would have to be the metallic leather bracelets. For me they are just the perfect combination of a beautiful, comfortable and great working product!"
Sorga said: "For me it's got to be the key fobs, there's something about them I just love! I think it's the dinkiness and compactness of them."
While Tovi Sorga's products are undoubtedly tech products, it's the style they shout about, not the tech. Davis explained: "There are currently very few competitors in the newly emerging payment wearables market, but our main competitors differ from us in terms of both the products they are offering, and also their target audience. The majority are aimed more towards males, who are into their sports. Whereas our customers tend to be interested in fashion, style and aesthetics, as much as they are technology. We really try and tailor our products to be something that people would want to wear every single day. We're not trying to produce something that you walk down the street with and think that's a really cool piece of modern tech."
Davis continued: "Of course, I'm a big fan of technology, but I'm also not desperate to stick an enormous screen on my wrist. Everybody is different so there is definitely a market for people who either want both, or just want something discreet that they can wear every day. Our speciality is combining the traditional qualities of craftsmanship, sustainability, fashion and design with technology, to create the best of both worlds."
Adapting to the current climate
There is no doubt about it, the coronavirus has affected everyone in every way. Studio Graphene, a software company, has revealed from its latest Tech Tracker survey, that confidence levels among UK tech startups have dropped significantly over the past three months as the fallout from the coronavirus pandemic takes hold. The vast majority of entrepreneurs (91%) said they are worried about the impact that coronavirus will have on their business, with 35% saying that they do not feel their business is well prepared to withstand the potential fallout. However, startups do not give themselves enough credit for the challenges they face every day. On a positive note, the demand for technology is higher than ever and this is a great time for Tovi Sorga's marketing department.
"It's an extremely uncertain time so we've had to postpone some really exciting projects until next year, which is obviously really disappointing. But we've got to look at the positives, it couldn't be a better time to market our products, and we're hearing more and more talk about a cashless society. We've also pivoted with some of our bigger players - we've had the chance to re-group and make sure our products get out to the people that really need them, right now." Sorga explained.
Money, Money, Money
Going back to my earlier point, I mentioned that I wasn't 100% sure if Tovi Sorga was a startup, after browsing their very aesthetically pleasing website (and after interviewing Davis and Sorga, I now wouldn't expect anything less from them), but I was under the impression they were more of scaleup. So it shocked me even more to hear that the company has been self-funded to date, with just a small amount of family support.
Davis said: "We haven't actively been looking for funding until now, but we happen to be just in the process of finalising our business plans to start sending out to investors. Our ideal type of investment would be from someone who has a background in retail, technology and fintech. We'd want someone who knows how to globally take a product to market."
Sorga continued: "It's not all about business, it's also about the type of people, so it would be vital to have someone who has the same values as us. It might sound silly but also someone who genuinely loves the product - we've met people who love the idea of the tech but say things like, 'haven't you heard of apple watches?' And then you've got other people who are just so wowed by the beauty of the products. They've got to understand our whole background to the brand is style and it really is so key to who we are and what we do, because they'll be investing in our design capabilities as well as our tech innovation, which is so important."
So, whether you like the idea of a cashless society or not, it seems to be inevitable in the coming days, weeks, months and years. The same applies to the wearables market, which has seen a steady broadening of markets over the past few years, beyond purely appealing to athletes. This is proved true by the vast amount of interest Tovi Sorga has seen in its products, even from the older generation. American singer, Sheila Fergusson was featured on ITV's Hard to Please which saw her loving Tovi Sorga's Leopard contactless payment bracelet. I certainly know what I'll be treating myself to on my next pay day!