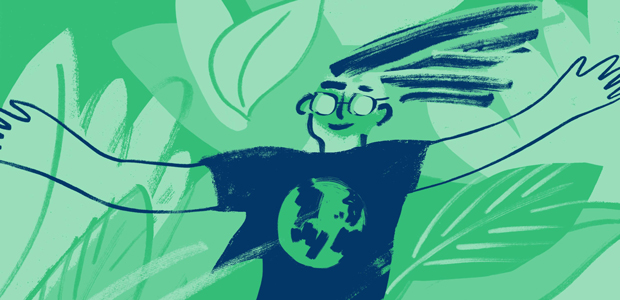 Making energy simpler, cheaper and greener
The founders of Bulb, a green gas and electricity supplier, met five years ago when they were both working in the energy industry and disillusioned with the way the industry treats its customers and how much businesses were charging for renewable energy. Hayden Wood and Amit Gudka are aiming to make the industry better with Bulb by making energy simpler, cheaper and greener.
Bulb provides its 1.3 million members with 100% renewable electricity. For every unit used, the company makes sure a unit is produced and put on the grid by a renewable source including solar, wind and hydro. Its gas is 100% carbon neutral, and ten percent is green gas produced from renewable sources like food or farm waste. Bulb offsets the rest of the gas it supplies by supporting carbon reduction projects around the world. 
Every year, the average Bulb member saves 3.5 tonnes of CO2 from entering the atmosphere, which is the equivalent to planting 1,770 trees. And for every switch to Bulb, the company donates £1 to Edible Playgrounds by Trees for Cities, a charity transforming areas in inner-city schools into vibrant outdoor spaces that teach children about growing and eating healthy food.
Bulb buys its energy from renewable generators across the UK. It has direct relationships with these generators to purchase their output, and it purchases renewable energy from the wholesale market. The company believes it's really important for its members to know where their energy is coming from. 
Many people would say the Big Six have a reputation for their unreliable customer service, overcharging and not really informing their customers as to how they operate. According to Bulb's Chief Product Officer, Geraldine de Boisse, the company has a very different approach to the product it's offering: "We supply affordable, renewable energy that is 20% cheaper than the Big Six. Their focus isn't really renewable or affordable. They also don't offer a great customer service. 
"We are really focussed on making our product as simple as possible, therefore, we only have one tariff which reflects the true cost of energy. We believe that too many suppliers lure customers in, with low fixed tariffs before moving them on to an expensive standard tariff a few months down the line. We don't think that's right. With our single, 'Vari-Fair' tariff, customers know they're always on our best possible price. When wholesale energy costs move, so does our tariff. If they go up, we work hard to limit increases to our members and always give 60 days' notice. And if they go down, we quickly pass those savings on to the member."
Bulb has an app, available to download from the IOS and Android app store, which helps its members to keep on top of their energy with their Bulb Account. It allows them to track their usage, submit meter readings and check their balance. As part of the Bulb community, members will be able to chat with members and share ideas about where Bulb may have room for improvement. 
The company also offers a friend referral programme where they give a member and their friend £50 each to say thanks when they join through the referral link. 
Bulb wants to continue growing across the UK, but has also just announced plans to expand to France, Spain and Texas in the US.