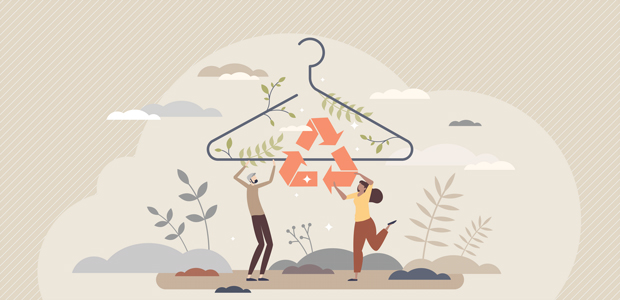 Make an Impact: why it's important for brands to be more ethical
It's safe to say we've all had more time on our hands during the last 16 months or so. A trio of lockdowns have given us the chance to pause and reflect on what really matters. And, while it's been a difficult year, important conversations have been sparked leading to the beginnings of some positive change. 
Customer awareness has heightened, meaning brand perception is more crucial than ever. Businesses must think about what it means to be purposeful and, more importantly, how to go about practicing what they preach.
Transparency in communicating the goals, values and intentions of a brand is crucial. Merely thinking about the "bigger picture" isn't enough. Taking action and creating a culture throughout a company, and in what it puts out into the world, is vital.
According to GlobalData, the so-called "conscious consumer" was seen as the biggest threat to clothing and footwear retailers prior to the Covid-19 pandemic. In late 2019, the research group asked consumers about their intentions for the new year and found that nearly a fifth (19.2%) were planning to purchase less and make wiser, sustainable purchases. 
Ticketpass.org's content and partnerships manager, Russ, recently told Music Week that "If the pandemic has revealed anything, it's just how united we need to be when fighting problems faced on a global level". This sentiment is apt beyond just music. All companies have a responsibility to help improve the society of today, tomorrow and the future. 
A united front
As consumers and as businesses, we have a responsibility to work together right now. It seems, as we emerge from the more strict shackles of Covid-19, that we have an opportunity to do things better than before. It's time to walk the walk, by reducing our carbon footprint, re-thinking our diets, and ensuring we put the best interests of consumers, and the planet, first. 
An ethical branding strategy is the key to successful brand perception. Done right, it will help companies get core "mission" values, and vision, right from the beginning. This enables them to successfully contribute to society in a positive way. 
But what does it really mean to be ethical? As an award winning sustainable events venue that truly upholds its values, 15Hatfields is leading the way in sustainable business management practice in the events industry. Every single detail is designed with the environment and the well-being of people in mind:
"Transparency is so important when it comes to sustainability", said Warren Campbell, General Manager at 15Hatfields. "While we want our customers to know exactly where we're sourcing our products from, we also value the wider impact of transparency on the whole industry".
Another example of a brand working hard to uphold its values is DAME. As new kids on the block, the sustainable period products business was born with one vision: To provide an environmental solution to menstrual products. According to Friends of the Earth, menstrual pads are made up of up to 90 percent plastic, so the work DAME does is vital. 
As a brand, DAME is fearless, bold and honest. Its' social media occasionally dares to push the boundaries - just check out the image feed. That level of honesty not only empowers the consumer, but those that are becoming more aware too. These pioneering change-makers are leading by example with a brand strategy to admire.
"At DAME, we trust our gut in most decisions we make," said co-founder Celia Pool. "We have written into our company agreement that we exist not only to promote the success of the business for the benefit of shareholders, but also to have a positive impact on society and the environment. This isn't always easy, as it means we often have to make tricky commercial decisions, like going for more expensive packaging because it's more planet-friendly, or using certain suppliers because of their ethical standards. But it's the way we want to build our business and what makes us truly DAME."
Value driven
This chimes with us at Ticketpass.org. We believe good values and ethics rely on total transparency and an ethos of putting people before profits. Another brand that has established itself as a true, ethical leader is Patagonia. Through its team's dedication and pledge to do good by the environment, it has become a well-respected brand that consumers look up to and trust. 
From Patagonia's continued support of grassroots activists working to find solutions to the environmental crisis, to its' "Everything we make has an impact on the planet" pledge, the brand successfully communicates who its people are, what they stand for, and the positive change they seek to make. As consumers become more conscious about where their money is spent, that reassurance goes a long way.
There should be equal emphasis on brands providing the means to be more aware. The demand, drive and rising consciousness is there among people to invest in ethical goods and / or a service. Companies need to be part of the equation by offering legitimately ethical products and services, and position themselves as the ethical alternative to competitors that are solely profit-driven. 
But there are other issues. Greenwashing being one. It's "a real challenge and potential issue in the industry", said Warren. "So many companies have been making all the right noises and throwing the sustainability word around without anything to back it up. This can be really detrimental to a brand's reputation". Being honest and transparent from the off is key.
"We have been accredited with a Gold Green Tourism badge for years", said Warren. This is "measured on concrete factors like energy reduction and food waste. We know customers are looking out for these accreditations more and more when they're deciding on a venue to host events. Customers want to see the difference that businesses are making, not just hear about their plans to advocate change" said Warren. 
Nobody's perfect
However, on the journey to being more transparent and doing more good, mistakes will be made. "Brands have a duty to show that profit can go with purpose. However I do believe right now that we need to move beyond increasingly binary viewpoints", said Celia.

Talking about the take-down of brands on social media, Celia said that "mass public shaming and indignation when mistakes are made" forget the fact that brands are "made up of people, and people are fallible." She continues: "Yes, we should hold brands accountable for their actions, but equally, don't forever blacklist those that have made mistakes but are sincerely willing to change." 
Luckily, consumers are forgiving. You owe it to yourself, and them, to be honest about the positive steps being taken or the mistakes that have been made. It isn't about being perfect; it's showing you recognise that change needs to be made. Building a conscious consumer brand comes with its challenges, but with drive, passion, and transparency it can be done. 
If you're an event organiser, or a brand looking to throw an event to promote a product, let us help. Together, we can do some real good.