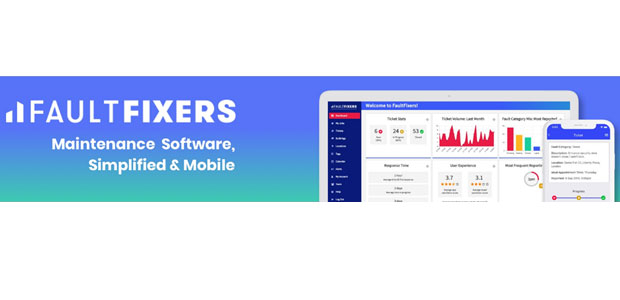 Maintenance software raises £150,000 in latest investment round
FaultFixers have successfully raised a joint investment deal of £100,000 out of a total £150,000 round through Suss Ventures, the new investor matching service at Sussex Innovation backed by the University of Sussex.
The investment supports the £270,000 grant they recently received from Innovate UK and will help to grow their current team of three to deliver a readily available platform on a self-service basis. The intuitive platform, accessible through FaultFixers web and mobile apps, makes reporting location-specific faults simple and easy, in just 30 seconds, so that faults do not become emergencies.
Tom O'Neill, Founder of FaultFixers, drew on his personal frustrations with reporting processes to create a platform that helps businesses manage maintenance obligations and workflows for their properties, and deliver maintenance services in a way that is completely paper-free.
"When I worked in a large commercial building, it was a pain to report maintenance issues and where to report them. When I could report them, more often than not I'd never hear back," Tom explained. "FaultFixers automates the administration side of the reporting process through our software that is customised for the user.
"Especially in light of something like the COVID pandemic, it's becoming a necessity to manage maintenance issues on the go, wholly virtually, and in a socially distant manner, whilst having oversight from a SaaS based platform rather than paperwork."
"For example, one of our customers has five or six sites spread across London, and the Operations Director, was at each of those sites, five days per week until lockdown. But with our platform he was able to manage everything remotely. We can have customers set up within 24 hours with very little training required... it's designed to be stupid simple and very user friendly."
Nigel Lambe, CEO at Sussex Innovation, said: "It's great to support businesses like FaultFixers who are involved with the constantly evolving marketplace for digital transformation services. No doubt FaultFixers will thrive in their partnerships and upcoming projects with the investors within the Suss Ventures community.
"Suss Ventures has been key to offering support to sustainable and purpose-driven businesses, both through their active network and financial aid. We're proud to be supporting businesses when they need it, especially during these challenging times."
What is FaultFixers?
FaultFixers helps businesses ditch spreadsheets by offering an integrated cloud management platform for service providers or building and facilities managers to monitor and resolve all faults from their pocket. Their modern tech and easy-to-learn software helps users avoid long waiting times with call centres by directly connecting them with service providers, with little to no training required.
The platform is not industry specific and welcomes a broad range of customers from commercial and residential building operators, care homes, schools, hospitals, trades and maintenance services providers and many others. They work with large corporates right down to small independent shops.
Clients already using FaultFixers to manage their maintenance obligations and minimise face-to-face interactions include the likes of Aldi, the Foreign & Commonwealth Office, and McArthur Glen Shopping Centres. The business is also renewing its focus on health and social care spaces, with plans for the funding to help streamline the reporting process and provide maintenance teams with more clarity in order to resolve reported issues upon first inspection.
FaultFixers have helped Rosemary Park Nursing Home save 40% of the time previously spent recording and managing issues, which they estimate is the equivalent of 1.5 members of staff across a year, helping them respond quickly and affordably to their residents across multiple locations and a vast site.
What are the key features?
Simplified fault logging on the go, with pictures and videos of the issues for faster and smarter solutions, with custom checklists and digital forms that are stored in your FaultFixers account to rid paper-based solutions.

An overview on the maintenance function with a complete audit history and tracking that helps users easily track what has been done, when and by who, alongside a Planned Preventative Maintenance (PPM) feature that enables users to create calendar-based planned maintenance tasks to prevent equipment failure and automate full compliance.

FaultFixers automates all communications and updates with real-time notifications to your teams, customers, and contactors.
See their full list of features and access a free tour of the platform on their site here.